« previous post | next post »
Nick Collins, "Earth is home to 8.7 million species", The Telegraph 8/23/2011:
Previous guesses had put the total number of different species at anywhere between three million and 100 million, but a new calculation based on the way in which life forms are classified puts the estimate at the lower end of that scale.
The list of known species currently stands at about 1.2 million, but experts said that advances in technology meant that the remainder could be found and classified within the next century.
The study was undertaken by researchers from the Census of Marine Life, a ten-year project involving 2,700 scientists from more than 80 countries aimed at assessing the diversity of life in our seas and oceans which concluded in October 2010.
The paper behind this story is Camilo Mora, Derek P. Tittensor, Sina Adl, Alastair G. B. Simpson, Boris Worm, "How Many Species Are There on Earth and in the Ocean?", PLoS Biology 9(8) 2011. It adds a new twist to an estimation problem whose history extends well back into the 20th century.
A classic discussion is RA Fisher, AS Corbet, and CB Williams, "The relation between the number of species and the number of individuals in a random sample of an animal population", Journal of Animal Ecology 1943. And a bit earlier, Alan Turing had made a brilliant contribution to solving a superficially different problem: Fisher et al. wanted to estimate the population distribution of butterfly species from samples gathered by lepidopterists in Malaya, while Turing and his colleagues wanted to estimate the population distribution of German letter-sequences or words from samples of plaintext messages gathered  in the course of the Enigma decryption project at Bletchley Park.
Since Turing's idea was part of a classified project, it was published only in disguised form, and more than a decade later, in IJ Good, "The Population Frequencies of Species and the Estimation of Population Parameters", Biometrika 40(3-4) 1953:
A random sample is drawn from a population of animals of various species. (The theory may also be applied to studies of literary vocabulary, for example.) If a particular species is represented r times in the sample of size N, then r/N is not a good estimate of the population frequency, p, when r is small. Methods are given for estimating p, assuming virtually nothing about the underlying population. The estimates are expressed in terms of smoothed values of the numbers nr (r = 1, 2, 3, …), where nr is the number of distinct species that are each represented r times in the sample. (nr may be described as `the frequency of the frequency r'.) Turing is acknowledged for the most interesting formula in this part of the work.
If you'd like to know what that "most interesting formula" was, and how it works, see my lecture notes "Statistical estimation for Large Numbers of Rare Events"; or William Gale and Geoffrey Sampson, "Good‐Turing frequency estimation without tears", Journal of Quantitative Linguistics 1995. For a comparison of Fisher's method with the Good-Turing approach, see Bradley Efron and Ronald Thisted, "Estimating the number of unseen species: How many words did Shakespeare know?", Biometrika 1976:
Shakespeare wrote 31534 different words, of which 14376 appear only once, 4343 twice, etc. The question considered is how many words he knew but did not use. A parametric empirical Bayes model due to Fisher and a nonparametric model due to Good & Toulmin are examined. The latter theory is augmented using linear programming methods. We conclude that the models are equivalent to supposing that Shakespeare knew at least 35000 more words.
And for an extensive, systematic and clear exploration of the modeling issues in the textual case, see Harald Baayen, Word Frequency Distributions, 2001. Some applications in other areas can be found in Iuliana Ionita-Laza, Christoph Lange and Nan M. Laird, "Estimating the number of unseen variants in the human genome", PNAS 2009; "Vicki Pollard's Revenge", Language Log 1/2/2007; "Comparing the vocabularies of different languages", Language Log 3/31/2008
Given that background, let's take a look at the new twist in Camilo Mora, Derek P. Tittensor, Sina Adl, Alastair G. B. Simpson, Boris Worm, "How Many Species Are There on Earth and in the Ocean?", PLoS Biology 9(8) 2011. Here's an abridged version of their introduction:
Robert May recently noted that if aliens visited our planet, one of their first questions would be, "How many distinct life forms—species—does your planet have?" He also pointed out that we would be "embarrassed" by the uncertainty in our answer. This narrative illustrates the fundamental nature of knowing how many species there are on Earth, and our limited progress with this research topic thus far. Unfortunately, limited sampling of the world's biodiversity to date has prevented a direct quantification of the number of species on Earth, while indirect estimates remain uncertain due to the use of controversial approaches […]. Globally, our best approximation to the total number of species is based on the opinion of taxonomic experts, whose estimates range between 3 and 100 million species […]. With the exception of a few extensively studied taxa […], we are still remarkably uncertain as to how many species exist, highlighting a significant gap in our basic knowledge of life on Earth. Here we present a quantitative method to estimate the global number of species in all domains of life. We report that the number of higher taxa, which is much more completely known than the total number of species, is strongly correlated to taxonomic rank and that such a pattern allows the extrapolation of the global number of species for any kingdom of life.
So their basic idea is to generalize the problem in a hierarchical way.  Earlier authors addressed the problem of estimating the distribution of individuals in species, but also noted in passing that similar issues arise in relating species to genera, or genera to families, and so on. Mora et al. look at this hierarchical generalization in a systematic way.
They add one additional twist. The methods discussed up to this point have been based on the concept of extrapolating a type-token plot like this one:
Here the horizontal axis is the number of word tokens examined in running text, while the vertical axis is the number of word types (distinct letter sequences) found. The Fisher paper framed things in terms of the number of species (animal types) found, as a function of the number of individual animals (animal tokens) examined.
Rather than considering the number of higher-level kinds found as a function of the number of lower-level entities examined, Mora et al.  relate the number of discovered higher-level kinds to the simple passage of historical time (what they call a "temporal accumulation curve". If we assume that individual words (or animals) are examined at a constant rate, then this is the same thing with a change of scale — and they devote some effort to estimating the sensitivity of their estimates to plausible variation over time in the amount of such taxonomic effort that is expended.
Whether they've done enough to lay such concerns to rest is controversial. Thus Carl Zimmer ("How Many Species on Earth? It's Tricky", NYT 8/23/2011) quotes Terry Erwin as objecting "They're measuring human activity, not biodiversity."
Anyhow, the higher we go in the tree of taxa, the closer the current observational estimates of the number of types are to the asymptotes that they will eventually reach as more and more of the relevant populations are sampled. Here's Mora et al.'s Figure 1, showing the growth over historical time, from the mid-18th-C to the present, of estimates of the numbers of phyla, classes, orders, etc.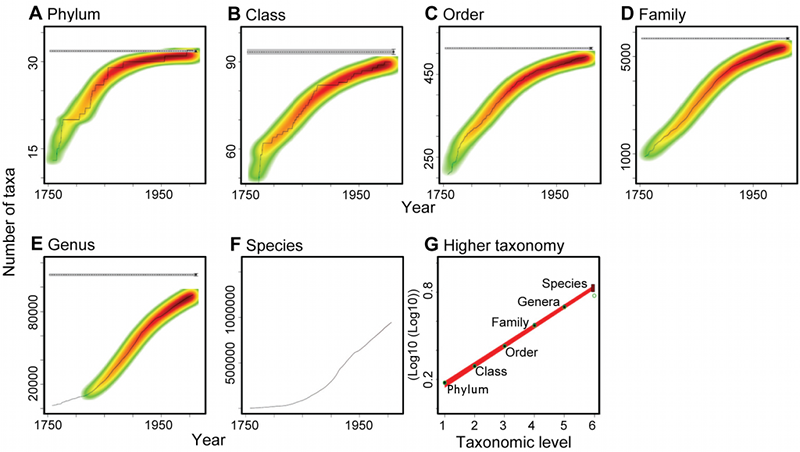 (A–F) The temporal accumulation of taxa (black lines) and the frequency of the multimodel fits to all starting years selected (graded colors). The horizontal dashed lines indicate the consensus asymptotic number of taxa, and the horizontal grey area its consensus standard error. (G) Relationship between the consensus asymptotic number of higher taxa and the numerical hierarchy of each taxonomic rank. Black circles represent the consensus asymptotes, green circles the catalogued number of taxa, and the box at the species level indicates the 95% confidence interval around the predicted number of species.
And this turns out to be crucial, because Panel F, plotting the count of species as a function of time, is clearly far away from its asymptotic value — which they don't try to estimate directly. The key part of their approach is indicated in Panel G, which plots the log of the log of the estimated asymptotes as a function of taxonomic level: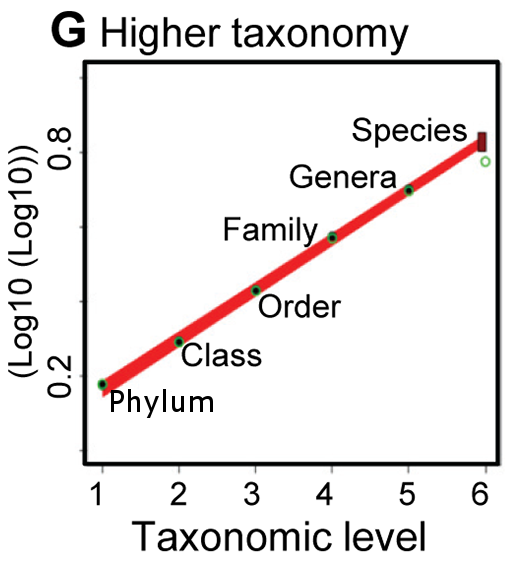 More specifically,
… we accounted for undiscovered higher taxa by fitting, for each taxonomic level from phylum to genus, asymptotic regression models to the temporal accumulation curves of higher taxa (Figure 1A–1E) and using a formal multimodel averaging framework based on Akaike's Information Criterion to predict the asymptotic number of taxa of each taxonomic level (dotted horizontal line in Figure 1A–11E). Secondly, the predicted number of taxa at each taxonomic rank down to genus was regressed against the numerical rank, and the fitted models used to predict the number of species (Figure 1G).
[Of course, error bars shrink marvelously when expressed in terms of the log of the log of the basic numbers at issue…]
One obvious question is whether there's any effective way to apply this idea to the problems of linguistic frequency estimation.
---