« previous post | next post »
Reader AW asks:
What difference is there, if any, between the words "mate" and "friend"? I once had a British friend insist to me that he doesn't have mates, but that he has friends. My own feeling about the word "mate" is that it connotes a relationship that at least resembles one you have with a schoolmate — that is, a kind of collegial friend who's part of your cohort, whatever that may be, and who you've come up with. Why don't Americans say "mate"? Did we break from that culture of fraternal camaraderie? And for that matter, is there a difference between the British "mate" and the Australian "mate"?
AW is asking three different questions: (1) What's the difference (in British or Australian English) between mate and friend? (2) Why don't Americans use mate in the way that Brits and Aussies do? (3) Are the British and Australian versions different? In this post, I'm going to try to answer only question (2).
The OED says that the relevant senses of mate come from "Middle Low German māt comrade", and suggests that we "Compare early modern Dutch maat (1546), maet (1573) friend, partner".
The OED traces the English sense "A companion, fellow, comrade, friend; a fellow worker or business partner" back to 1380, and notes that this is "Freq. as the second element in compounds, as bed-, flat-mate, etc. (in which it is generally less colloq. than when standing alone)".
The sense glossed as "colloq. Used as a form of address to a person, esp. a man, regarded as an equal" is traced back to the 16th century:
c1500 Pilgrims Sea-voyage 14 in F. J. Furnivall Stations of Rome (1867) 37  'What, howe! mate, thow stondyst to ny, Thy felow may nat hale the by;' Thus they begyn to crake.
c1550 Complaynt Scotl. (1979) vi. 32   The master cryit on the rudir man, mait keip ful and by, a luf.
1582 R. Stanyhurst tr. Virgil First Foure Bookes Æneis iii. 53   My maats skum the sea froth there in oars strong cherelye dipping.
1612 B. Jonson Alchemist ii. vi. sig. F2,   How now! What Mates? What Baiards ha'we here?
1637 T. Heywood Dial. i, in Wks. (1874) VI. 96   My Mate (It is a word That Sailors interchangeably afford To one another) speake.
But this sub-entry carries the note "Not used in N. Amer.".
This is mysterious and surprising, in my opinion. My impression is that most lexical differences between regional varieties of English are the result of geographically localized innovations, rather than geographically localized losses.
One clue here may be that all of the pre-19th-century citations (those listed above) occur in a nautical context. (This makes sense, if the word came from or was influenced by Dutch.) So perhaps the generalization to relationships on land was an innovation that took place (or at least spread) in the UK after most North Americans had already left.
As support for this view, note that the entry for mate in the "revised, corrected and enlarged" 1827 edition of Johnson's dictionary focuses on the sexual and nautical senses (though it does cite "a companion, male or female", along with the here-irrelevant chess -derived usage):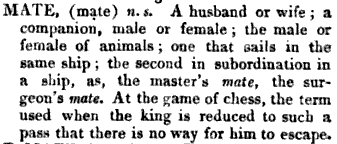 The OED develops the "second in subordination in a ship" sense from a more general "helper" or "assistant" sense:
"A helper for a more skilled worker; a deputy or assistant";
"An assistant to a particular functionary on a ship, esp. (now hist.) to a warrant officer in the navy. Now chiefly as the second element in genitive compounds, as boatswain's, cook's, gunner's, steward's mate, etc.";
"The rank of officer immediately subordinate to the master, divided according to seniority into first mate, second mate, third (etc.) mate";
The idea of mate as "one of a pair" has of course also developed into various sexual senses, such as "A partner in marriage; a husband or wife. Later usually: a person regarded as a suitable marital partner." This usage also goes back to the 16th century.
But the OED adds a geographically relevant note to this sense: "Also (now chiefly N. Amer.): a lover." Perhaps the "colloquial form of address to a male equal" sense (if it really existed outside the context of shipboard life) and the "lover" sense were in more tension than multiple uses usually are, and different regions resolved this tension differently?
Other common derived senses appear to be geographically undifferentiated, especially "Either of a mating pair of birds or other animals"; "Either of a matched pair of things; a counterpart".
So my tentative theory would be that as of 1800 or so, the sexual and nautical senses dominated usage on both sides of the Atlantic; and that the "companion" usage spread from shipboard to more general colloquial use, outside of North America, at some later time.
If we look for uses of the word "mate" in American sources during the first half of the 19th century, nearly all of the non-compounded examples are either the sexual or the nautical sense. A few from COHA:
For beaux and light coquettes, by fate Were each design'd the other's mate,
And if all's at sixes and sevens at home, and my mate's voice and face grow sharp and angry,
her heart fluttered and struggled as an imprisoned bird when her mate approaches her cage
The Captain and mate took the strong box to themselves
a wicked and turbulent wretch, whom they shipped in the West Indies as mate,
About ten, the mate came down, and told us the cable had parted
When I look at uses of the same word in (say) the London Times during the same period, I find a similar pattern, somewhat more tilted towards the nautical uses.
This still leaves open the question of when and how the modern "pal" usage started. I don't find it, for example, in Dickens' portrayal of English colloquial speech.  He does show Daniel Peggotty in David Copperfield using the vocative plural "mates", e.g.
"Well, mates," said Mr. Peggotty, taking his seat, "and how are you?"
But Daniel is a fisherman. The earliest non-nautical vocative example that I've been able to find is in Thomas Hardy's 1874 Far from the Madding Crowd:
The noise approached, came close, and a figure was apparently on the point of gliding past her when something tugged at her skirt and pinned it forcibly to the ground. The instantaneous check nearly threw Bathsheba off her balance. In recovering she struck against warm clothes and buttons.

"A rum start, upon my soul!" said a masculine voice, a foot or so above her head. "Have I hurt you, mate?"
(This encounter takes place in the dark, so the speaker — an army sergeant — is unaware of the sex of his addressee.) The earliest non-nautical non-vocative example I've found is from RIchard Jeffries' 1885 After London, Or, Wild England:
He got up, and returning slowly towards the camp, passed on his way the drinking-place, where a groom was watering some horses. The man called to him to help hold a spirited charger, and Felix mechanically did as he was asked. The fellow's mates had left him to do their work, and there were too many horses for him to manage.
It may be significant that both of these examples are in a military context. But perhaps some reader will be able to point us to a more complete history.
---