« previous post | next post »
There are four authentic Apple stores in China, two in Beijing and two in Shanghai, with plans to open another in Shanghai and one in Hong Kong by the end of the year. I've been in one of the Beijing stores and in one of the Shanghai stores; they are palaces of iPods, iPads, iPhones, and all manner of other Apple products.
A blogger in Kunming, Yunnan Province of China, has stumbled upon devilishly realistic Apple Store knockoffs — the whole kit and kaboodle, including circular stairs and laid-back staff in blue t-shirts who appear to believe that they are working for Apple Computer, Inc., not some Chinese shānzhài 山寨 ("imitation; pirated brand") outfit. Her account of these stores in Kunming (BirdAbroad (July 20, 2011, with later updates, including a video) "Are you listening, Steve Jobs?") has gone absolutely viral, with more than a million visitors to her site, and the story being picked up by thousands of news outlets.

One of the first major online news services to pick up the story was the Huffington Post ("China's Fake Apple Stores Mimic Real Thing–Down To Product Displays", 7/20/2011). Then came Wired ("Counterfeit Apple Stores Popping Up in China", 7/21/2011), the San Jose Mercury News ("Entire Apple stores being faked in China", 7/21/2011), Reuters ("Customers angry, staff defiant at China's fake Apple Store", 7/22/2011), and countless others.
One of the more interesting accounts appeared in the Los Angeles Times ("Taiwanese animators create Fake Apple Store reenactment", 7/22/2011), featuring a video from Next Media Animation, the talented Taiwanese computer animation studio that produced the reenactment ,of the Tiger Woods scandal and other hilarious send-ups of current events,
I knew about BirdAbroad's sensational revelations on the first day she posted them, and wanted to write about them on Language Log. However, from the very beginning, I could spot only one linguistic hook: the absurd misspelling of "store" as "stoer" as seen in this photograph from BirdAbroad's original post: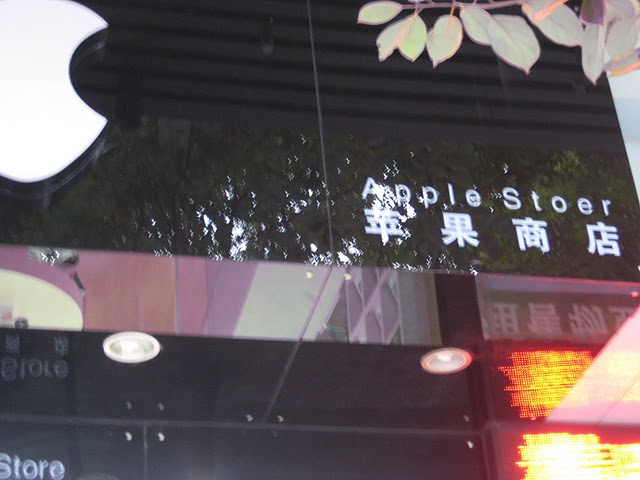 No, it's not the Highlands Scottish township of Stoer in the parish of Assynt, Sutherland.

That error was spectacularly careless, given the professionalism, effort, and expense evident in the rest of the fakery, but it didn't seem like enough for a post. So I spent the next couple of days scouring the web for other linguistic anomalies in the stores. I even deputed friends who live in Kunming to go down to the fake Apple stores and ferret out interesting features about their language usage, whether English or Chinese, but to no avail.
So I went back and reread BirdAbroad's post and came upon this sentence: "Apple never writes 'Apple Store' on it's [sic] signs – it just puts up the glowing, iconic fruit."
She's right, of course. Go on Google Images and search for [ apple store ] (quotation marks unnecessary, and you will see many beautiful, glassy Apple store fronts in major cities, with the glowing Apple logo prominently in view, but nary a sign advertising "Apple Store." That would be too gauche and obvious, wouldn't it?
So that set me thinking about how the perpetrators of this sublime dissimulation rendered "Apple Store" in Chinese, bearing in mind that it shouldn't really be on the fronts of those stores at all — if they're attempting to be truly fake down to the last detail.
Without trying very hard, I quickly found three different Chinese translations of "Apple Store" in the photographs that are available on the internet:
Píngguǒ língshòu diàn 蘋果零售店 ("Apple Retail Store")
Píngguǒ shāngdiàn 蘋果商店 ("Apple Store")
Píngguǒ líng mài diàn 苹果零卖店 ("Apple Retail Store")
The multiplicity of variant translations is an indication that the local managers were, so to speak, playing it by ear, and not following the Apple playbook when they devised these bogus translations of bogus signs on the fronts of bogus stores.
So, even though a bit of linguistic evidence has been brought to bear here, I'm appealing to Language Log readers in Kunming, or other cities where these fake Apple stores are appearing, to visit them and inspect them for other linguistic anomalies.  Apple's icon-dominated aesthetic creates relatively few opportunities for errors at the scale of the pictures that I've seen so far. Does the quality of fakery hold up when you look more closely?
---