« previous post | next post »
Andy Coughlan, "First evidence that birds tweet using grammar", New Scientist 6/26/2011:
They may not have verbs, nouns or past participles, but birds challenge the notion that humans alone have evolved grammatical rules.
Bengal finches have their own versions of such rules – known as syntax – says Kentaro Abe of Kyoto University, Japan. "Songbirds have a spontaneous ability to process syntactic structures in their songs," he says.
To show a sense of syntax in the animals, Abe's team played jumbled "ungrammatical" remixes of finch songs to the birds and measured the response calls.
The basic article is Kentaro Abe & Dai Watanabe, "Songbirds possess the spontaneous ability to discriminate syntactic rules", Nature Neuroscience 6/26/2011. And like the coverage in New Scientist, it's both true and misleading.
First, the idea that there's a kind of grammar in animal behavioral sequences is an old and well established one. This is trivially true if we take "grammar" in the mathematical sense of restrictions on the free monoid Σ* of sequences of elements from the set Σ. We might start, for example, with the elegant series of experiments and explanations begun by G.M. Hughes in "The Co-Ordination of Insect Movements: I. The Walking Movements of Insects", J. Exper. Biol. 1952, where Σ is the set of six possible limb protractions:
The rhythm of walking movements in Periplaneta, Blatta, Dytiscus, Hydropkilus, Carabus, Blaps and Chrysomela obeys two rules: (i) no foreleg or middle leg is protracted until the leg behind has taken up its supporting position; (ii) each leg alternates with the contralateral one of the same segment. […]
Several gaits have been observed, the most common order of protraction being R1, L2, R3, L1 , R2, L3, R1, etc., but these grade into one another if the ratio p/r is altered and the two rules obeyed. […] At very slow speeds the rhythm R3, R2, R1, L3, L2, L1 , R3, etc., may be present.
60 years later, we know quite a bit about the neurophysiology, physics, and evolution of gait syntax — for an interesting model of the neurophysiology, see e.g. R.M. Ghigliazza and P. Holmes, "A Minimal Model of a Central Pattern Generator and Motoneurons for Insect Locomotion", SIAM J. Applied Dynamical Systems 2004.
Similar motor-control "grammars" have been studied for other species and functions, for instance in the case of rodent grooming. See John C. Fentress, "Emergence of pattern in the development of mammalian movement sequences", Journal of Neurobiology, 23(10): 1529-1556, 1992; or H.C. Cromwell and K.C. Berridge, "Implementation of Action Sequences by a Neostriatal Site: A Lesion Mapping Study of Grooming Syntax", J. of Neuroscience 16(10) 1996:
The neostriatum and its connections control the sequential organization of action ("action syntax") as well as simpler aspects of movement. This study focused on sequential organization of rodent grooming. Grooming syntax provides an opportunity to study how neural systems coordinate natural patterns of serial order. The most stereotyped of these grooming patterns, a "syntactic chain," has a particularly stereotyped order that recurs thousands of times more often than could occur by chance. […] Our results identified a single site within the anterior dorsolateral neostriatum, slightly more than a cubic millimeter in size (1.3 × 1.0 × 1.0 mm), as crucial to grooming syntax. Damage to this site did not disrupt the ability to emit grooming actions. By contrast, damage to sites in the ventral pallidum and globus pallidus impaired grooming actions but left the sequential organization of grooming syntax intact. Neural circuits within this crucial "action syntax site" seem to implement sequential patterns of behavior as a specific function.
Or A.V. Kalueff and P. Tuohimaa, "Grooming analysis algorithm for neurobehavioural stress research", Brain Research Protocols, 13(3): 151-158, 2004, which used the relative frequency of  "ungrammatical" mouse grooming sequences as an index of stress.
The case of birdsong is different in ways that make it seem somewhat more like human language: the function of song patterns is social (mating, territoriality, etc.) rather than physical (locomotion, grooming, etc.); as a result, pattern perception is just as important as pattern production; in some species of birds, the song patterns are quite varied and complex, at least compared to gaits and grooming sequences; and in some species, the song patterns are learned rather than innate.
But the idea that birdsong sequences have grammars (in the sense of restrictions on the free monoid of birdsong "syllables"), and that these grammars matter to singers and to their audiences, is not news. Thus Evan Balaban, "Bird Song Syntax: Learned Intraspecific Variation is Meaningful", PNAS 85(10) 1988:
Song syntax, defined as orderly temporal arrangements of acoustic units within a bird song, is a conspicuous feature of the songs of many species of passerine birds. While syntactical features play a role in interspecific song recognition by males of many bird species, syntax variation within species and female responsiveness to song syntax have received little attention. This report demonstrates that differences in naturally occurring learned song syntax within a species whose syntax varies geographically are behaviorally salient to both male and female birds. The salience of culturally transmitted intraspecific differences in song syntax has implications for the process of conspecific song perception and may be involved in the regulation of genetic exchange between large populations of swamp sparrows (Melospiza georgiana).
(I'm not sure who first documented the "orderly temporal arrangements of acoustic units within a bird song" in the scientific literature, but I'm pretty sure that this goes back at least to the 1950s. Handbooks for how to recognize birds by their songs must have been published much earlier. And the conscious common-sense recognition of these "orderly temporal arrangements" must be as old as our species, if not older.)
The idea of birdsong syntax is not news even in the specific case of Bengal finches — thus  Kazuo Okanoya, "The Bengalese Finch: A Window on the Behavioral Neurobiology of Birdsong Syntax", Annals of the New York Academy of Sciences, Volume 1016 (Behavioral Neurobiology of Birdsong) pp. 724-735, June 2004:
Bengalese finches have been domesticated in Japan for 240 years. Comparing their song syntax with that of their wild ancestors, we found that the domesticated strain has highly complex, conspicuous songs with finite-state syntax, while the wild ancestor sang very stereotyped linear songs.
So anyhow, there must be something new in the Kentaro Abe & Dai Watanabe Nature Neuroscience paper, but it's surely not the idea that some non-human species exhibit grammatical patterning in their behavioral sequences, nor the idea that some non-human species are differentially responsive to "grammatical" vs. "ungrammatical" patterns.
But I'm not going to tell you  — yet — what the new contribution of the Watanabe paper is. You can read the paper and work it out for yourself, or wait and read my explanation in a later post. Instead, today, I'm going to give a bit more background about birdsong.
Let's start with Finch phonology. One the key things about (the relevant kinds of) birdsong is that songs are made up of sequences of "syllables", where for a given bird, the syllables are drawn from a finite set of more-or-less well-separated kinds of tweets.
These syllables themselves are learned, in the sense that different birds of the same species may have different repertoires of syllables. Ofer Tchernichovski has done some lovely work on this process, as discussed in "Emergence of birdsong phonology", 10/11/2003. Here's an animation showing the emergence of discrete syllable types in the development of one specific zebra finch:
As explained in N.A. Hessler and A.J. Doupe, "Singing-Related Neural Activity in a Dorsal Forebrain–Basal Ganglia Circuit of Adult Zebra Finches", J. Neuroscience 1999:
In zebra finches, undirected song contains a variable number of motifs, a stereotyped series of approximately 3–10 discrete vocal elements (syllables).
Their illustration:

A spectrogram (plot of frequency vs time, with loudness indicated by the darkness of the signal) of a zebra finch song shows the characteristic features of song. Stereotyped sequences of syllables (lower case letters), called "motifs" in zebra finches (indicated by dark bars), may be sung from one to several times in succession, preceded by a variable number of short introductory elements (i). Amplitude oscillogram of song is plotted below spectrogram.
Thus there are two levels of finch syntax — the sequencing of syllables in a motif, and the sequencing of motifs in a song bout. In the zebra finch, both levels are relatively stereotyped, though not completely rigid, and we can ask what sort of grammar (or what sort of neural architecture) this behavioral syntax implies.
Interestingly, though the syntax of zebra-finch song bouts is extremely simple — to a first approximation, it's just a variable number of motif repetitions —  it's trivial to prove that a finite-state (markovian) grammar is not adequate to describe it.
After producing a motif, our hypothetical markov process will be in a state where it must decide whether to stop or to produce another motif. By the markovian assumption ("history is bunk"),  the probability of stopping will always be the same, regardless of how many motifs have been produced in the current bout.
Let Pstop denote this probability of stopping after a given motif. Then the the probability of producing a sequence of length 1 will be Pstop , the probability of producing a sequence of length 2 will be (1-Pstop)Pstop , and the probability of a sequence of length N will be (1-Pstop)N-1 Pstop . This implies that the modal number of motif repetitions will always be 1, and that the relative frequency of higher numbers of repetitions will fall off exponentially, at a rate determined by Pstop.
But zebra finches don't sing that way. Courtesy of Ofer Tchernichovski and Dina Lipkind, here's some data from our old friend zebra finch 109: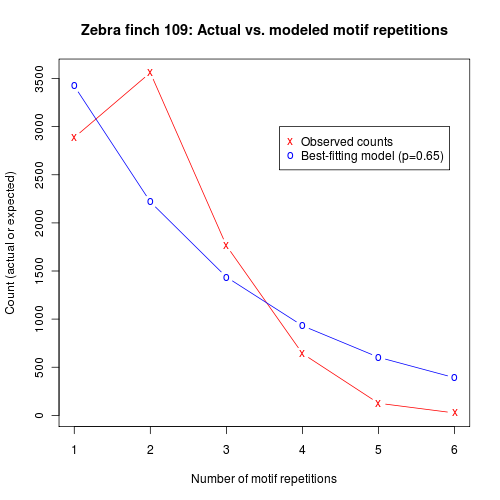 As you can see, the modal number of motif repetitions is actually two, not one — and an attempt to fit an exponentially-decaying number of repetitions fits rather badly. It doesn't work much better to assume that there is a higher probability of continuing after the first motif, and then a constant probability of continuing after subsequent repetitions, If we extrapolate from the probability of continuing to a third repetition, we continue to over-predict longer sequences: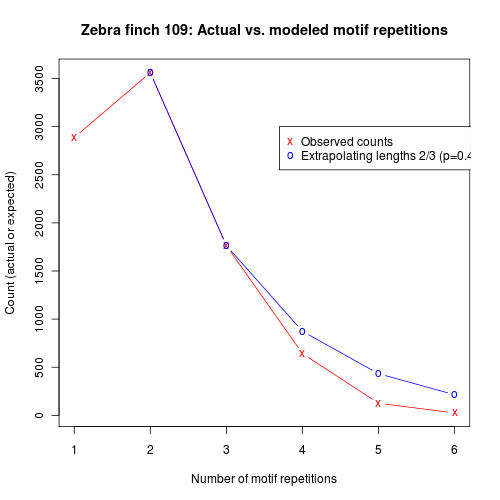 Of course, we could handle such data with a higher-order markov process, with a sequence of N motif repetitions stipulating appropriately different probabilities of continuing after each step. But what actually seems to be going on is that the probability of continuing itself is decaying exponentially. Here's a plot that shows the empirical probability of continuing after N motif repetitions, compared to an exponential model: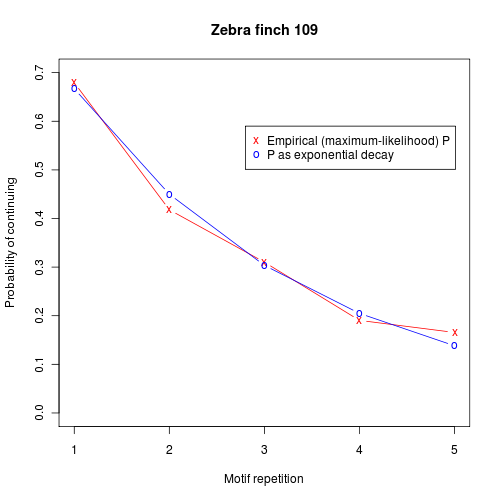 Here are similar plots from another bird: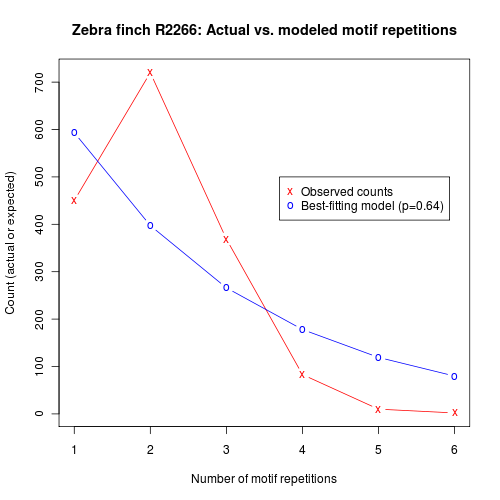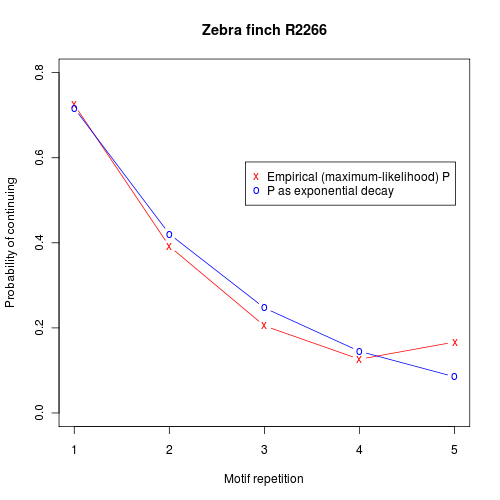 And the probability-of-continuing graph for a third bird: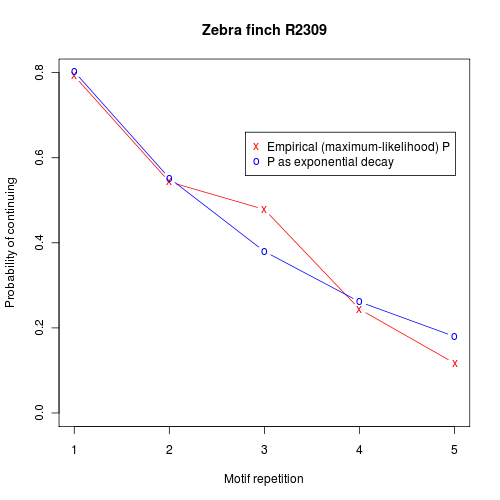 It's easy to imagine a simple neural architecture that would generate patterns like these — for instance, we might have a circuit generating the sequence of syllables in a motif, driven by an exponentially-decaying input. But neural-circuit simplicity and grammatical-hierarchy simplicity are not the same thing. Our hypothetical exponentially-decaying input driver represents a simple "memory" that is beyond the capacity of a stochastic finite-state automaton.
We'll return to this point when we pick up the question of what was really new in the Abe & Abe paper. Meanwhile, in the unlikely event that you haven't already had too much birdsong blogging, here's more:
"Emergence of birdsong phonology", 10/11/2003; "Birdsong and speech: together in the genome?",  4/7/2004; "Watch out for those Wallonian finches", 5/22/2007; "Dialect variation in the terminal flourishes of Flemish chaffinches", 5/27/2007; "Finches again", 6/9/2007; "Finch phrase structure?", 10/1/2007; "Creole birdsong?", 5/9/2008; "A multi-generational bioprogram? Derek Bickerton objects", 5/10/2008; "What's in a generation or two?", 5/12/2008; "Musical protolanguage: Darwin's theory of language evolution revisited", 2/12/2009; "Bickerton on Fitch", 2/15/2009.
And some posts on (non-)tests of grammatical complexity:
"Language in humans and monkeys", 1/16/2004; "Hi Lo Hi Lo, it's off to formal language theory we go", 1/17/2004; "Cotton-top tamarins: on the road to phonology as well as syntax?", 2/9/2004; "Humans context-free, monkeys finite-state? Apparently not.", 8/31/2004; "Rhyme schemes, texture discrimination and monkey syntax", 2/9/2006; "Learnable and unlearnable patterns — of what?", 2/25/2006; "Starlings", 4/27/2006; "Separating species with bullets", 4/28/2006.
---