« previous post | next post »
Today's xkcd: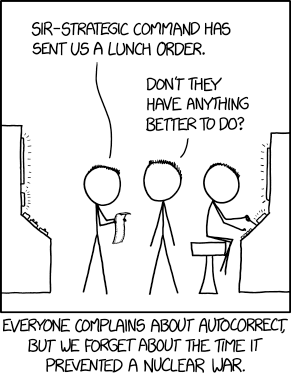 Mouseover title: "GO FOR LUNCH, REPEAT, GO FOR LUNCH."
---
7 Comments
Mark Meckes said,

I had to read it twice to get the joke. The human brain's autocorrect feature seems to be more context-sensitive than the electronic versions.

Seonachan said,

Those of us who grew up watching silly American kids tv shows in the 70s will remember this:

m said,

My grandmother had a strong Yiddish accent, and her daughters joked because she would tell them she was going to a "launching." (Obviously that's a women's event at around noon that involves a light meal.)

Dagwood said,

Cuban sandwich crisis!

David Morris said,

So what happens next time when they really mean to say 'We're ready for lunch whenever you are'?

Michael said,

I suppose that Randall is a little too young to remember the "Far Out Space Nuts." Otherwise that mouseover title would have explicitly mentioned it.

Rebecca said,

So did they send them the foot long or 6" subs?