« previous post | next post »
David Moser sent me this photograph of a sign on the side of a Beijing bus: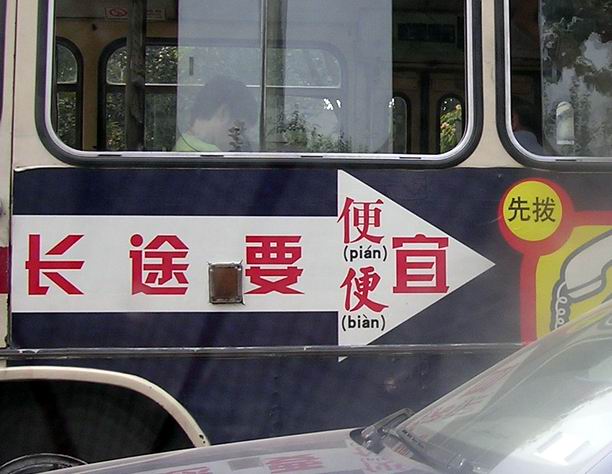 Before explicating the sign, I should note that many Chinese characters have two, three, or more pronunciations, some of which may be very different from each other, being neither phonologically nor semantically related.  Generally, though, the different pronunciations are phonologically linked and the meanings they convey are cognate.  Still, only context can indicate which of the several pronunciations (and meanings) are relevant in a particular instance.  Sometimes, however, sentence context is not enough, in which case ambiguity may result. Such is the case with the current example.
The sign reads:
Chángtú yào piányi / biànyi
长途要便宜
1. "Long distance should be cheap"
2. "Long distance should be convenient"
The reference, of course, is to long distance telephone calls, which ought to be both cheap and convenient.  In this ad, the 便 has two readings, where piányi is "cheap" and biànyi is "convenient".  Without the disambiguating pinyin, most viewers of the sign would adopt the piányi ("cheap") reading, but then the biànyi ("convenient") aspect of the long distance provider would be overlooked.  Hence the need for making explicit the variant reading.
Note that two different fonts are used for the characters in the two pronunciations.  This is purely a bit of ad hoc playfulness, and has nothing intrinsic to do with indicating the two different pronunciations.
I suppose this might be construed as a sort of visual punning.  Since there are so many characters with multiple readings, it is pretty easy to do this in Chinese.  But analogous visual puns could also be devised for the alphabet.  In the present instance, a really clever ad designer could probably have come up with a flipped version of "p" to indicate "b" in the two pinyin spellings.
---