« previous post | next post »
Reader SG wrote in to express a concern about how we should fill in the blank:
We hold these truths to be self-evident, that all men are created equal, that they are endowed by their Creator with certain _________ Rights, that among these are Life, Liberty and the pursuit of Happiness.
SG feels that "The USA was launched with a declaration of unalienable rights", but "In the past few decades, at least, the reference is more commonly to 'inalienable rights'."
In the Declaration of Independence, Thomas Jefferson's choice was certainly "… certain unalienable rights". [Update: except that this was apparently a copyist's choice, or maybe John Adams' choice — see here and here…] But SG's impression that things have changed recently seems to be an instance of the recency illusion.
The OED's entry for unalienable treats it as a variant form of inalienable, and its earliest citation is a dictionary entry that reinforces this equivalence:
1611 R. Cotgrave Dict. French & Eng. Tongues,   Inalienable, vnalienable; which cannot be sold, or passed away.
The Google Books corpus suggests that in general use, inalienable overtook unalienable around 1830, despite a big post-1776 meme-spike for the latter:

And if we look for a longer pattern such as "certain __alienable rights", which is likely to be an explicit reference to Jefferson's original, the cross-over is not shifted much:

Here can see a peak in both versions around 1833-35, associated (I guess) with the growth of abolitionist sentiment and the British Slavery Abolition Act; and a much larger peak, mainly in "certain inalienable rights", associated with the U.S. Civil War.
During the 19th century, the word-change from unalienable to inalienable was common even in direct quotations in well-edited sources. Thus "The Nebraska Bill: Speech of Senator Sumner of Massachusetts",  NYT 2/21/1854: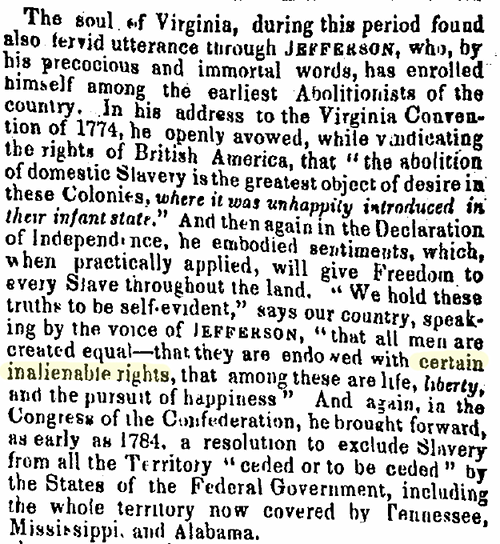 If anything, the tendency to modernize this quotation seems to have somewhat declined in recent years. At least, searching the NYT index for 1851 to 1980 turns up 215 instances of "certain inalienable rights" vs. 89 of "certain unalienable rights". From 1981 to the present, we find 48 vs. 50.
SG points to a recent White House statement in which Jefferson's words are echoed (though not quoted) with inalienable rather than unalienable:
Today, for the first time in history, the United Nations adopted a resolution dedicated to advancing the basic human rights of lesbian, gay, bisexual, and transgender (LGBT) persons. This marks a significant milestone in the long struggle for equality, and the beginning of a universal recognition that LGBT persons are endowed with the same inalienable rights — and entitled to the same protections — as all human beings.
SG notes that this is "one of [his] pet concerns about US history and linguistics", and asks "Does anybody have an idea–or care about–what caused this shift, and when it occurred?"
Thanks to the Google Ngram search tool, we can date the change fairly confidently to the first half of the 19th century, with a cross-over point around 1830. The cause of the change, I suppose, is basically just that inalienable won out over unalienable in the meme pool. Whether this was an isolated and random instance of memetic fixation, or whether it was driven by some selective pressures (euphony? analogy?), is a question for another time.
Should we care? Well, perhaps we should indeed mourn words as we mourn human lives, and recognize that
No Man is an Iland, intire of it ſelfe; euery man is a peece of the Continent, a part of the maine; if a Clod bee waſhed away by the Sea, Europe is the leſſe, as well as if a Promontorie were, as well as if a Mannor of thy friends, or of thine owne were; Any Mans death diminiſhes me, becauſe I am inuolued in Mankinde; And therefore neuer ſend to know for whom the bell tolls; It tolls for thee.
But we don't usually quote John Donne's meditation on the passing-bell as "No Man is an Iland, intire of it ſelfe; …"  Instead, most modern sources modernize the letter-forms, spelling, spacing, capitalization, and font choice, to give us "No man is an island, entire of itself; …"
Some might choose to retain some aspects of the original — perhaps the quirky capitalization and italics; perhaps the splitting of "it self"; perhaps the spelling of "intire". But generally we feel that a modernized presentation is not a mistaken presentation.
The choice between unalienable and inalienable strikes me as  similar sort of thing. The two word-forms have been in variation in English since they first appeared in the early 17th century; the variation never seems to have engendered any difference in meaning; and the form inalienable won out in general usage about 180 years ago.
So those of us with an antiquarian bent, who tend to quote Shakespeare in the original spelling, can go on quoting Jefferson's unalienable, and even using it in allusive references. But when others choose to modernize the choice, I think we can afford to be indulgent. There are more serious things to be concerned about in recent U.S. history, and even in linguistics.
---