« previous post | next post »
Marc Lacey, "As Arizona Fire Rages, Officials Seek Its Cause", NYT 6/11/2011:
Deep within the burn zone, while trying to extinguish the more than 600-square mile Wallow Fire, firefighters have taken care not to trod on two small areas in the Bear Wallow Wilderness where smoke and flames were first spotted a mile or more apart on May 29. Those two fires quickly merged into one big, unruly, runaway blaze that eludes containment nearly two weeks later. (emphasis added)

In standard formal English, I believe, that should be "to tread on"; "trod" is the past tense form, with the past participle being "trodden" or "trod". (The editors of the New York Times agree with me, apparently, since the online article has now been changed to read "tread on" — so here is a screen shot of the original.)
People have been confused about this for more than 600 years — the current standard tread, trod, trodden is the result of people Doing It Wrong in the 14th century. The OED explains that trodden (as robustly preserved in downtrodden) is from
Late Middle English troden, taking the place of Old English and Middle English treden, past participle of tread n.; imitating such past participles as holpen, stolen, < help, steal.
and notes that
In the 14th cent. (in Hampole a1340), either under Norse influence, or by assimilation to verbs of Class IV (brecan, bræc, brocen), the past participle troden (later trodden, trode, trod) began to be substituted for the original treden, although the latter in its shortened form tred(e, tread survived with some to the 17th cent., and is still in dialect use. In the end of the 14th cent. troden is found in the plural of the past tense, and from the 16th cent. trode, trod also in the singular. Ormin has a weak past participle trededd for treden, and a weak past tense tredide, tredde appears in the later Wyclifite version.
The OED also recognizes an adjective trod, analyzed as a shortened form of "trodden", as in Milton's "Then to the well-trod stage anon". There is also a transitive verb trod,  marked as "Obs. or dial.", with the gloss "To follow the footprints or track of; to track, trace".
So, as I said, people have been confused for a long time about how to conjugate tread.  Adopting the preterite (or shortened past participle) form trod as the base form is not something that I recall seeing in well-edited writing in the past. However, a quick check in the invaluable MWDEU reveals that this is an instance of the recency illusion:
[T]rod also has a long history of use as a verb in its own right. […] The intransitive sense, which might also be defined simply as "tread," is […] not recorded until 1909. It occurs chiefly in dialectal American speech, but it also occasionally finds its way onto the printed page:
… they were almost trodding on your correspondent's toes — Springfield (Mass.) Daily News, 15 Nov. 1961
… visitors have been coming in creasing numbers to trod down Main Street –Elizabeth van Steenwyk, Ford Times, November 1967
A related transitive trod also sometimes appears in print. Like the intransitive trod, it is used both literally and figuratively:
The eccentric is forced, therefore, to trod a lonely way  — Martin Gardner, In the Name of Science, 1952
… we saw one horse with wagon … trodding the cobbled road –John A. Murray, Grace Log, Winter 1967-1968
And in 1926, the American Dialect Society was on the case (Josephine M. Burnham, "Some Observations on Middle Western Speech", Dialect Notes):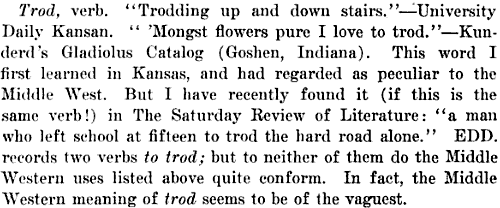 Related uses continue and perhaps increase in print:
For days, residents have been trodding along muddy roads in the region, abandoning their homes with little more than spare clothing stuffed into plastic bags. (Edward Wong, New York Times 7/19/2010)
Suri Cruise demonstrated her non-stop commitment to glamour by wearing high heels to a Malibu beach party on Memorial Day, trodding haphazardly through the sand with mother Katie Holmes. (Maureen O'Connor, Defamer 6/1/2011)
And the extent to which the prime minister and Mr. Flaherty are now able to trod the Earth like bulls, not beavers, reflects the resilience of a system they have both inherited and competently administered. (Alec Bruce, Times & Transcript, 5/31/2011)
I was the wing / in heaven blue / yet to trod / in heavy shoes (Patti Smith, "wing")
And also in speech, as in this passage from a recent Rush Limbaugh show:
Audio clip: Adobe Flash Player (version 9 or above) is required to play this audio clip. Download the latest version here. You also need to have JavaScript enabled in your browser.

If Newt can provoke attack from the conservative Republican contenders
and even from the rank-and-file voters
by trodding on their sacred cows, which is what he did,
there's no denying- he trod on some sacred cows as defined by this campaign.
If- so be it if he does that. It gives him visibility, who's talking about it,
In some people's eye, it makes him reasonable.
With this crowd
uh that I'm talking about, it's a resume enhancement to be criticized by me.
And the continuing confusion seems to be unleashing some semantic creativity even when the morphology remains classical:
Karen Heller, "Better to look good than do good", Philadelphia Inquirer 5/29/2011:
Who knew the road to ruin was trod with toe cleavage?
---