« previous post | next post »
Apparently the international branch of the Bèn School of Translation has landed a contract with a certain cruise line to translate their menus. Here is the first of six buffet items, which begins innocently enough in English as "Chicken and Mushroom Tart":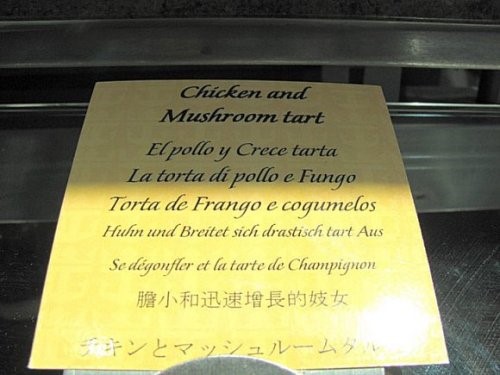 The translation stumbles right out of the gate in Spanish, where mushroom has apparently been interpreted as a verb and translated as the imperative form Crece "grow!", so that the whole thing becomes a surreal conjunction of a noun phrase and a food-directed order: "The chicken and Grow, tart!"
Analogous but oddly diverse problems afflict the other six languages. In French, for example, mushroom remains a noun and is translated correctly ("Champignon"). But this time chicken has turned into a verb, as in "chicken out", which rather loosely translated as se dégonfler, literally "to deflate" and figuratively "to lose one's nerve", so that the dish becomes "To lose one's nerve and the tart of mushroom".
And in Chinese, the two named ingredients and the resulting dish have all cast off their lexicographic moorings, with results that veteran readers should be able to predict:
Dǎnxiǎo hé xùnsù zēngzhǎng de jìnǚ
膽小和迅速增長的妓女
Timid and rapidly grown prostitute(s)
The basic Bèn School Method seems to be to look each content word up in a bilingual dictionary, and to pick the most amusing and least grammatical option among the alternatives on offer.  The word order of the translation seems to be a semi-random compromise among the various languages involved.
Let's see what else is available on the menu.  Here's the next item: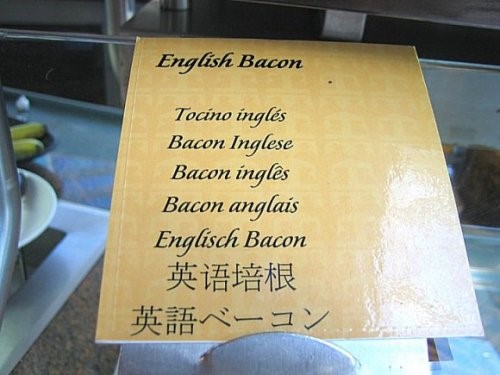 This time the Chinese version is not nearly as poetic, though it's still wrong:
Yīngyǔ péigēn
英語培根
English (language) bacon
The Japanese just below is the same. Now that you're getting the hang of it, I'll leave it to others to try their hand at the remaining items on the menu, for which I offer only photographs and no explanations.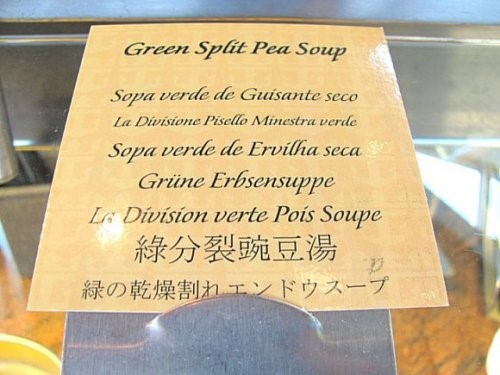 ---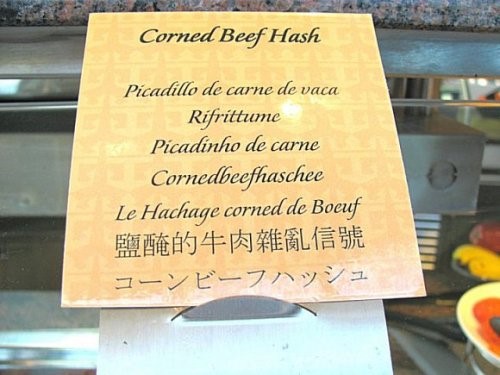 ---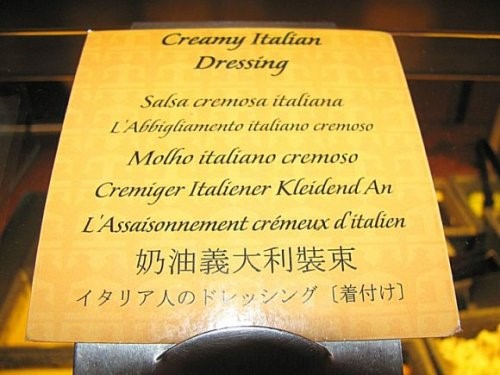 ---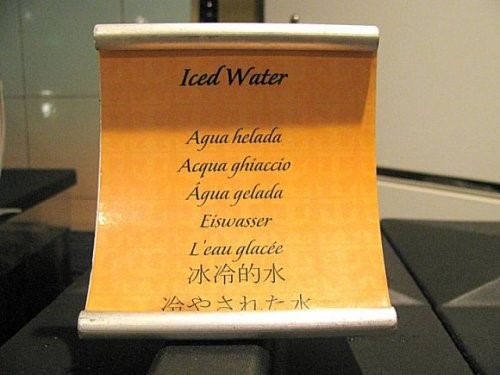 All of these delectables leave one drooling and dumbfounded.
[Thanks to Lareina Li and Jonathan Smith for independently sending me the complete set of photographs, apparently derived from this source.]
---