« previous post | next post »
For the Washington Post opinion blog The Plum Line, Greg Sargent wrote: "The events of this week are revealing with a new level of clarity that President Trump and the White House have ventured far beyond unconventional levels of dishonesty."
Obligatory screenshot:

On Twitter, Jonathan Zittrain wondered if Sargent actually meant "far beyond conventional levels of dishonesty."
did you mean "far beyond unconventional" or "far beyond conventional"?

— Jonathan Zittrain (@zittrain) March 21, 2017
Dan Scherlis responded that this could be a "classic valence error," or it could be construed as a kind of hyperbolic emphasis, since "unconventional" is already beyond "conventional." He figured it was likely an error and pointed to what he saw as a similar case: my Language Log treatment of Meghan McCain's tweet last year after a Republican primary debate: "Every negative stereotype I have tried to combat for the last 8 years about republicans has been utterly destroyed in the past 9 months."
Here's a similar case: negative valence of concept got mixed into THIS tweet's comparison:https://t.co/rBGDJoBfeQ

— Dan Scherlis (@Scherlis) March 21, 2017
In the Meghan McCain tweet, there is a clear conflict between "every negative stereotype I have tried to combat" and "utterly destroyed," since the debate seemed to reinforce rather than destroy the stereotypes that McCain sought to combat. The emphatic characterization "utterly destroyed" is perhaps meant to apply to the work McCain was doing to combat stereotypes rather than the stereotypes themselves.
In Greg Sargent's sentence, there is a somewhat similar telescoping of two concepts. One might typically say that Trump and the White House have "ventured far beyond conventional levels of dishonesty," with the idea being that "conventional levels of dishonesty" are levels that have been transgressed, moving the dishonesty into unconventional territory. But "beyond unconventional" can also be understood as a kind of hyperbole: the dishonesty isn't just unconventional, it's beyond unconventional. Trump has frequently elicited such hyperbolic reactions.
@AC360 Trump, a new kind of crazy! But now it's on display for the entire world to see. His crazy is beyond unconventional, it's mental!!

— Yep it's me (@chatwithsas) December 8, 2016
I mean, Trump is beyond unconventional. But the wave of voter discontent electing a Pres promising "change" that took him to power is v old.

— Pwn All The Things (@pwnallthethings) December 13, 2016
@hardball – can we get some more info from your guest who indicated this @WhiteHouse is using beyond unconventional means of communication?

— Tim Gyves (@PGHomes) February 16, 2017
While "beyond unconventional" has this idiomatic sense of "extremely unconventional," it does sound odd in the context Sargent gives it. "Ventur[ing] far beyond unconventional levels of dishonesty" seems to set up a boundary line between "conventional" and "unconventional," and then a further boundary line between "unconventional" and… what, exactly?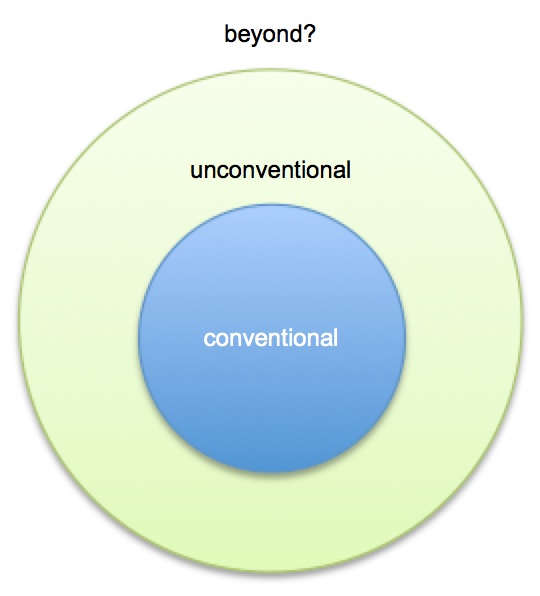 Update: Greg Sargent responds on Twitter.
not an error. I'm saying far beyond merely the unconv levels of dishonesty many have pointed out

— Greg Sargent (@ThePlumLineGS) March 21, 2017
---