« previous post | next post »
Today's Doonesbury:

Recently, the media have been bombarding us with stories about Harold Camping's calculations that the end of the world will start tomorrow: Ashley Parker, "Make My Bed? But You Say the World's Ending", NYT 5/19/2011; Mark Washburn, "With Rapture at hand, why bother flossing?", The Charlotte Observer, 5/20/2011; Abby Sewell, "Entreprenuers offer post-'rapture' services", L.A. Times 5/19/2011; David Barnett, "Apocalypse now? Christian Rapture fiction and the end of the world", 5/20/2001; etc.
But this being Language Log rather than Eschatology Log, my interest this morning is in the word rapture and in various associated verbs, such as rapted and raptured. Somewhat to my surprise, it appears that the sense glossed by the OED as "A state, condition, or fit of intense delight or enthusiasm" is a couple of centuries older than the sense glossed as "the transport of believers to heaven at the Second Coming of Christ".
Here are the OED's first few citations for the "intense delight or enthusiasm" meaning:
1594 G. Chapman Σκíα Νυκτóς sig. Aij,   It is an exceeding rapture of delight in the deepe search of knowledge‥that maketh men manfully indure th'extremes incident to that Herculean labour.
1603 M. Drayton Barrons Wars iii. lviii. 67   Those pleasing raptures from her graces rise, Strongly inuading his impressive breast.
1642 Milton Apol. Smectymnuus in Wks. (1851) III. 287   This man‥sees truth as in a rapture, and cleaves to it.
1744 J. Wesley & C. Wesley Coll. Psalms & Hymns (ed. 3) i. 55   If aught can there enhance their Bliss Or raise their Raptures higher.
1762 O. Goldsmith Citizen of World I. 36   He is instantly in raptures at so great an improvement.
And for the "transport of believers" meaning:
1768 T. Broughton Prospect of Futurity iii. viii. 357   We have determined likewise, from the Circumstance of the Rapture of the Saints,‥that the Air or Atmosphere will be the Place of the Judgement.
1848 J. N. Darby Exam. Statements Apocalypse 20   The immensely important fact of the rapture of the Church.‥ Nor can this rapture take place till after He has left the throne.
1903 W. Kelly Rapture of Saints 3,   I am not aware that there was any definite teaching‥that there would be a secret rapture of the saints at a secret coming.
1992 D. Morgan Rising in West iii. xiii. 227   He believed in the imminence of Christ's return and the 'rapture' of the church.
The Wikipedia article on the Rapture discusses the original sources:
The Koine Greek text uses the verb form ἁρπαγησόμεθα [harpagēsometha], which means "we shall be caught up", "taken away", with the connotation that this is a sudden event. The dictionary form of this Greek verb is harpazō (ἁρπάζω).
The Latin rapiemur is Saint Jerome's translation of the Greek word ἁρπαγησόμεθα. This is a faithful translation, using a form of the Latin verb rapiō, "to catch up" or "take away". […]
"Rapture" is an English noun derived from the Latin verb rapiō, with a literal meaning of "I catch up" "or "I snatch" (from the infinitive form of the verb rapere, "to catch up"; "rapture" is also cognate to the English words "rapids", "ravish", and "rape").
Bible versions – English Bible versions have translated Jerome's rapiemur ("we shall be caught up") in various ways:
* The Wycliffe Bible (1395), translated from the Latin Vulgate (405), uses "rushed".[9]
* The Tyndale New Testament (1525), and then the Bishop's Bible (1568), Geneva Bible (1587) and King James Version (1611) have "caught up"
* The New English Bible, translated from the Greek uses "suddenly caught up" with this footnote: "Or "snatched up." The Greek verb ἁρπάζω implies that the action is quick or forceful, so the translation supplied the adverb "suddenly" to make this implicit notion clear."
English writers on this topic seem to have been handicapped by a peculiar "no word for X" problem: as far as I can tell, there is (or at least, there was) no suitable and common English word for the fact, process, or result of being suddenly caught up (into the clouds or elsewhere).
Greek ἁρπάζω doesn't seem to have been borrowed into English in a suitable form. All we have is harpy, which is not all helpful in this context; and even in Latin, there's only harpago "grappling hook" and harpax "rapacious".
The earliest English descendent of Saint Jerome's rapere is rape — but already in the 14th century it had a distinctly negative connotation, which the OED glosses as "The act of taking something by force; esp. the seizure of property by violent means; robbery, plundering"; and by the 15th century it also and mainly meant "the act or crime, committed by a man, of forcing a woman to have sexual intercourse with him against her will". So "the Rape of the Saints" was never a plausible candidate.
The noun snatch refers more to  snatching than to being snatched, and so "the snatch of the saints" would not have been quite right, even before it acquired a giggle-worthy double meaning. Grab as a noun has a similarly active meaning, and its own set of negative connotations.
Of course, even the bible-translation verbal form "caught up" has some problems of its own — catch comes from late Latin captiare, via a French version which in the modern language is chasser, cognate with Italian cacciare, with the original meaning "hunt, chase, capture", and thus with some connotations that Saint Paul and Saint Jerome probably didn't intend.  The nominal form "catching up"  is a bit awkward ("the catching up of the saints"), and also brings out another set of catch meanings — "overtake", "interrupt", etc.
So at some point in the mid to late 18th century, people apparently drafted rapture into service. (The OED identifies the originator as Thomas Broughton, A prospect of futurity: in four dissertations on the nature and circumstances of the life to come : with a preliminary discourse on the natural and moral evidences of a future state; and an appendix on the general conflagration or burning of the world. Google books yields no earlier source for the phrase "rapture of the saints" in this meaning.)
The noun rapture itself was etymologically problematic: according to the OED,  post-classical Latin raptura was variously used to mean poaching, rape, and abduction. And similar meanings carried on to some extent in English:
1595 F. Sabie Fissher-mans Tale sig. Cv,   Priams famous towne, Nere bought so deare the rapture of faire Hellen.
1600 T. Dekker Old Fortunatus sig. H4v,   That feare, Which her late violent rapture cast vpon her.
1612 Life & Death Lewis Gaufredy sig. C1,   Great bitternes and affliction, as hers was after the rapture of her childe.
?1615 G. Chapman tr. Homer Odysses (new ed.) xx. 485   My women servants dragg'd about my house To lust and rapture
1632 G. Sandys tr. Ovid Metamorphosis (new ed.) v. 171   Lo, I the man, that will vpon thy life Reuenge, said he, the rapture of my wife.
But by 1768 (the date of the OED's first citation for escatological rapture) it seems that the "ecstatic delight" meaning had largely won out. Samuel Johnson's 1766 Dictionary glosses rapture as "ecstasy; transport; violence of any pleasing passion":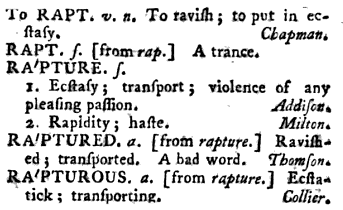 This is not at all what Saint Paul meant by ἁρπαγησόμεθα — but it's not surprising that 18th-century premillennialists preferred it to "rape".
I note also that Johnson's warning about raptured ("A bad word") has not prevented a recent rise in usage, mainly associated with other end-times speculation, thus:
Those who have been born again will definitely be raptured after the Tribulation.  … All the overweight people will be raptured and including the underweight people will be raptured as well.
We do not wish to say too much, but these few words we can safely affirm; namely, should the Lord Jesus come in our time, would we not want to be living so as to be raptured alive?
After she is raptured, Rayford wishes he had listened to her message about God.
The Bible teaches that all people, whether wicked or righteous, will be raptured. There are two phases of the rapture: The wicked will be raptured first followed by the rapture of the righteous. The Bible says God is going to clear the earth by rapturing everyone to his throne room.
Update — See also Be_Slayed's lovely "The Rapture, now with more Harpies" at Stæfcræft & Vyākaraṇa, 5/18/2011, which I unaccountably did not see earlier. That post also reproduces a relevant recent xkcd, which I did see but failed to include:

(As always, click to embiggen.)
---