« previous post | next post »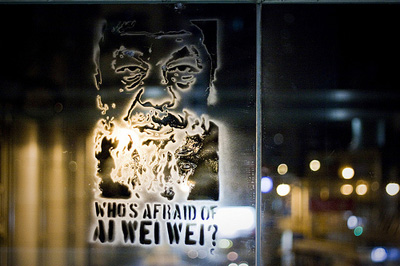 On April 3, the Chinese artist Ai WeiWei was arrested In Beijing as he was about to board a plane for Hong Kong. And according to Natalie Wong, "Mark of defiance as cops chase Ai artist", The Standard 4/20/2011:
A young woman going by the moniker Chin Tangerine claims she is responsible for spray-painting images of arrested mainland artist Ai Weiwei on Hong Kong streets and buildings, as the police zero in on possible suspects.
The woman sent pictures of herself purportedly spray-painting the artwork to a Chinese-language newspaper. They have also been posted on the internet. […]
The manhunt by Yau Tsim Mong District Regional Crime Unit and Central District Criminal Investigation Team began after the Ai-inspired graffiti were discovered by patrol officers last week.
Here is one of the photos, which the articles says "showed the woman, with her back to the camera, spray-painting the series of stenciled images, which include the words 'Who's afraid of Ai Weiwei?' in English on pavements and footbridges at night":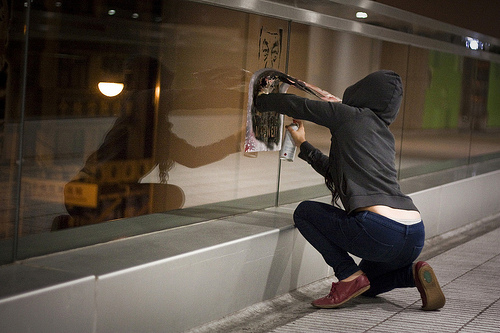 During the past couple of weeks, the image has apparently gone viral, despite the best efforts of the authorities to whitewash it, erase it, or otherwise cover it up. Variants are showing up on posters as well as graffiti: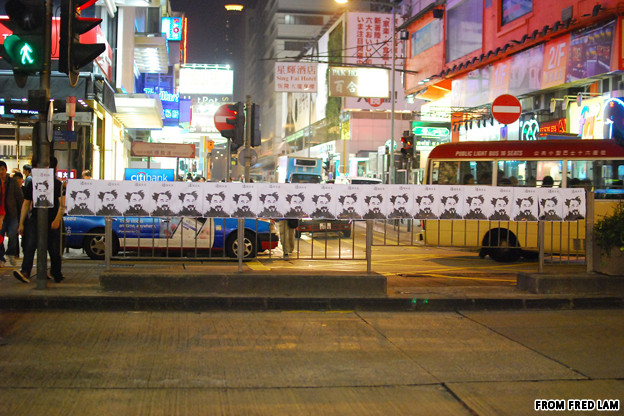 On t-shirts: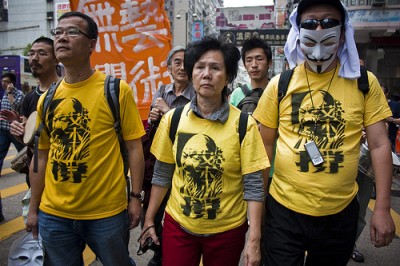 And most recently, according to Bucky Turco, "Chinese Army Unhappy over Ai WeiWei 'Flash Graffiti'", Animal 5/2/2011:
As if Chinese authorities weren't angered enough by the rash of pro-Ai Weiwei stencils popping up all over Hong Kong, someone is now projecting the same message on unauthorized locations around the city, including the barracks of the People's Liberation Army. A person using the moniker "Cpak Ming" is then taking photos of the "flash graffiti" and posting them on Facebook, which isn't necessarily illegal, but has thoroughly pissed off military officials regardless.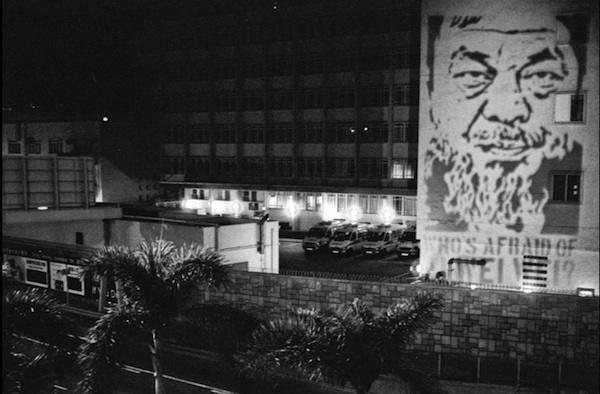 Turco's note cites Simpson Cheung and Phyllis Tsang, "PLA in warning over Ai WeiWei image stunt", 4/30/2011:
The People's Liberation Army in Hong Kong has taken the unprecedented step of saying it "reserves its legal right" to act over what it says was a breach of Hong Kong law when activists campaigning in support of Ai Weiwei projected the detained artist's image onto a wall at the PLA barracks in Admiralty.
The image of Ai's face, with the words "Who's Afraid of Ai Weiwei?" was projected earlier this week using a film attached to camera flash.
The "flash graffiti" was also beamed briefly onto other buildings in Wan Chai, Admiralty and Central, including the police headquarters in Arsenal Street and City Hall, and the Hong Kong Heritage Museum in Sha Tin.
A man using the alias "Cpak Ming" who claims on the social networking site Facebook to be responsible for the projected images could not be contacted last night.
I'm skeptical of the "film attached to camera flash" theory — surely some kind of lens would also be needed. And I have the impression that "flash graffiti" originally meant something different…  But however it works, I'm in favor of forms of "graffiti" that don't leave public spaces permanently defaced.
The Wikipedia entry cites two theories about why Ai, a successful artist who had seemed untouchable, has been arrested and held for the past month. One involves a somewhat cryptic tweet involving the word "jasmine" (Keith Richburg, "Chinese artist Ai Weiwei arrested in latest government crackdown", WaPo 4/3/2011):
On Feb. 24, amid an online campaign for Middle East-style jasmine rallies in major Chinese cities, Ai posted on his Twitter account: "I didn't care about jasmine at first, but people who are scared by jasmine sent out information about how harmful jasmine is often, which makes me realize that jasmine is what scares them the most. What a jasmine!"
The other involves a satirical use of the "grass mud horse", discussed in "Franco-Croatian Squid in pepper sauce", LL 3/12/2009 (Michael Sheridan, "Ai Weiwei held for 'obscene' political art", The Australian 4/11/2011):
CHINESE artist Ai Weiwei was detained after an obscene satirical work he drew enraged Communist Party leaders and handed a gift to security hardliners conducting the toughest crackdown on dissent in more than a decade.

International calls for Ai's release have been ignored and there was no official explanation for his detention by police at Beijing airport last week. But rights activists and journalists in Hong Kong say one of Ai's visual critiques of the party crossed a censorship line.
It shows the artist naked except for a toy horse concealing his genitals. The caption has a double meaning in Chinese, so millions of internet users have seen the six characters interpreted as: "F . . . k your mother, the party central committee."
This is the picture, with the caption 草泥马挡中央:
It would have been a fitting turn-about — but maybe simultaneously too obscure and too dangerous — for Chin Tangerine's stencils to have asked "Who's afraid of Ai WeiWei?" in Arabic.
Update — see also Louisa Lim, "Hong Kong Graffiti Challenges Chinese Artist's Arrest", All Things Considered 5/4/2011.
---