« previous post | next post »
Theodore Roosevelt "Ted" Malloch, who is reported to be Donald Trump's pick for ambassador to the EU, has been accused of inflating his resumé in various ways (Henry Mance, "Oxford distances itself from Trump favourite Malloch", Financial Times 2/10/2017; Henry Mance, "Academic touted as Trump's EU envoy embellished autobiography", Financial Times 2/9/2017; Daniel Boffey, "Credibility of Trump's EU ambassador pick called into question by leading MEP", The Guardian 2/9/2017).
If Mr. Malloch is actually appointed, the details (about publications, a knighthood, a lairdship, fellowships, professorships, an Emmy nomination, and so on) may become important, but meanwhile, one minor accusation — the tenth of ten listed in the 2/10/2017 FT article — led me to an amusing bit of lexicographic history.
The FT has identified a number of potentially misleading claims made in Mr Malloch's autobiography, Davos, Aspen & Yale, and in an online CV.
[… items 1-9 omitted…]
That he was the "first" to use the phrase thought leadership, a phrase that dates back to the 19th century. Contacted by the FT, Mr Malloch repeated the claim.
The phrase "thought leadership" figures prominently on Mr. Malloch's web site, including in his capsule "Bio":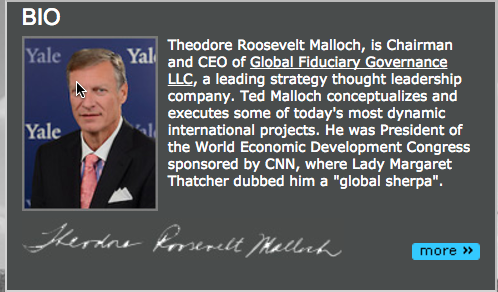 And a button at the top of his home page links to a "thought leadership" page:

The claim of terminological priority is featured in the foreword to Malloch's 2016 memoir, Davos, Aspen, and Yale: My Life Behind The Elite Curtain as a Global Sherpa:
Travelling to some 135 countries, Malloch is a pioneer of globalization who coined the term, "thought leadership".
And it's certainly true, as the FT asserts, that use of this phrase in print, in what seems to be the same sense, goes back to the 19th century. There are probably earlier examples, but we can start with Charles Berry, "The Lessons of  a Life", New Outlook 1897, 55 years before Mr. Malloch's birth in 1952:
And yet, among them all, not hindmost, but foremost, was the man who was pastor of this church ; foremost in thought-leadership and influence, because speaking to men as preacher, not as mere academic student, not as mere recluse reading books and thinking thoughts; but as a preacher who had seen visions, and dreamed dreams, and gripped problems, and found out new ways to emancipation and progress.
There's also the 1914 Report of the West Virginia State Board of Regents:
To summarize, we should make sure of permanent and adequate support of our state University:
(1) To express the best judgment and spirit of our citizenship.
(2) To make available the material wealth of our state.
(3) To discover the wealth of talent and leadership.
(4) To build and equip a plant to take care of the needs of the students now in attendance, and the increasing numbers to come.
(5) To attract leaders of thought to official and teaching positions, and to hold those who desire special facilities for research and unusual opportunities for thought leadership.
And more than a few others.
But the find that redeemed for me the whole otherwise-tedious search is the Talk of the Town from The New Yorker, May 20 1961, which begins:
A WHILE ago, intelligence was received by the American Association of Advertising Agencies that some people in this country are not tremendously keen on advertising. The Association was much upset by the news. In the first shuck of dismay, the group planned a sweeping campaign of advertising to change the public's mind about advertising. This announcement filled us with interest. We began searching the highways for new billboards, the skies for skywriting, and the magazines for colorful illustrations . We watched and waited. But now we learn, to our regret, that the campaign has been postponed. The Association, upon reflection, has decided to withhold its big guns until it has executed a "definitive depth-attitude survey," which is intended to "explore further the premise that the principal problem of advertising is not with the general public but with criticism of it that stems through thought-leader groups." We gather that the general public, in its natural state, likes advertising unreservedly, and grows restless only when thought leaders stir it up.
Well, as it happens, we had lunch last week with the Thought Leader Group for West Forty-third Street and heard another side of the story . The chairman of the Group, who wears a little red fez and is known as the Thought Leader Leader, opened the session by observing that the proposed survey attacks the very foundations of Thought Leadership. "There was a time, gentlemen, when those whom we criticized could be counted on to respond in simple ways," he said. "They might, for example, declare that the faults we mentioned had never existed, and besides, a committee had been appointed to correct them. Alternatively, they might merely urge us, with maximum publicity, to go back where we came from, Russia being most commonly mentioned as our suppositional homeland. Thought Leadership was a lively game then, and followed elementary rules. But now the sport, I fear, has become infinitely more complex, not to say baroque."
"Right," interjected the Supreme Recorder of Snap Judgments. "Take these Madison Avenue Space Cadets. We tell them billboards make the highways ugly. 'I wonder what he means by that,' they say to one another. We tell them we have seen ads on television that would offend the sensibilities of the dimmest lout. They nudge one another and say, 'He's a subtle one, all right. The devil himself couldn't figure our what he's getting at. We must take a deep, deep, definitive survey of his attitudes and find out what he has against advertising.' I don't call that playing the game. Thought Leading isn't what it used to he. For two cents I'd give it up and join the Rotary."
Update — for more outside the FT paywall, see this tweet by Henry Mance.
---