« previous post | next post »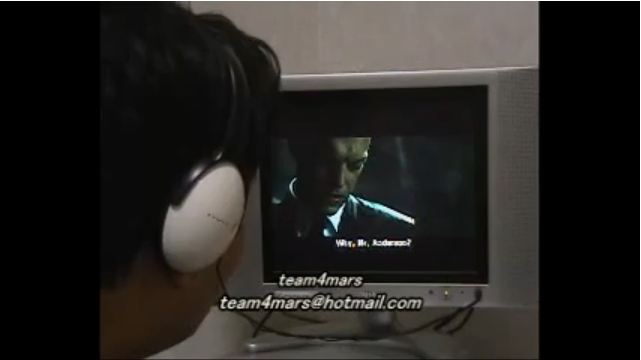 Lareina Li called my attention to a delightful clip from the Matrix trilogy as dubbed in Japanese accented English. But before you watch it, try listening to the sound track to "see" how much of it you understand without looking at the subtitles.
Audio clip: Adobe Flash Player (version 9 or above) is required to play this audio clip. Download the latest version here. You also need to have JavaScript enabled in your browser.

If you missed any of it, you may want to try the subtitled version.
After viewing this video several times, the following somewhat random questions and observations come to mind:
1. How intelligible is this type of Japanized English to someone who is unfamiliar with the genre?
2a. Is this form of Japanglish entirely consistent with the phonological rules of Japanese?
2b. Or are there (slight or systematic) accommodations made to English phonology?
3. If 2a. is true or nearly true (as I suspect it to be), is this phenomenon of speaking English strictly within the phonology of Japanese peculiar to Japanglish, or does it happen with many other languages as well? I may be wrong about this, but it seems to me that the phonological conventions of Japanglish are more fixed and "standardized" than for similar versions of English elsewhere.
4. Would it be possible for Japanese to converse freely in Japanglish?
5. This reminds me of a French friend whom I've known for over three decades. When we are speaking together in English and he becomes excited and starts to speak quickly, his French accent is so thick that I can only understand about 30% of what he is saying, yet he is speaking English (French accented English, that is, which I consider to be quite different from Franglais or Frenglish).
To what extent do we have such more or less fixed forms of English accented according to the phonology of other languages (French, Russian, German, Turkish, and so forth)? Indian English seems to be a somewhat different case, since similar version of this accent seem to be shared by speakers with a variety of different native languages.
6. Finally, and most specifically, the insistent "why? why? why?" — pronounced HWAI (with the aspiration at the beginning particularly prominent, especially in the fourth utterance) at the beginning of the clip is especially intriguing to me, since — to the best of my knowledge — this is not a syllabic form characteristic of Japanese per se, though it would be perfectly natural in Chinese. So how does HWAI get generated from English "why" in accordance with the phonology of Japanese?
The katakana transcription of "why" is ホワイ(ho wa i); "where", ホエア (ho e a) or ホエール (ho ē ru), and "what" is ホワット (ho wa t to). For some reason, the Japanese place the sound "wh-" into the ハヒフヘホ (ha hi hu/fu he ho) syllabic letter group. This reminds one of the hookah-smoking Caterpillar in Alice in Wonderland, who is very fond of "wh-" words (though being an old-fashioned British caterpillar, he presumably pronounced them as "hw-" words), and whose most memorable sentence is exhaled as "Whooo … are … you?". (Of course, who is not really relevant to this discussion, since the standard pronunciation simply begins with /h/, shared by everyone who lacks more general h-dropping.)
Here is how Hiroko Kimura Sherry remembers Disney's version of the Caterpillar:
The Caterpillar, while smoking a long hookah on the top of a huge mushroom, asks many WH-questions to Alice, such as "Who are you?", "What do you mean by that?", and "Why?" This is my most favorite episode in Alice in Wonderland, and when I saw this scene in Walt Disney's film, a lot of smoke came out of the Caterpillar's mouth (=fully aspirated WH-) as he spoke, and I still remember myself feeling that was a perfect way to pronounce those questions. It may not be natural, but it was a perfect interpretation of the scene. This is just a personal memory of mine.
Some Japanese dictionaries offer for "why" the alternative katakana reading ワイ (wa i), evidently following American custom (see below), although ホワイ(ho wa i) is much preferred.
In thinking about this problem of "why" becoming HWAI in Japanglish, I wanted to see how various English-language dictionaries describe the pronunciation of this word. The answer is that they are collectively rather confused.
Among American dictionaries, American Heritage gives the aspirated version first ([hwahy, wahy]) and offer a recording that is also aspirated;  Merriam-Webster gives the same order of symbolic pronunciations ( \'hwī, 'wī\), but offers a recording without aspiration; Encarta reverses the order of the alternatives ([ wī, hwī ]) (and its recording seems unfortunately to be missing).
Among British dictionaries, the OED gives only the aspirated pronuncation /hwaɪ/. In contrast, the Cambridge Advanced Learner's Dictionary gives only the pronunciation /waɪ/, and offers two recordings, one labelled "UK" and one labelled "US", both of which have initial [w] without aspiration.

I personally pronounce "why" as [waɪ], with an unaspirated [w], and thought that other Americans did so too.  But the aspirated wh- has a complex distribution in space, time, and culture.
The wikipedia article on the wine-whine merger offers this map (from The Atlas of North American English) showing "the area in which the contrast between the pronunciation of /hw/ and the pronunciation of /w/ is greatest", and observes that "In most other areas of the United States, the pronunciation has merged so that both sound the same":
However, there seems still to be something left of the prescriptive attitudes described in Raven McDavid et al.,"h Before Semivowels in the Eastern United States", Language 1952:
Although the pronunciation of /h-/ before vowels does not constitute a social shibboleth in the United States, there is evidence that the presence or absence of /h-/ in words like whip and humor is often considered a test of social acceptability. Thus when Thomas Pyles recently remarked that in his dialect (of Frederick, Maryland) the cluster /hw-/ does not occur, despite the efforts of well-meaning schoolteachers to impose it on generations of students, a reader immediately commented that nowhere had she observed a person of true culture who did not possess that cluster.
Pyles' sin was to observe, in an article in College English (1948) that
To this day "the baby whales" and the "the baby wails" sound exactly alike in my pronunciation, as they do in the pronunciation of many speaker in all parts of the country, cultured and uncultured alike.
McDavid et al. continue:
Such responses are not confined to laymen. T.R. Lounsbury and William Dwight Whitney […] have insisted that there is a social stigma attached to those who do not pronounce /h-/ in words of these types. H.L. Mencken, on the other hand, considers the pronunciation of /h-/ in whip etc. an affectation.
They quote Mencken (from The American Language, 1947) as follows:
The majority of Americans seem to have early abandoned all effort to sound the h in such words as when and where. It is still supposed to be sounded in England, and its absence is often denounced as an American barbarism, but as a matter of fact few Englishmen actually sound it, even in their most formal discourse.
A 1999 page on the Words@Random site observes that
Long considered the norm, "hw" was, until the mid-twentieth century, the only pronunciation shown in both American and British dictionaries. […]
It was not until the 1960s that virtually every major dictionary publisher in the U.S. acknowledged the increasing use of "w" in these words by showing both pronunciations. They are still doing so. However, many current British dictionaries, including the "New Shorter Oxford English Dictionary" (1993) and the "Collins English Dictionary" (1986), have dropped the "hw" entirely, showing only "w." For the most part, they have gone directly from "hw" to "w," eliminating the interim phase that shows both, the phase still characteristic of both American dictionaries and American speech. […]
As with so many of these fading pronunciations, the use of "hw" is fraught with sociolinguistic implications. People tend to have strong feelings about how things are said. Despite its increasing rarity, some people associate "hw" with educated, desirable, elegant speech. Those who use it are reluctant to let it go or see it go. And some who do not use it would like to emulate it. At the same time, as we have noted, it is in England, the home of the archetypally elegant Received Pronunciation, that "hw" is disappearing even more rapidly than in the United States.
Whatever its current distribution in geographical and social space, the  /hw/ pronunciation has clearly been adopted with a vengeance into  Japanglish.  And the aspiration in native English varieties that retain it seems to be slight (Disney's caterpillar aside) whereas it is very prominent in Japanglish.  Presumably this is because within Japanese phonotactics, [hw] is in fact somewhat unnatural, and must be rendered as a separate /hV/ syllable, with the V being /u/ or /o/ depending on context.
[A tip of the hat to Hiroko Kimura Sherry Nathan Hopson, and Miki Morita.]
---