« previous post | next post »
From the menu of the Istanbul Kebab House near Times Square in New York City:

Putting aside the possibility that the author is a frustrated poet forced by parental pressure into the restaurant business, we can conclude that "vertical split" for "vertical spit" is an L2 malapropism, and that the reference to "ground" in place of "sliced" meat is a similar simple confusion about what "ground" means. But what about that "ingenious herd"?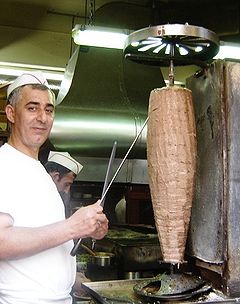 The device in question is described in the Wikipedia article for doner:
The more common and authentic method is to stack marinated slices of lean lamb meat onto a vertical skewer in the shape of an inverted cone. The meat is cooked by charcoal, wood, cast iron, electric, or, unpreferably, gas burners. The doner stack is topped with fat (mostly tail fat), that drips along the meat stack when heated.
Perhaps the author was translating a phrase meaning something like "charcoal brazier", but focusing on the pile of charcoal rather than on the pan or tray for holding it? Does anyone know enough Turkish to guess what that might have been?
[Tip of the hat to David Donnell.]
---