« previous post | next post »
In "Maybe Mubarak understands Chinese," I dissected a couple of Chinese signs held by protesters in Egypt. Now we encounter another interesting Chinese sign in Libya: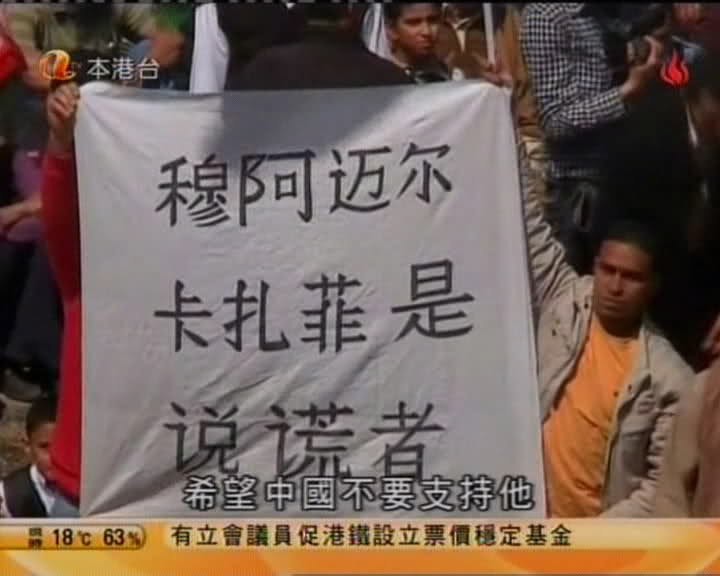 The characters on the sign say:
Mù'āmài'ěr 穆阿迈尔 (Muammar)
Kǎzhāfēi shì 卡扎菲 是 (Gadaffi is)
shuōhuǎng zhě 说谎者 (a liar)
There are two interesting aspects to the second line. First is the transcription of Gadaffi as Kǎzhāfēi instead of as Kǎdāfēi. It would appear that the transcriber has made an earnest effort to reflect the (historical) voiced interdental fricative represented by ḏ in the romanization al-Qaḏḏāfī of القذافي (now pronounced in Libya as al-Gaddāfī). Second is the slightly less noticeable space between 卡扎菲 and 是, which indicates an awareness of word division, something not usually reflected in chinese-character orthography.
If the sentence were all on one line, it would be proper to write it thus, 穆阿迈尔·卡扎菲是说谎者, where the small dot indicates a break between the name and surname of a foreigner.
it is not wrong to say 穆阿迈尔卡扎菲是说谎者, as is written on the sign in the photograph, but it sounds a little pedantic or stilted. For a political slogan, it would be more appropriate to write 穆阿迈尔卡扎菲是大骗子, where dà piànzi 大骗子 ("big liar") — or you could just write piànzi 骗子 ("liar") — replaces shuōhuǎng zhě 说谎者 ("a liar").
The subtitles in white at the bottom of the picture read:
Xīwàng Zhōngguó bùyào zhīchí tā 希望中國不要支持他。("We hope that China will not support him.")
(Thanks are due to Anne Henochowicz, Sijie Ren, Sophie Wei, Gianni Wan, Jing Wen, Rebecca Fu, and Mark Swofford.)
---