« previous post | next post »
The conclusion of Jonathan Yardley's otherwise favorable review of Michael Frayn's "My Father's Fortune" in the Washington Post:
What a pity it is, therefore, that from beginning to end "My Father's Fortune" is marred by Frayn's apparent inability to distinguish between subject and object, or, as grammarians have it, between the nominative and objective cases. To wit: "John, ten years older than me. . .," "with as much aplomb as Lane and me," "she's thirty years younger than him." Really, what are they teaching at Cambridge these days? Are editorial pencils no longer used at Faber & Faber, Frayn's British publisher, or Metropolitan, his American one? This may seem mere nitpicking, but it's not. These are basic, rudimentary grammatical errors, and the ones I've cited are merely three among many. For a writer of Frayn's reputation and accomplishment, they are inexcusable.
This little tantrum has several typical features:  ignorance of the historical and grammatical facts; failure to imagine that one's own prejudices might be anything but gospel truth;  no slightest thought of fact-checking.
The facts of the matter ought to be a considerable embarrassment to Mr. Yardley. As Merriam-Webster's Dictionary of English Usage explains:
A dispute over whether than is a preposition or a conjunction has been going on now for more than two centuries. […]
Lowth 1762 held than to be a conjunctions, and the case of a following pronoun to be determined by its relation to a verb understood. […] Priestley, at least as early as the 1769 edition […], considered than a preposition and thought the objective case proper. He suspected that others' preference for the nominative was based not on English, but on a dubious analogy with Latin.
The MWDEU entry goes on to quote William Shakespeare (Julius Caesar):
A man no mightier than thyself or me
In personal action, yet prodigious grown
And fearful as these strange eruptions are.
And Jonathan Swift ("To Stella"):
And, though by Heaven's severe Decree
She suffers hourly more than me . . .
And Samuel Johnson ("A Dissertation on the Greek Comedy"):
No man had ever more discernment than him, in finding out the ridiculous.
To add to MWDEU's citations, let me point out that the King James bible has several instances of than with objective case, which should settle the matter for some people:
Isiah 57:8 Behind the doors also and the posts hast thou set up thy remembrance: for thou hast discovered thyself to another than me, and art gone up; thou hast enlarged thy bed, and made thee a covenant with them; thou lovedst their bed where thou sawest it.
Prov. 27:3 A stone is heavy, and the sand weighty; but a fool's wrath is heavier than them both.
Sir. 40:24 Brethren and help are against time of trouble: but alms shall deliver more than them both.
Just to make it clear that this usage has not fallen out of favor with elite authors during the intervening four centuries, here's a double example from John Adam's letter of 10/25/1809 to Dr. Rush:
You should remember that Jefferson was but a Boy to me. I was at least ten years older than him in age and more than twenty years older than him in Politicks.
One from Jane Austen's Sense and Sensibility:
I am rather of a jealous temper too by nature, and from our different situations in life, from his being so much more in the world than me, and our continual separation, I was enough inclined for suspicion, to have found out the truth in an instant, if there had been the slightest alteration in his behaviour to me when we met, or any lowness of spirits that I could not account for, or if he had talked more of one lady than another, or seemed in any respect less happy at Longstaple than he used to be.
Two from Charles Darwin's Autobiography:
I became also acquainted with several other men older than me, who did not care much about science, but were friends of Henslow. […]
Looking back, I infer that there must have been something in me a little superior to the common run of youths, otherwise the above-mentioned men, so much older than me and higher in academical position, would never have allowed me to associate with them.
One from Ralph Waldo Emerson's lecture on George Fox:
The stern question of Agesilaus when the Persian king was called the Great King, is the devout man's question concerning every man: "How is he greater than me if he is not more just?"
One from Charlotte Bronte's Shirley:
Would you, any more than me, let Robert be borne down by numbers?
One from F. Scott Fitzgerald's The Great Gatsby:
She was just eighteen, two years older than me, and by far the most popular of all the young girls in Louisville.
And a bunch from Ernest Hemingway and Evelyn Waugh, which you can sort through by yourself.
MWDEU's entry for as sketches a similar situation:
If a pronoun follows an as . . . as comparison, is it to be in the nominative case or the objective case? […] Commentators differ.
Since MWDEU offers no examples, let me supply a few, starting with one of Shakespeare's multiple examples of as with the objective case of pronouns. Cleopatra asks about Octavia
Is she as tall as me?
I'll end this too-long list of examples with one from Jane Austen's Emma:
I shall always have a great regard for the Miss Martins, especially Elizabeth, and should be very sorry to give them up, for they are quite as well educated as me. But if he marries a very ignorant, vulgar woman, certainly I had better not visit her, if I can help it.
Note that I'm not claiming that "than I/he/she/they" or "as I/he/she/they" are always wrong. Rather I'm agreeing with Ken Wilson's conclusion in the Columbia Guide to Standard American English:
Than is both a subordinating conjunction, as in She is wiser than I am, and a preposition, as in She is wiser than me. As subject of the clause introduced by the conjunction than, the pronoun must be nominative, and as object of the preposition than, the following pronoun must be in the objective case. Since the following verb am is often dropped or "understood," we regularly hear than I and than me. Some commentators believe that the conjunction is currently more frequent than the preposition, but both are unquestionably Standard. The eighteenth-century effort to declare the preposition incorrect did succeed in giving trouble, not least because it called the than whom structure into question, but it too is again in good order: He is a fine diplomat, than whom we would be hard-pressed to find a better.
Mr. Yardley asserts, incorrectly,  that than and as with objective-case pronouns are "basic, rudimentary grammatical errors". To compound his mistake, he adds some decorative peevery about standards at Cambridge University and Faber & Faber. In fact, the whole business ought to be an embarrassment to his newspaper and to his reputation.
Some previous coverage of related issues:
"Grammatical uproar at LiveJournal — News at 11", 6/15/2004
"Wallraff subverts English syntax", 11/17/2004
"Evil", 10/28/2006
Update — Visser's An historical syntax of the English language has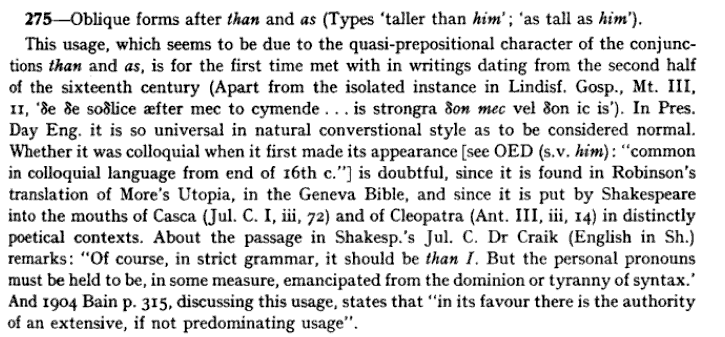 Update #2 — Jonathan Yardley edited H.L. Mencken's My Life as Author and Editor, , but he doesn't seem to have paid much attention to his subject's discussion of this grammatical point in The American Language: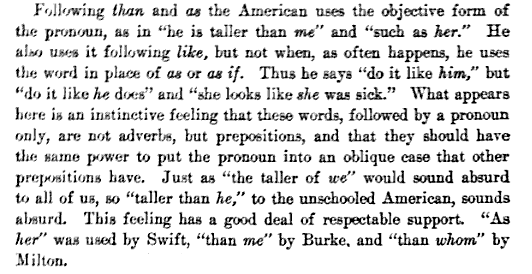 And Yardley has written an introduction to one of Graham Greene's books, without registering any complaints about the author's elementary syntax errors. But a quick search demonstrates that Greene uses the [than+ObjectivePronoun] pattern fairly often (though apparently not in the work that Yardley introduced!).
I've implied that someone like Yardley ought to check with some actual grammarians — or do a tiny bit of research on his own — before pontificating about other people's "inexcusable" "basic, rudimentary grammatical errors". But the strangest thing is that in this matter, he seems to be completely deaf to the patterns of the English language. Can anyone tuned in to that language — as written today or over the past few hundred years — really think that Frayn's passage below would be better if edited as Yardley seems to think it should be?
Original: I suppose he's embarrassed. He's still married, after all, and he's more conventional than he seems. Gladys, he makes clear, is divorced. What we don't know yet is that she's thirty years younger than him.
Yardley's version: I suppose he's embarrassed. He's still married, after all, and he's more conventional than he seems. Gladys, he makes clear, is divorced. What we don't know yet is that she's thirty years younger than he.
---