« previous post | next post »
Big news!
"Japanese toilet industry agrees to standardize complex bidet controls" (The Verge, 1/17/17)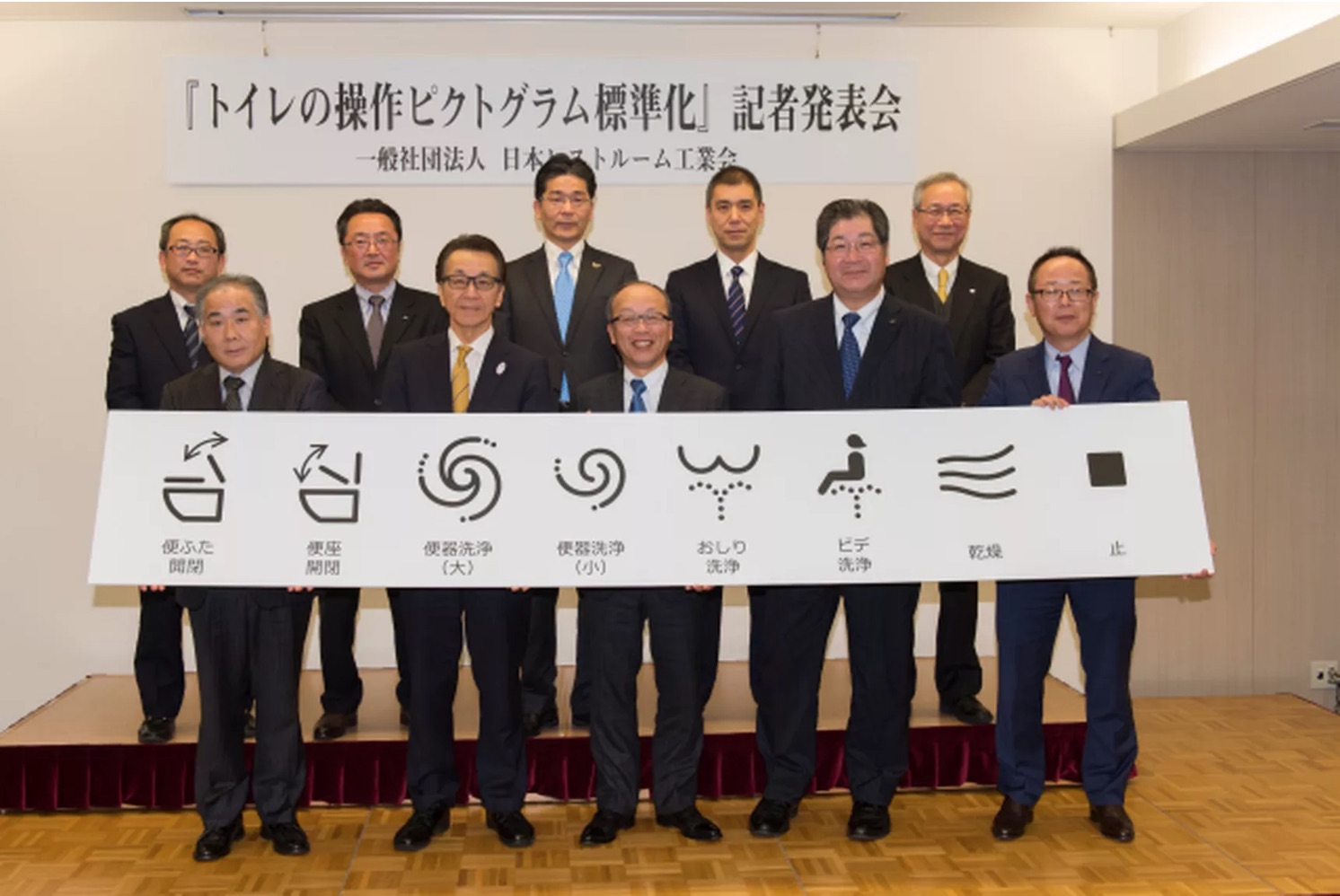 Here follows a complete transcription and translation of all the Japanese writing in the photograph.
The banner behind:
『トイレの操作ピクトグラム標準化』記者発表会
"toire no sōsa pikutoguramu hyōjunka" kishahappyōkai
"Toilet Operations Pictogram Regularization" Press Conference
一般社団法人 日本レストルーム工業会
ippan shadanhōjin Nippon resutorūmu kōgyōkai
Ordinary Corporation Japan Restroom Industrial Association
The banner being held, from the left:
便ふた 開閉  benfuta kaihei  Toilet lid opening and closing
便座 開閉 benza kaihei Toilet seat opening and closing
便器洗浄(大) benkisenjō (dai)   Flush (large)
便器洗浄(小) benkisenjō (shō)  Flush (small)
おしり 洗浄  oshiri senjō  Buttocks rinse
ビデ 洗浄  bide senjō  Bidet rinse
乾燥 kansō Dry
止  tome Stop
Exchange with Frank Chance, who provided the translations and transcriptions:
VHM:
I wasn't expecting you'd do ALL of them.
My bowl runneth over.
FLC:
I was just flushed with excitement over the project!
Really, I was just going with the flow….
We owe a debt of gratitude to the giants of the Japan Sanitary Equipment Industry Association for unifying and explicating the iconography on the control panels of these commodious contraptions.
A couple of relevant posts:
[h.t. Ben Zimmer]
---