« previous post | next post »
Bill Poser's post on the English onset of (the word) tsunami provoked 99 comments so far, many of them of the form "I'm from X and I say Y". One of the things that we've learned in the past 50 years is that the "I say Y" part of such statements is almost always false.
This gap between phonetic intuition and phonetic fact is a special form of the observer's paradox. Just as we behave differently when we're aware of being observed by others, we also behave differently when we imagine observing ourselves. And this particular case features not just the general tendency for (real or imagined) citation forms to sample the most highly-elaborated end of normal variation, but also the specific response to a whiff of social evaluation in the air. In the case of tsunami, we have an obviously foreign word whose pronunciation violates English phonotactic norms, and responses to such situations typically carry sociolinguistic messages.
In order to see whether the pronunciation of tsunami is really variable, as I expect it to be even in the speech of highly-educated Americans in formal contexts, I took a look at yesterday's All Things Considered story "Tracking A Tsunami Barreling Across The Ocean".  The story is introduced by Robert Siegel, who pronounces tsunami twice, both times with initial [ts].  His first performance is (as expected) especially careful, and the initial affricate is correspondingly strong, with a 50-msec stop gap before 100 msec of fricative noise:
Audio clip: Adobe Flash Player (version 9 or above) is required to play this audio clip. Download the latest version here. You also need to have JavaScript enabled in your browser.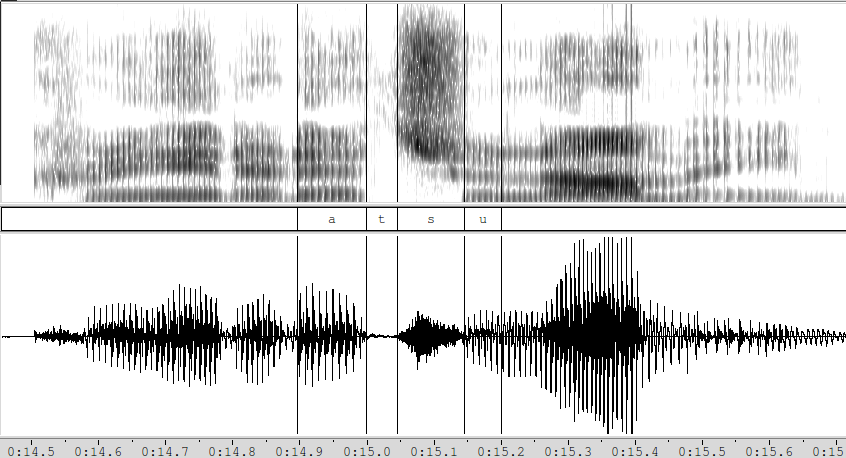 He backs off a bit on the second performance, with about 20 msec of silence before about 80 msec of frication:
Audio clip: Adobe Flash Player (version 9 or above) is required to play this audio clip. Download the latest version here. You also need to have JavaScript enabled in your browser.
I'd predict that in a more casual setting, Mr. Siegel would use initial [s] some fraction of the time.
Christopher Joyce, the reporter who delivers the body of the story, uses tsunami five times. I hear [ts] just once, in a context that also happens to be the only one following another voiceless stop consonant (around 2:28 in the story):
Audio clip: Adobe Flash Player (version 9 or above) is required to play this audio clip. Download the latest version here. You also need to have JavaScript enabled in your browser.
The other four sound (and look) to me like just [s]:
Audio clip: Adobe Flash Player (version 9 or above) is required to play this audio clip. Download the latest version here. You also need to have JavaScript enabled in your browser.
Audio clip: Adobe Flash Player (version 9 or above) is required to play this audio clip. Download the latest version here. You also need to have JavaScript enabled in your browser.
Audio clip: Adobe Flash Player (version 9 or above) is required to play this audio clip. Download the latest version here. You also need to have JavaScript enabled in your browser.
Audio clip: Adobe Flash Player (version 9 or above) is required to play this audio clip. Download the latest version here. You also need to have JavaScript enabled in your browser.
And the pronunciations by other voices in the story — a scientist from NOAA, the harbormaster in Crescent City CA, etc. — all seem to me to involve [s]. A sample:
Audio clip: Adobe Flash Player (version 9 or above) is required to play this audio clip. Download the latest version here. You also need to have JavaScript enabled in your browser.
Audio clip: Adobe Flash Player (version 9 or above) is required to play this audio clip. Download the latest version here. You also need to have JavaScript enabled in your browser.
Audio clip: Adobe Flash Player (version 9 or above) is required to play this audio clip. Download the latest version here. You also need to have JavaScript enabled in your browser.
The point? It's not that initial [ts] in English tsunami is right or wrong. Rather, it's that the pronunciation of educated Americans is variable.
I'm also arguing that pronunciation-intuitions are not worth much, though I admit that the evidence in this post doesn't address the point directly. However,  the great majority of the pronunciations in this NPR story are [s]-initial, suggesting that our commenters who claim that they always use [ts] are either atypical or mistaken.
My money is on mistaken. It wouldn't surprise me to find that all of the speakers in the NPR story would assert, if asked, that they pronounce tsunami with initial [ts].
Update — to compare the pronunciations in a different demographic, listen to the Fox News segment "Incredible Video: Massive Wall of Water Sweeps Ashore in Japan", 3/11/2011, where I count 14 instances of tsunami, all with initial [s].
And James Fallows also uses initial [s], in an interview on NPR with Jonathan Raz (who uses initial [ts] in his broadcast performances here and elsewhere during the past few days). Here's Fallows:
Audio clip: Adobe Flash Player (version 9 or above) is required to play this audio clip. Download the latest version here. You also need to have JavaScript enabled in your browser.
Fallows has lived in Japan, and knows how the word is pronounced in Japanese. I'm sure that he could produce an excellent initial [ts] if he chose to — not to speak of the quite different Japanese /u/ sound.
---