« previous post | next post »
I see this on zdic (online dictionary of Literary Sinitic / Classical Chinese) from time to time: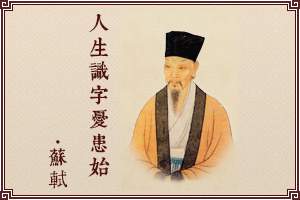 The inscription says:
Rénshēng shìzì yōuhuàn shǐ 人生識字憂患始
("misery / suffering / worry / hardship begins when one becomes literate").
The man who wrote this enigmatic line, Su Shi (1037-1101), has a towering reputation as a "writer, poet, painter, calligrapher, pharmacologist, gastronome, and a statesman".  He should know, better than anyone, the truth of his statement.  But what did he mean by it?  It seems particularly strange that an online dictionary of Literary Sinitic would choose this of all lines to put on their site.
I asked a colleague, Ronald Egan, who is a specialist on Su Shi, his opinion about the meaning of this line.  Here is his reply:
Yes, I'm familiar with the Su Shi poem and very fond of the opening lines. I think rénshēng 人生 refers to people in general, but of course Su Shi's own experience as a celebrated man of letters who ran into all sorts of trouble because of that celebrity also lies behind those words. As the poem moves on, it becomes one of Su Shi's most important statements about calligraphy (and he has many of them!).
I think that only someone who is deeply immersed in the life and literature of Su Shi can understand this line.  I know a fair amount about Su Shi, but I do not consider myself qualified to pronounce on the ultimate meaning of these words.  What I can say is that the title of the poem in which it occurs is "Shí Cāngshū zuìmò táng 石蒼舒醉墨堂" ("Shi Cangshu's hall of inebriant ink") and that, as Ron Egan says, the poem is about calligraphy.  Calligraphy — in practice and in appreciation — can bring joy and it can bring sorrow.  Only one who truly identifies with calligraphy (his own or that of others) can experience the emotions that Su Shi describes in this poem.
Note that the first two characters of the line we are studying already pose a problem:  rénshēng 人生 could mean "human life" or "life" in general, "philosophy of life" or "outlook (on life)", "life itself", "span of life", "an individual's life", "activity of a life", "relations with people (in life)", and so forth.
Daan Pan, who is a historian and connoisseur of Chinese calligraphy as well as the author of The Lyrical Resonance Between Chinese Poets and Painters: The Tradition and Poetics of Tihuashi* (Cambria, 2011), observes:
This poem, like some comparable pieces by Su Shi, airs Su's frustrations with his career setback. So this line bears sarcastic overtones. The term you1huan4 忧患 comes from Mengzi's / Mencius's  expression 《 shēng yú yōuhuàn, sǐ yú ānlè 生于忧患,死于安乐 ["to be born in sorrow, to die in joy"]》(《 Mèngzǐ Gàozi xià 孟子  告子  下 [Mencius, "Gao Zi" B]》), which, in Su's line, means a person's awareness / sense of worrying about things happening around him / her, in a way comparable with the notion of angst. This line as a whole means something like: I started to worry about things the moment I acquired literacy. Its subtextual meaning is something like: I don't want to blame other people (i.e., his political enemies and unappreciative superiors) for causing my frustrations. Rather, I blame myself for having (too much) scholarly learning. What he really meant to say is exactly the opposite, which reminds me of Du Fu's poem Lǚ yè shū huái 旅夜书怀 ("Thoughts while travelling at night"), in which he writes:  míng qǐ wénzhāng zhù? guān yīng lǎobìng xiū 名岂文章著,官应老病休 ("Can reputation come from written works?  When old and sick, an official should retire.")
*VHM:  tíhuàshī 題畫詩 ("poetry about painting")
It's interesting that Lu Xun (1881-1936), who is generally considered to be the greatest Chinese writer of the twentieth century, wrote an essay entitled "Rénshēng shìzì hútú shǐ 人生识字糊涂始" ("fatuity begins when one becomes literate").  Lu Xun's most famous story is about an illiterate peasant named Ah Q, and it was Lu Xun who is reported to have said shortly before his death, "Hànzì bùmiè, Zhōngguó bì wáng" 漢字不滅, 中國必亡 ("If Chinese characters are not eradicated, China will perish!").
See "Lu Xun and the Zhao family " (1/5/16) and "New radicals in an old writing system " (8/29/12).
What does "rénshēng shìzì yōuhuàn shǐ 人生識字憂患始" ("misery / suffering / worry / hardship begins when one becomes literate") mean?
Many things to many people, but most of all it means many thing to Su Shi himself.
[Thanks to Bai Qianshen and Xiuyuan Mi]
APPENDIX
For those who are curious about what the whole poem says, here is Michael Fuller's translation, from his book about Su Shi titled The Road to East Slope, pp. 122-125.
rénshēng shìzì yōuhuàn shǐ, xìngmíng cū jì kěyǐ xiū.
hé yòng cǎoshū kuā shénsù, kāijuàn tǎnghuǎng lìng rén chóu.
wǒ cháng hào zhī měi zì xiào, jūn yǒu cǐ bìng hé nián chōu!
zì yán qízhōng yǒu zhì lè, shìyì wú yì xiāoyáo yóu.
jìn zhě zuò táng míng zuì mò, rú yǐn měijiǔ xiāo bǎi yōu.
nǎi zhī Liǔ Zǐ yǔ bù wàng, bìng shì tǔ tàn rú zhēnxiū.
jūn yú cǐ yì yì yún zhì, tuī qiáng bàibǐ rúshān qiū.
xìng lái yīhuī bǎi zhǐ jǐn, jùnmǎ shūhū tà jiǔzhōu.
wǒ shū yì zào běn wúfǎ, diǎn huà xìnshǒu fán tuīqiú.
hú wèi yìlùn dú jiàn jiǎ, zhī zì piàn zhǐ jiē cáng shōu.
bù jiǎn Zhōng Zhāng jūn zìzú, xiàfāng Luó Zhào wǒ yì yōu.
bù xū línchí gèng kǔ xué, wán qǔ juàn sù chōng qīn chóu.
人生識字憂患始,姓名粗記可以休。
何用草書誇神速,開卷戃怳令人愁。
我嘗好之每自笑,君有此病何年瘳!
自言其中有至樂,適意無異逍遙遊。
近者作堂名醉墨,如飲美酒消百憂。
乃知柳子語不妄,病嗜土炭如珍羞。
君於此藝亦云至,推牆敗筆如山丘。
興來一揮百紙盡,駿馬倏忽踏九州。
我書意造本無法,點畫信手煩推求。
胡為議論獨見假,隻字片紙皆藏收。
不減鍾張君自足,下方羅趙我亦優。
不須臨池更苦學,完取絹素充衾裯。
In life, acquaintance with writing is the beginning of calamity and grief.
Once one knows how to roughly record one's name, one can stop.
Of what use is cursive script, boasting of one's inspired swiftness,
When on opening a scroll it stupefies men, makes them suffer?
I always laugh at myself that I used to enjoy it.
You have this disease: how can we cure it?
You say that in [calligraphy] is the greatest joy,
That in according with your thoughts, it is no different from "carefree wandering."
Recently you built a hall called "Drunk Ink."
Like drinking fine wine, [calligraphy] can dispel a hundred sorrows.
Thus I know that Master Liu's words were not amiss:
Sick, one eats dirt and charcoal as though they were delicacies.
It can be said that you are at the acme of this art:
Heaps of spent brushes are [high] as hills.
When the inspiration comes, in one sweep you exhaust a hundred sheets of paper:
A spirited horse in an instant treads the Nine Divisions.
My calligraphy I make up as I go, at bottom without any rules.
My dots and strokes follow howsoever my hand moves, and working at it bothers me.
Why in your discussion are you uniquely lenient with me?
Every solitary character and scrap of paper you collect and store away.
Not inferior to Zhong Yao and Zhang Zhi, you are worthy in your own right.
Below, compared to Luo and Zhao, I too am superior.
You need not again earnestly practice by the poolside.
And you can take all the silk for [its proper] use in coverlets and sheets.
---