« previous post | next post »
This is almost too good to be true. Via The Media Blog, here's a correction that ran in Rockhampton, Australia's Morning Bulletin: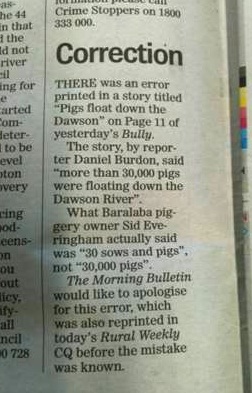 Will Sturgeon writes on The Media Blog:
It is a little surprising that the reporter didn't think to check. "Crikey, that's a lot of a pigs mate, are you sure you mean 30,000?". Similarly, if they really thought there were 30,000 pigs floating down the river, why did they only put it on page 11? That would be Biblical!
The obvious source of the error is a mishearing of the initial fricative in sows and [saʊz ənd] as thousand [ˈθaʊzənd]. But beyond that, I think the misunderstanding between the reporter and piggery owner could have been amplified by the use of pig in its specific or "marked" form — that is, meaning 'a young member of the domesticated subspecies Sus scrofa domesticus' rather than the general or "unmarked" version, 'any member of Sus scrofa domesticus.' As the Oxford English Dictionary explains under sense 2a of pig, the more specific sense of the word is "chiefly used in periods when and regions where the usual words for an adult pig are swine, hog, sow, or boar." (The sense is now mainly restricted to North America, according to the OED.) So if the hapless reporter wasn't expecting the semantic distinction of sow vs. pig as used in animal husbandry, then it would be much easier to construe the remark as referring to pigs in the general sense.
Still… 30,000?
(Hat tip, Lynne Murphy via Twitter.)
Update: Here's a link to the original uncorrected text of the story, as noted by Eugene Volokh.
And courtesy of Fred Vultee, here's a link to a .pdf of the The Morning Bulletin for 1/6/2011, including the complete text of the original article, which starts like this: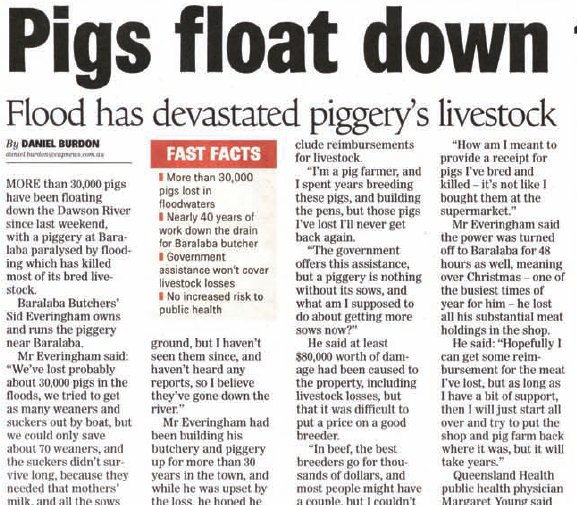 ---