« previous post | next post »
Today's SMBC imagines the invention of an implantable grammar corrector, the whom-o-matic tooth: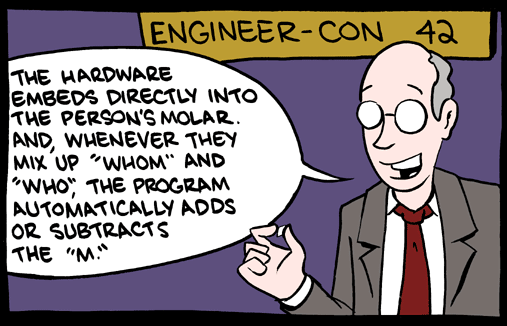 This evokes a whole new universe of regrettable DWIMmitude, since whom has essentially been dead for a century, except when a note of dignity or austerity is desired.  And even this function seems recently to have been inherited by whomever, as Ben Yagoda has recently observed ("The Elements of Clunk", The Chronicle Review 1/2/2011):
Nos. 5 ["my girlfriend and myself are going"] and 6 ["with whomever among our friends can go"] are examples of "hypercorrection": errors that are induced by a combination of grammatical confusion and a desire to sound fancy, such as the chorine who refers to "a girl like I." Her equivalent today would say "a girl like myself." The enormous popularity of that last word stems in part from understandable uncertainty over whether "I" or "me" is correct. The same goes for "who" and "whom," about which almost nobody is completely confident.
But there is more going on here; stay with me. In No. 5, while "whoever" is correct (you would say "we'll go with he who can make it," not "with him who can make it"), the error is reasonable because most of the time prepositions like "with" take an object, like "whom." But people often use "whomever" even when the error is not reasonable. A Google search quickly yields a Facebook group called "Quazie's Hair Fan-club" (put up by college students, significantly), which has a discussion called "Whomever wants an office in this group."
Here's what's happening, as I see it. My students aren't unique but represent a portion of the millennial generation: at least moderately intelligent, reasonably well-educated young people. When they write in a formal setting—for a class assignment or for publication in a blog or a magazine—they almost always favor length over brevity, ornateness over simplicity, literalness over figuration. The reasons, I hypothesize, are a combination: the wandering-the-house-in-the-dark factor, hypercorrection brought on by chronic uncertainty, and the truth that once people start talking or writing, they like to do so as long as they can, even if the extra airtime comes from saying "myself" instead of "I."
Of course there's also the role of the critic, featured in a later SMBC panel: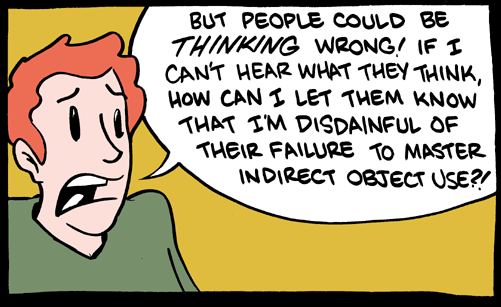 (Note that Zach Weiner has cleverly depicted the frustrated peever as misunderstanding the grammatical issues involved — since the traditional who/whom distinction has no relevant connection to indirect objects.)
As for the specific example of whomever that Ben cites, I don't have very strong intuitions about it, so I consulted Norma Loquendi, via the medium of the Literature Online database. Norma suggests that Ben is mostly right about his recommendation for "with whoever wants to go" — but his argument for this position, based on the proposed example "with he/*him who can make it", is wrong with respect to traditional educated usage.
A search for "with he who" turns up just one relevant hit in Poetry (Chris Wallace-Crabbe, "Good Friday Seder at Separation Creek", 1993):
…dealings that a people had with He-who-is while quitting Egypt …
There are no relevant hits for "with he who" in Drama or in Prose.
In contrast, a search for "with him who" turns up 314 hits in Poetry, 116 in Drama, and 209 in Prose. I haven't checked all (or even most) of these for relevance, but many of them certainly are:
I, Beauty, dwell with Him who made green earth … (Thomas Aird, 1878)
.. find corruption, cheek to cheek With him who stinks since Friday … (Elizabeth Barrett Browning, Aurora Leigh, 1858)
Nay, prithee Sweet, forbear these idle words, And be more serious with him who loves thee. (Anonymous, The Ghost, 1653)
Ah, but there is no equal ground whereon to compare us— Me a penniless scholar, with him who is famous and gentle. (William Dean Howells, Priscilla, 1882)
Belial shows his sense of this, when in the infernal council he rejects the idea of engaging in any conflict whatever, open or secret, with him who is Allseeing and Almighty … (Matthew Arnold, A French Critic on Milton, 1879)
.. and now they had left her for a time with him who was so soon to be her husband. (Mary Jane Holmes, The Homestead in the Hillside, 1856)
So Ben's argument for "with whoever" doesn't hold up very well empirically. On the other hand, a search for "with whoever" turns up 14 hits in Poetry, and 17 in Prose:
So is it with whoever journeys here (Samuel Alfred Beadle, "The Jaunt", 1912)
throw of your head bend of your gilt knees / the laugh exchanged with whoever took the picture (Adrienne Rich, "One Kind of Terror", 1986)
… every man joined battle, sword in hand, with whoever was nearest to him … (John Neal, Seventy-six, 1823)
My next request is, that father Oswald and this reverend father, with whoever else the gentlemen shall appoint, will send for Andrew and Margery Twyford, and examine them concerning the circumstances of my birth … (Clara Reeve, The Old English Baron, 1780)
In comparison, a search for "with whomever" yields just 5 entries in Poetry and 3 in Prose. And some of these are object relatives, where there's a different reason for a traditional whom-form:
… the wisdom of agreeing with whomever he meets … (A.R. Ammons, "Garbage", 1993)
… shouted loudly and forced us to share seats with whomever they shoved down beside us. (Richard Moore Rive, 1987)
While we're quibbling, my intuition FWIW is strongly against Ben's suggestion that we should talk about going to a "Yankee game" rather than a "Yankees game". To my mind, a "Yankee game" evokes a game played at one of the many levels of yankee-dom rather than a game played by the New York-based baseball team. But a news archive search suggests that this is a point about which native speakers disagree.
---