« previous post | next post »
David Fahrenthold, "Trump recorded having extremely lewd conversation about women in 2005", The Washington Post 10/7/2016:
Donald Trump bragged in vulgar terms about kissing, groping and trying to have sex with women during a 2005 conversation caught on a hot microphone, saying that "when you're a star, they let you do it," according to a video obtained by The Washington Post.
Jeremy Diamond, "Trump bragged on hot mic about being able to grope women", CNN 10/7/2016:
And the remarks prompted Trump — for the first time in his nearly 16-month campaign — to apologize.
"This was locker room banter, a private conversation that took place many years ago. Bill Clinton has said far worse to me on the golf course – not even close. I apologize if anyone was offended," Trump said in a statement released Friday.
As we and others have pointed out many times, saying "I'm sorry if anyone was offended", or even "I apologize if anyone was offended", is not really an apology:
"Pete Rose and Sorry Statements of the Third Kind", 1/13/2004
"Air Quotes and Non-Apologies", 7/4/2006
"The art of the (non-) apology", 9/1/2008
For something approximating (but not quite reaching?) a real apology, see Michael Grynbaum and John Koblin, "Billy Bush Says He's Ashamed by Lewd Talk With Donald Trump", NYT 10/7/2016:
Mr. Bush issued a statement on Friday evening, writing: "Obviously I'm embarrassed and ashamed. It's no excuse, but this happened 11 years ago — I was younger, less mature, and acted foolishly in playing along."
Update — this event has plowed new ground in the New York Times' definition of language "fit to print":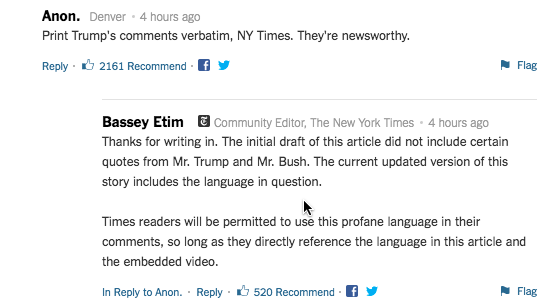 Elisions, euphemisms and dashes won't do. The NYT rightly publishes "fuck," "tits" and "pussy" in Trump story: https://t.co/erB7vNxNhF

— Jessica Lustig (@jessicalustig) October 7, 2016
See also Ben Zimmer, "A banner day for profanity", Strong Language 10/8/2016, and the NYT transcript, where "fuck", "bitch", and "pussy" are all reproduced without bowdlerization.
Update #2 — A later statement from Donald Trump, in video form:
And a line-by-line analysis — Chris Cillizza, "Here's what Donald Trump really meant when he apologized Friday night", Washington Post 10/8/2016.
Plus the Sassy Trump version:
Update #3:
Asawin Suebsaeng, "Donald Trump Tried to Fire Nancy O'Dell After She Rejected His Sexual Advances", The Daily Beast 10/7/2016.
---