« previous post | next post »
From today's Doonesbury: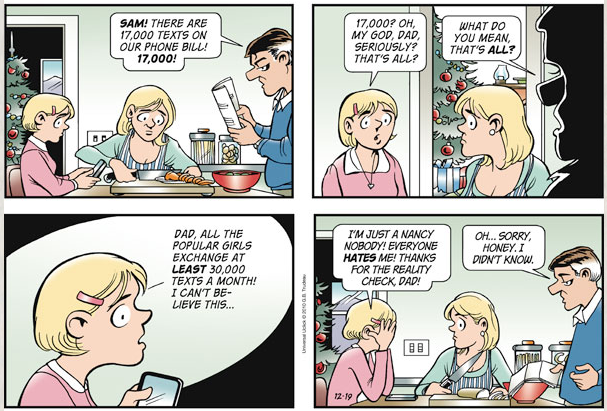 According to statistics compiled by Nielsen, the popular girls in Sam's cohort are beating the teen girl average of 4,050 (already high enough to provoke skepticism) by at least a factor of seven ("Times have changed", 10/30/2010).
30,000 texts a month would be one exchange every two minutes, 18 hours a day.  Of course, this gets easier if a certain fraction of the messages are things like "OMG" and "hahaha".
Anyhow, internal evidence in the strip calls the 30K figure into questions:

Sam's fictionally-documented 17,000 exchanges per month would only be about one exchange every four minutes, on average. If you think about it, this is practically autistic.
I'm sure that there are many other jokes, or at least scripted exchanges, that hinge on inverting the direction of scalar surprise. But at the moment, I can't call any to mind.
---