« previous post | next post »
Geoff quoted Vox on Donald Trump's interruptions during last night's debate, and discussed the extraordinary childishness of some of those interruptions. I don't have much time this morning, so I'll just add a few words about words.
Trump used 35% more wordforms than Clinton did — 8,866 to 6,580, by my trivial debate-analysis program's count based on the Washington Post's transcript. And as expected based on past performances, Trump repeated himself a lot — a type-token plot shows that Clinton actually used a larger number of distinct words (1,333 to Trump's 1,253), despite using significantly fewer word tokens: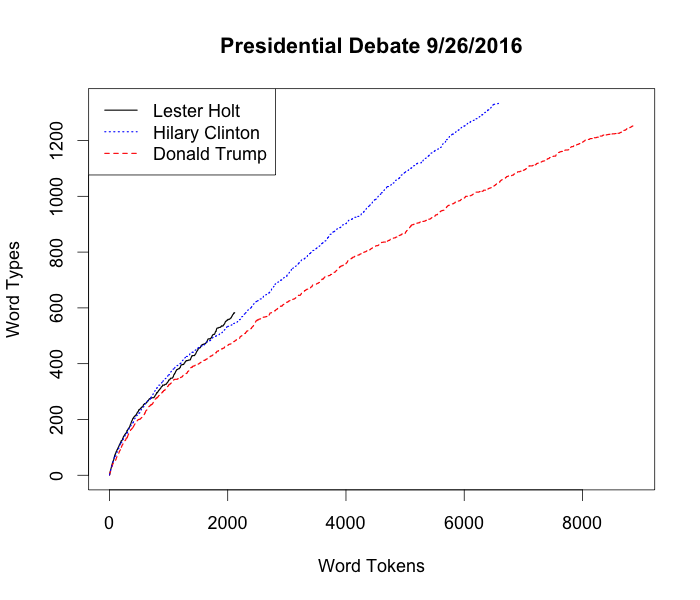 I have time for only a few simple remarks about content.
For those who care about first-person singular pronouns (I me my mine), they constituted 4.03% of Trump's words and 2.72% of Clinton's.
For those who care about first-person plural pronouns (we our us ours), they constituted 2.63 percent of Trump's words and 3.60% of Clinton's. Trump's ratio of "I" to "we" was 296/158 = 1.87; Clinton's ratio of "I" to "we" was 161/172 = 0.94.
I'll be interested to see whether we'll hear anything about this from the pundits who made such a consistently big deal about Barack Obama's allegedly excessive (and actually quite low) rate of first-person singular pronoun usage — I'm guessing not.
But it seems that the real news from last night's debate was not about lexical content at all — even something as trivial as pronoun usage —  but rather about #trumpsniffles (also hashtagged as #trumpsniff, #snifflingtrump and just plain #sniff):
Is Donald Trump sick? Either way, #TrumpSniffles is now a thing https://t.co/AVGZlsApqr pic.twitter.com/VJuWb5rxt1

— USA TODAY (@USATODAY) September 27, 2016
I guess those who live by reality TV will, well, live by reality TV.
---