« previous post | next post »
A couple of years ago, Nicolas Sarkozy was making news for the idiomatic informality of his language. Now he's made a bit of a stir in the media for using the imperfect subjunctive, a characteristic of formal written style that's apparently rare enough in spoken French that a public figure can make news by using it. (The last example that came to our attention here at Language Log involved the serial killer Michael Fourniret: "Il fallut que j'accusasse: the morphology of serial murder", 3/27/2008).
The evidence in the Sarkozy case is available on YouTube for all to see, courtesy of Jim Jarrassé, «Sarkozy fait des efforts pour se présidentialiser» ("Sarkozy tries to presidentialize himself"), Le Figaro 11/17/2020:
Nicolas Sarkozy a entamé une nouvelle étape dans son quinquennat. Nouveau gouvernement, nouvelle feuille de route, nouveau style aussi. Plus sérieux, plus apaisé, le chef de l'Etat a voulu montrer mardi soir qu'il avait changé et qu'il tenait désormais sa langue. Très critiqué au début de son mandat pour avoir été familier, voire injurieux, il cherche désormais à s'élever, à «habiter» la fonction présidentielle. Les mots qu'il a employés mardi soir étaient à cet effet savamment choisis.
A commencer par l'emploi de l'imparfait du subjonctif. «J'aurais aimé qu'il [Jean-Louis Borloo] restât au gouvernement», a assuré mardi le chef de l'Etat.
Nicolas Sarkozy has entered a new stage in his presidential term. New government, new roadmap, new style as well. More serious, more relaxed, the head of state wanted to show on Tuesday that he has changed and will now mind his tongue. Criticized early in his tenure for being informal and even offensive, he's now trying to elevate himself, to inhabit the presidential function. The words that he chose Tuesday evening were skillfully chosen for this purpose.
To start with, the use of the imperfect subjunctive. "I would have preferred that he (Jean-Louis Borloo) should stay in the government", the head of state assured us on on Tuesday.
It's nice to see that Jean Véronis is continuing his analysis of political (and general) discourse, and that his observations are making it into the mainstream media. The article in Le Figaro leads with a sub-head featuring Jean ("Pour le professeur de linguistique Jean Véronis, le chef de l'Etat a changé radicalement de style lors de son intervention télévisée, mardi soir"), and continues:
«Il fait visiblement des efforts pour se présidentialiser, pour soigner son niveau de langage», analyse Jean Véronis, professeur de linguistique à l'université d'Aix-en-Provence. «Seuls deux hommes politiques utilisent l'imparfait du subjonctif : Edouard Balladur et Jean-Marie Le Pen. Mais, chez eux, c'est naturel. Chez Nicolas Sarkozy, ça ressemble plus à un jeu d'acteur».
"He is making visible efforts to presidentialize himself, to groom his language", suggests Jean Véronis, professor of linguistics at the university of Aix-en-Provence. "Only two politicians use the imperfect subjuntive: Edouard Balladur and Jean-Marie Le Pen. But for them, it's natural. For Nicolas Sarkozy, it's like an actor's performance."
But what I want to know is, who is it that M. le président fixes with a defiant (or at least significant-seeming) glance, off to his left, as he utters the fatal "restât"?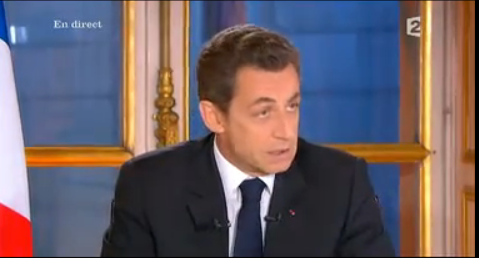 ---