« previous post | next post »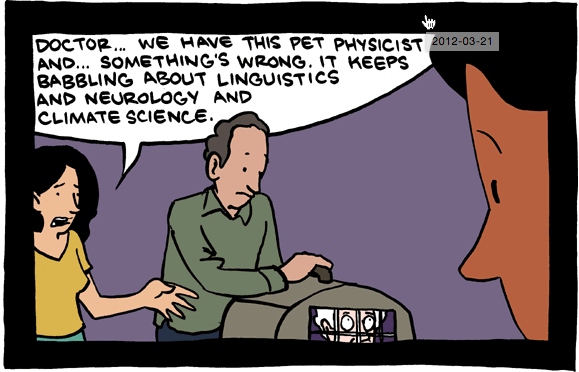 Ray Norris, "Why old theories on Indigenous counting just won't go away", The Conversation 9/5/2016:
Last year researchers Kevin Zhou and Claire Bowern, from Yale University, argued in a paper that Aboriginal number systems vary, and could extend beyond ten, but still didn't extend past 20, in conflict with the evidence I've mentioned above.  
As a physicist, I am fascinated by the fact that the authors of this paper didn't engage with the contrary evidence. They simply didn't mention it. Why?  
Although my training is in astrophysics, I have for the last few years studied Aboriginal Astronomy, on the boundary between the physical sciences and the humanities, and I am beginning to understand a major difference in approach between the sciences and the humanities.
There was some conversation about this article on Claire Bowern's FaceBook page, including these comments:
There needs to be a special term for when a physicist "explains" something
Physisplaining, I would say. Ack, this is bad. So you publish a peer-reviewed article on something, and he writes something more like a blog post saying how his kind of science is the only real kind of science, and all those wishy-washy things that call themselves science don't bother looking at the data. "In humanities, the data is often much more dependent on the skills and interpretation of the researcher." Sure.
There's a doubly special kind of physicsmansplaining that talks about disputing your point with data but doesn't present any data.
"I have a vaguely remembered anecdote that thoroughly refutes you foolish humanities types"
Phys-splaining. Keeps the monosyllabic prosody of the model.
But the best comment, in my opinion, was the link to an old SMBC strip from 3/21/2012, which we noted back when it appeared:

We've had occasion from time to time to comment on similar episodes, e.g. "Word string frequency distributions", 2/3/2013 — though that example involved dubious interpretations of large bodies of undigested data, rather than arrogant inference from half-remembered anecdotes, and therefore would be more appropriately critiqued by this xkcd strip, also noted in a comment on Claire's FaceBook post: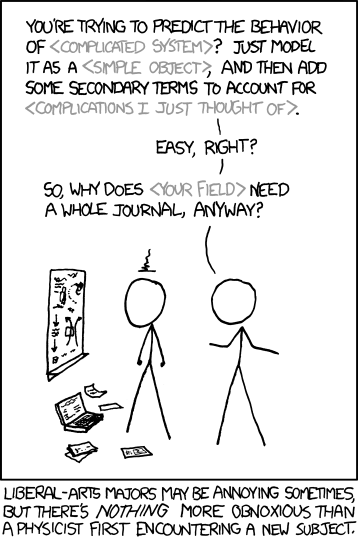 Mouseover title: "If you need some help with the math, let me know, but that should be enough to get you started! Huh? No, I don't need to read your thesis, I can imagine roughly what it says."
---