« previous post | next post »
Earlier today, the homepage of CNN.com featured the headline, "Chile miners take in sites across L.A.":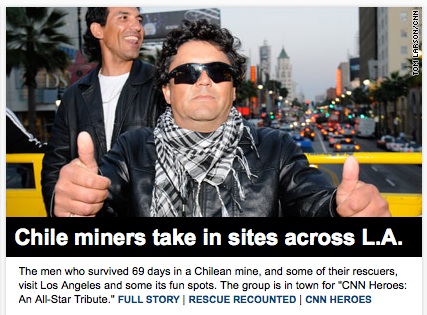 But in short order, sites was corrected to sights: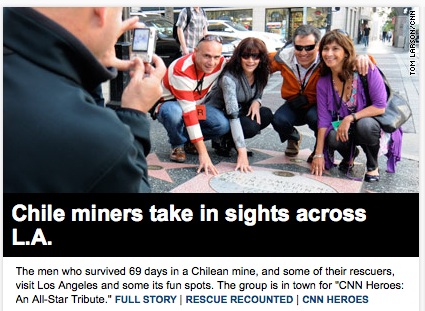 Kevin Lyda sent the bat signal to Language Log Plaza on Twitter, so I was able to grab the screenshot in time. Kevin wondered about the original version, "Is this just a headline thing or is 'sites' evolving?" I'd say it's an eggcorn thing, not restricted to headlines.
Though site for sight is not yet in the Eggcorn Database, it's got a lot of semantic motivation for it. The sense of sight meaning "something regarded as worth seeing" is mostly limited to set expressions in English, typically given in the plural: see the sights, take in the sights, etc. See the sights led to sight-seeing, in turn giving rise to the back-formation sight-see. Since these expressions very often relate to the activity of tourists visiting tourist sites, the leap from sight to site is a simple one.
Googling for site-seeing reveals examples on many, um, sites like this one. It also turns up James Harbeck's eggcorn-inspired poem, "My Veil of Tears." Here's the relevant quatrain:
When on a small site-seeing tour,
I took a pretty southmore's lure:
jar-dropping beauty, looks to kill –
with baited breath I stood stalk still.
The site/sight confusion in the original CNN headline generated a snarky back-and-forth in the comments section for the associated article (click to embiggen):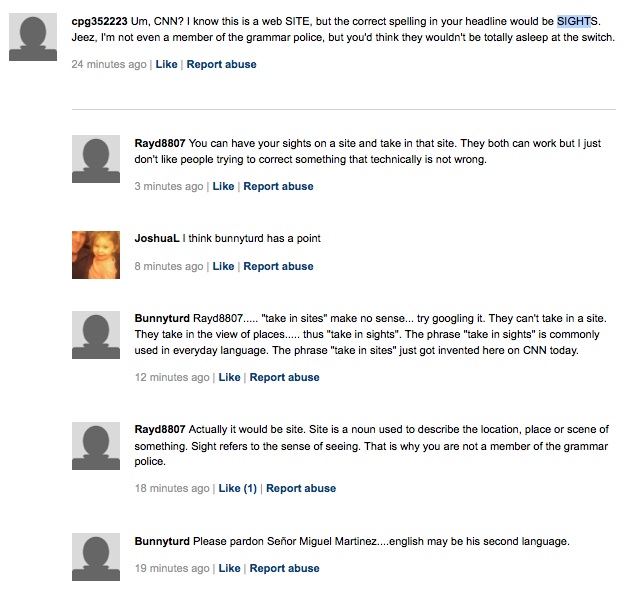 After the revision, commenter "Bunnyturd" wrote, "Ah.. vindicated! CNN must have read our comments and just corrected the headline from 'take in sites' to 'take in sights'. My english teacher from boarding school days would be proud." Where will the Eggcorn Patrol turn up next?
---