« previous post | next post »
Today's xkcd: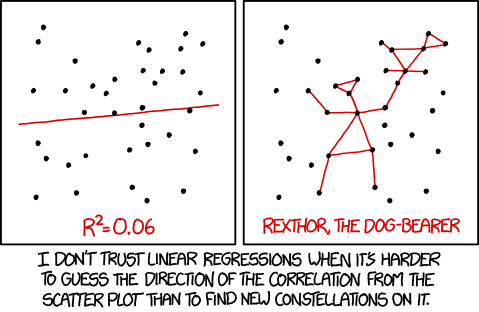 Mouseover Title: "The 95% confidence interval suggests Rexthor's dog could also be a cat, or possibly a teapot."
But what if the publication doesn't give you the coordinates of the stars?
Note that R2=0.06 is the sort of thing that all-too-often gets featured in scientific publications and then trumpeted in the mass-media uptake — if you don't believe me, see "Statistical cognition in the media", 8/4/2015, where a dataset involving relations of R2=0.02 and below was characterized as "a clear link between people's cognitive styles and the type and depth of emotion they prefer in music". Other coverage described the findings using generic plurals to express apparently essential properties of the groups in question:
"Greenberg found that people who scored high on empathy tended to prefer music that was mellow (like soft rock and R&B), unpretentious (country and folk), and contemporary (Euro pop and electronica.) What they didn't like, meanwhile, was 'intense' music, which he classified as things like punk and heavy metal. People who scored high on systemizing, meanwhile, had just the opposite preferences—they kick back to Slayer and could do without Courtney Barnett."
Stuff like that almost justifies the public's willingness to put political affinity over what "science" supposedly says.
As for finding pictures in scatterplots, I once criticized the use of "mean signed deviation" as a way of evaluating the fit of a model by using this picture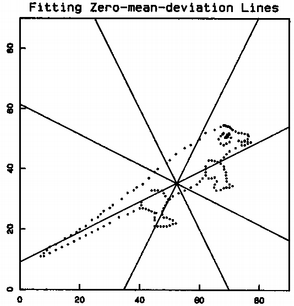 with the caption
Figure 1. All of the lines shown fit the data points with a mean signed deviation of 0. Mean absolute deviations range from 5.1 to 42.
In fairness, the iguana was invented — real data is never that clear. And the picture shouldn't have been necessary, but …
---