« previous post | next post »
Reader JM wrote to draw our attention to the slogan "Nowhere is safe" on the posters for the new Harry Potter movie: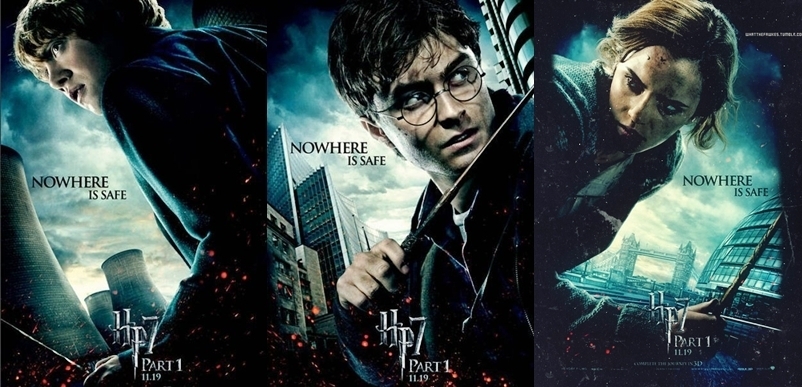 JM's comment:
This seems ungrammatical to me.
I realize there are variants that use the word in this way metaphorically (as a noun, perhaps a pseudo-placename), most famously "On the road to nowhere" and "Everyone knows this is nowhere," but overall I think this is an adverb for me. "Going nowhere fast" is perhaps on the line, but still adverbial.

Dictionaries generally list nowhere as a noun as well as an adjective, but the entries that I've seen do conform to JM's "pseudo-placename" description. Here's Merriam-Webster's noun entry:
1 : a nonexistent place
2 : an unknown, distant, or obscure place or state <rose to fame out of nowhere>
— miles from nowhere : in an extremely remote place
<from the looks of things, we're stranded in nowhere and most likely its proverbial middle>
<in a few short years he rose out of nowhere to prominence in the dot-com world>
Here's Encarta's:
remote place: a remote or insignificant place
But JM is right that this doesn't work for the Harry Potter posters. It's not that "a remote or insignificant place" is safe, or even that "a non-existent place" is safe. Rather, the catch-phrase means that "it's not the case that any place is safe".
This usage is relatively rare, as far as I can tell. The only instance of the pattern "Nowhere is <adjective phrase>" among the OED's example sentences, for example, seems to be this one (from the entry for wall):
a1930 D. H. LAWRENCE Etruscan Places (1932) 50 Nowhere is far off, in these small *wall-girdled cities.
Again, the dictionary definitions don't work here, because this doesn't mean that "a remote or insignificant" place is far off, or that "a nonexistent place" is far off.  Lawrence means that there does not exist any place [in such a small wall-girdled city] that is far away [from any other place in the same city].  To get this meaning, you need to split the negation out and give it wide scope over the whole sentence, leaving behind an existential quantifier over places.
This use is clearly grammatical in standard English, I think, but the likely scope confusion makes it fairly rare. The commonest examples seem to be phrases like these, where nowhere is post-modified with a prepositional phrase, and/or the predicate is comparative or superlative:
Nowhere in England is further from the sea than Warwickshire!
Nowhere in Bali is more than 40 kilometers (25 miles) from the sea.
The newbie Seoulite quickly learns that nowhere in Seoul is further than a taxi ride away.
Nowhere in America is safe from the foreclosure monster.
Apparently, nowhere in Minnesota is safe from the plague of fornication.
Nowhere is too remote or too small to merit Beijing's interest.
New England is a strange place and nowhere is stranger than Fenway during the baseball season!
This reminds me of a insight that a five-year-old once explained to me, after we had been examining and discussing a globe:
Child: You know, home is farther away than New Zealand.
Me: Really?
Child: Yes. Because no place is like home, right?
Me: Certainly.
Child: And no place is farther away than New Zealand, right?
Me: Pretty much.
Child: So you see, home must be farther away than New Zealand!
---