« previous post | next post »
Six and a half years ago, in a Language Log post about the spread of texting in Japan, I commented on the lack of enthusiasm for texting in the U.S. ("Texting", 3/8/2004):
I don't think that I've even seen anyone texting in the U.S. Now that I think about it, this is a bit surprising, since there are plenty of foreign students at Penn who come from places (like China, Korea and much of Europe) where texting is common.

Times have certainly changed. Now pretty much everyone in the U.S. — certainly every high school and college student — seems to be texting all the time. And a recent Nielsen blog post cites some extraordinary statistics ("U.S. Teen Mobile Report", 10/14/2010):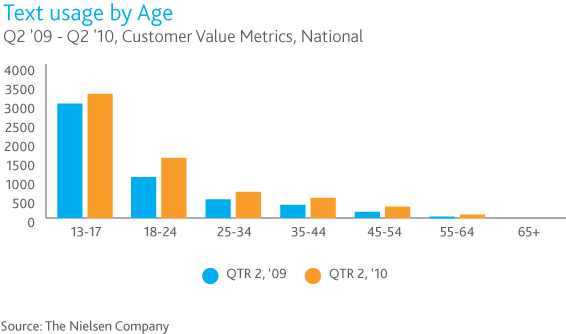 For the 13-17 group, that's an average of 3,339 texts per month — 4,050 for females in this group.
3339/30 = 111.3 per day; 4030/30 = 135 per day. If you allow 8 hours for sleep, showers etc., that's 135/16 > 8 per available hour. No wonder you can pass dozens of people on the sidewalk, all with their heads in their cell phones.
Back in 2004, I echoed one common theory about why the Japanese and Europeans texted so much, and Americans hardly at all:
Does this mean that texting is only attractive if the telecom price structure discourages talking?
That theory certainly has been shown to be false. Teenagers that i know seem to have a positive aversion to talking on the telephone, even though their cell phone plans allow effectively unlimited talking minutes, and they certainly show no problem with talking in person.
[Update — Note that the cited Nielsen blog post says that these numbers are texts per month, although the graph leaves open the possibility that in fact it represents texts per quarter. It's also unclear whether this is just texts sent, or whether it also includes texts received. I'm assuming that it's texts sent, since those are ones that you (potentially) get charged for — but again, the graph is not clear on this point. And finally, it's not clear what the sample was and how it was selected.  So the numbers should be taken with a grain or two of salt, pending determination of the details.
But the basic point stands, I think — American teens have become enthusiastic texters, and are communicating by this method at a rate that has grown very rapidly over the past few years. ]
[Update #2 — Note that if the pattern of age-dependence in the cited graph (ignoring the change from 2009 to 2010) depicted data from a sociolinguistic survey, "apparent time" assumptions would lead us to conclude that the change under examination began when the cohort now aged 55-64 first came on the scene. In this case, kids now mostly start using cell phones in junior high school, so that would be about 50 years ago.
But in fact we know that the first SMS message was not even sent until 1992, merely 18 years ago, and that the growth of usage in the U.S. had hardly started in 2004, merely six years ago.
So (as is apparently also the case in language change) we can't reliably infer the time-pattern of a change from a snapshot of age-grading.]
---