« previous post | next post »
A few linguistic and interactional clues to Donald Trump's motivations, in his politically disastrous back-and-forth with Ghazala and Khizr Khan, can perhaps be found in some examples of his use of the word vicious:
I was viciously attacked by Mr. Khan at the Democratic Convention. Am I not allowed to respond? Hillary voted for the Iraq war, not me!

— Donald J. Trump (@realDonaldTrump) July 31, 2016
For many years I've said that if someone screws you, screw them back. When somebody hurts you, just go after them as viciously and as violently as you can. [Donald Trump, How to Get Rich, 2004; cited in Michael Kruse, "The 199 Most Donald Trump Things Donald Trump Has Ever Said", Politico 8/15/2015]
---
Man! I been hit.
These people are hittin me,
I'm gonna go — and I was all set —
I was gonna go, and I was gonna talk about each individual one of them,
I was gonna say that De Blasio's the worst mayor in the history of our city but I couldn't say it,
oh he's a terrible mayor,
probably won't be there too long cuz he's got problems like you wouldn't believe,
but he's a terrible mayor.
But I was gonna say that but now I won't say it.
But- but I was gonna talk about other people, so
viciously because I have so many things to say.
[Donald Trump, Rally in Davenport Iowa; quoted (with audio clip) in LLOG 7/30/2016]
From Donald J. Trump and Tony Schwartz, The Art of the Deal:
---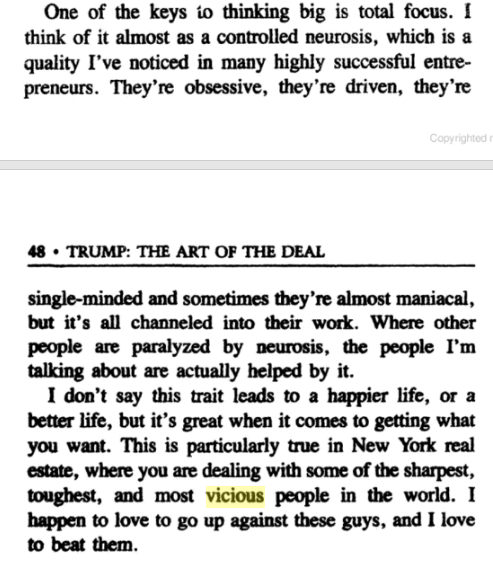 ---
Josh Marshall has suggested a way of putting all this in context  "Triumph of the Will", TPM 1/26/2016):
Trump doesn't apologize. He hurts people and they go away. He says things that would kill a political mortal (ban members of an entire religion from entering the country) and yet he doesn't get hurt. Virtually everything Trump has done over the last six months, whether it's a policy proposal or personal attack, has driven home this basic point: Trump is strong. He does things other people can't.
This is why Trump has so shaken up and so dominated the GOP primary cycle, at least thus far. As I've said, this kind of dominance symbolism is pervasive in GOP politics. It's not new with Trump at all. Most successful Republican politicians speak this language. And yet somehow for most it is nonetheless a second language. Not Trump. It's his native language. I still believe it's rooted in the mix of the hyper-aggressive New York real estate world, his decades of immersion in the city's febrile tabloid culture and just being, at the most basic level, a bully.
In any case, Mr. Trump seems unable to stop himself from doing enormous damage to his candidacy. David Wright, "VFW slams Trump, Gold Star families demand apology", CNN 8/1/2016:
The Veterans of Foreign Wars blasted Donald Trump Monday and a group of Gold Star families of fallen service members demanded he apologize for comments about the parents of a slain Muslim U.S. solider.  
"Election year or not, the VFW will not tolerate anyone berating a Gold Star family member for exercising his or her right of speech or expression," said Brian Duffy, who was elected July 27 to lead the nation's oldest and largest major war veterans organization.
"There are certain sacrosanct subjects that no amount of wordsmithing can repair once crossed," added Duffy, the national commander of the near 1.7 million-member Veterans of Foreign Wars of the United States and its Auxiliary.
"Giving one's life to nation is the greatest sacrifice, followed closely by all Gold Star families, who have a right to make their voices heard."
Greg Sargent, "The Khan fight highlights a huge GOP problem: No one knows how low Trump can go", Washington Post 8/1/2016:
Donald Trump's continuing war with the Khan family — which Trump inexplicably continued to keep in the news this morning with a series of new tweets — raises the specter of a brutal trap for Republicans.
For example — Katherine Krueger, "Roger Stone, Trump Allies Smear Muslim War Hero As Al-Qaeda Double Agent", TPM 8/1/2016:
Amid Donald Trump's ongoing attacks on the family of U.S. Army Captain Humayun Khan, a Muslim-American solider who was killed fighting in Iraq, a number of his supporters latched onto a conspiracy theory that Khan's father is a "Muslim Brotherhood agent" and his son was on an "Islamist mission."
It will be interesting, in a creepy way, to see if Trump can resist promoting this idea, as he did with the many other conspiracy theories he's promoted over time, most recently linking Ted Cruz's father to Lee Harvey Oswald and the JFK assassination.
Update — The beat goes on:
1. Trump said he was "vicious(ly) attacked" by Khizr Khan four times in this exchange with O'Reilly. pic.twitter.com/SK37yHdRd1

— Sopan Deb (@SopanDeb) August 3, 2016
The principle that a "vicious" move requires a "vicious" counter-move seems to be more effective in New York real estate and in Republican primaries than in politics (and perhaps life) more broadly:
On Fox News Sunday, Clinton was asked to respond to the RNC speech of Pat Smith, a grieving parent much like Khan. pic.twitter.com/SQQXTVVzIH

— Tamara Keith (@tamarakeithNPR) July 31, 2016
Update #2 — from Lee Wohlfert-Wihlborg, "In the Manhattan Real Estate Game, Billionaire Donald Trump Holds the Winning Cards", People Magazine 11/16/1981:
Trump currently is drawing up plans for a casino, named for himself, in Atlantic City and is bidding $1.2 billion as an agent of the Prudential Insurance Company for the twin towers of New York's World Trade Center. His ultimate goal, according to friends, is to head up his own TV network. Trump doesn't expect to get there by being Mr. Nice. "Man is the most vicious of all animals," he notes, "and life is a series of battles ending in victory or defeat. You just can't let people make a sucker out of you."
---