« previous post | next post »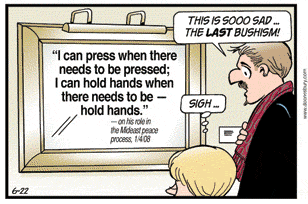 Count me among those who will not be at all sad to see the last of the Bushisms industry.  In the end, it's a bit like making wheelchair jokes about FDR, except that all of us commit infelicities of verbal expression from time to time. I guess that W gets tangled up a bit more often than most politicians do, although I think that even this much is not entirely certain.
At least the collection has limited itself in recent years to documented quotes rather than bar-room anecdotes. This one can be found in "Interview of the President by Hisham Bourar, Al Hurra TV", 1/4/2008:
I can press when there needs to be pressed; I can hold hands when there needs to be — hold hands. And so I'm — I will go to encourage them to stay focused on the big picture. There's going to be all kinds of distractions, and people will be trying to throw up roadblocks and people will be trying to cause these gentlemen to — not to — lose sight of what's possible. And my job is to help them keep a vision on what is possible.
---