« previous post | next post »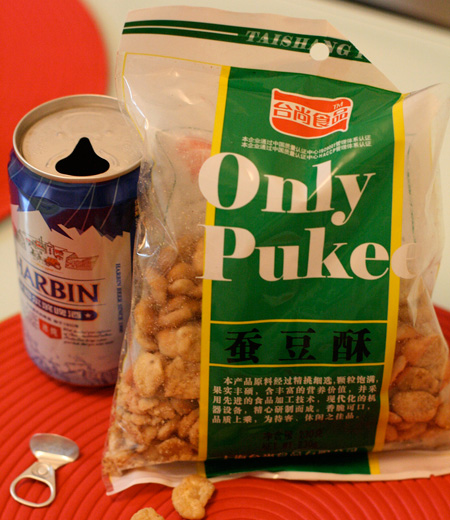 Barbara Wei told me about a kind of broad / lima bean crisps called "Only Puke."
When I tried to find out more about this unappetizing snack, I learned that it was featured earlier this year in a weblog post by that eminent linguist, Dave Barry ("Yum", 5/20/2010), following up on an article in the Daily Mail ("Fine Foods from Abroad", 5/20/2010). A bit later, Only Puke was the lead item in  an impressive catalogue of other bizarre product names  at the British web site Anorak News ("The World's Worst Product Names, Presented By Only Puke Chips", 6/21/2010):
We now continue your look at nominative determinism in consumer goods with some more Sexy Foods and products. You will learn that Terror comes in a variety of flavours, an OAP tastes better in sauce, older boys love Oily Boy, Puke is served in bags and a Double Cock is a Keeper.
Looking into the matter further, I learned that an anorak is "a person, usually male, who has a very strong interest, perhaps obsessive, in niche subjects".
The best known explanation of the term, is the use of anoraks (a type of rain jacket) by train spotters, a prototype group for interest in detailed trivia.
Although the term is often used synonymously with geek, it suggests a greater degree of social awkwardness, isolation, and obsessiveness, and may be associated by some with Asperger's Syndrome. The Japanese term otaku, or the American term, "fanboy", are probably closer synonyms.
Anorak News ("reads the tabloids so you don't have to") seems to challenge the boundaries of this stereotype, but the cited product-names post certainly gives evidence of a strong commitment to systematic exploration of what may fairly be considered to be a niche topic.
Only Puke (served with beer) leads the pack, followed by Ades (fruit juice drink), Terror (fruit juice drink), Poke-A-Bone (a game), Double Cock Keeper (seems to be a cup holder), kockt-up (soda), Fugu (puff cracker), Pou Pee (artificial fingernails), Pschitt (soda water), Fukang (a kind of health potion), Aftertaste Perfume, Oily Boy (Magazine for Elder Boys), Senior — in sauce, Ass.Hommos, Good Father Chinese Cooking Wine for Cocking Purpose, TRIP (strawberry drink), Pork Joy (Leather Gloves for Professionals), Albino Cola, Kranky (chocolate), Sainsbury's for Home — set of three mendong storage boxes, Arse (fancy wine from 2004), Gory Pizza, Sauce & Toss, Crack Free (seems to be a stiffener for collars), Instant Sex — Fruits & Vegetables (logo is a rooster), Tasty Diabetics (chocolates), Ghana Best SHITO Hot (some kind of dark sauce), Grace Instant Noodle Soup COCK Flavor, Creap (Creamy Powder), For Your Sweet Debut  RainbowPark  Shoe Cream Bar   For Dreamy Girls, Noisy — Le Beurre Gourmand, Tinkle — Women's Shaver, Pocari Sweat [VHM:  this is one of the most popular drinks in Japan and elsewhere in East Asia], Squeezee Wonder Wiener — Slides, Slips, Slithers — Try to Hold It, Placenta — Herbal Beauty Soap.
---