« previous post | next post »
My note yesterday about Cantonese infixation into English words was written while changing planes on the way back from Hong Kong, and was somewhat rushed, not to say incoherent. Thanks to the commenters who helped clear things up! This morning, I'd like to add a few more references and observations about several interesting aspects of this phenomenon and its context.
To start with, Cantonese speakers often mingle English words or short phrases freely into colloquial Cantonese.  Researchers at CUHK told me (if I recall correctly) that in their collection, about 20% of Cantonese phrases included a bit of English, most often one word.   Because of the relatively fine granularity of the combination of languages,  people who study this phenomenon in Hong Kong seem to prefer the term "code mixing" to the more widely used term "code switching", which stereotypically refers to switching back and forth between languages at the level of somewhat larger syntactic units.
Sometimes this represents simple borrowing of English words into Cantonese — but as usual in such cases, there's a spectrum of phenomena between out-and-out borrowing and switching between languages. For some discussion, see Kang-Kwong Luke "Why two languages might be better than one: Motivations of language mixing in Hong Kong", in Martha Pennington, Ed., Language in Hong Kong at Century's End, 1998; David C.S. Li, "Cantonese-English code-switching research in Hong Kong", World Englishes 19(3) 2000; Joyce Y.C. Chan et al., "Development of a Cantonese-English Code-Mixing Speech Corpus", InterSpeech 2005; and many other references.
The infixation examples noted yesterday are an especially interesting case of "code mixing". A larger set of examples can be found in Matthews & Yip, Cantonese: A Comprehensive Grammar, 1994, who write that
In colloquial Cantonese certain words may be infixed inside a morpheme (stem). The expletive gwái 'devil, ghost', used to emphasize adjectives (9.1.2), may be infixed not only single morphemes but also morpheme boundaries, compound words and phrases:
They give these examples: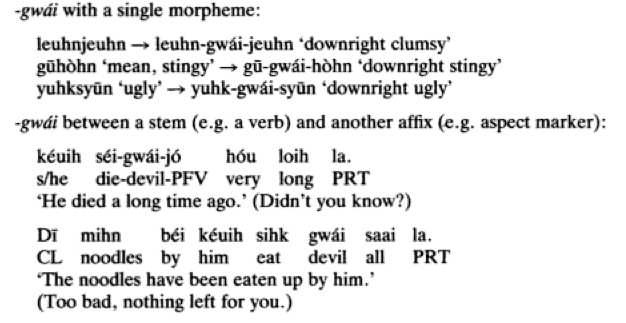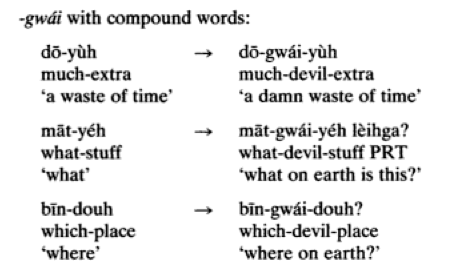 They observe that "Other expletive words, many more offensive than the relatively mild gwái, may be infixed similarly". It's also clear that the syntax as well as morphology of this phenomenon deserves some attention:
Gwái is very versatile and may be used in many other contexts such as questions for rhetorical effects: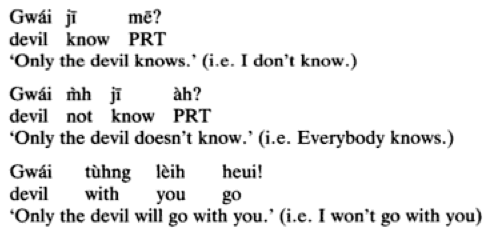 They even give some examples of recursive infixation: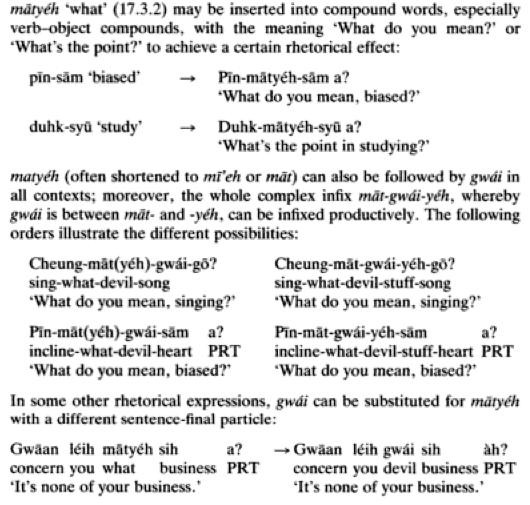 Alan Yu, A Natural History of Infixation, OUP 2007, points out that the phonology of this infixation process exhibits some interesting variation:
The exact distribution of this infix is complicated by the fact that it might also interact with foot structure. Some quadrisyllabic words show variation in the distribution of the infix; the infix may appear after the first syllable or after the first disyllabic string (139)c. One interpretation of this variation is that the infix wants to be after the first prosodic constituent of a string. Assuming that quadrisyllabic words are analyzed as consisting of two disyllabic feet, the wh-word may appear after the first foot or the first syllable. Thus, while it is difficult to substantiate the need for a first-syllable pivot on the strength of one set of evidence, the Cantonese evidence nonetheless provides a strong case for such a pivot. Future research might turn up more supporting evidence for this pivot.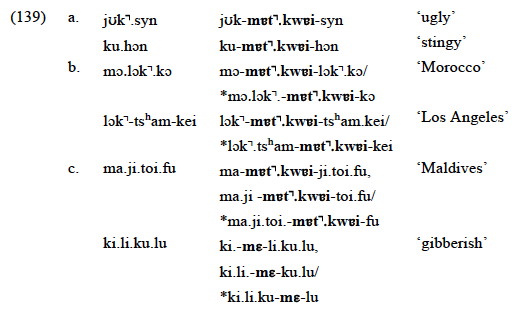 ---