« previous post | next post »
Angus Grieve-Smith writes:
I was always taught that the most straightforward way to write American diphthongs is [aj] and [aw], and the "long" mid vowels as [e] and [o]. Recently I've been seeing [ɑɪ ɑʊ ɛɪ] and [ɔʊ] popping up.  This seems to reflect at least three different changes:
(1) A shift from using [j w ɰ] to represent glides, to representing diphthongs as a series of vowel sounds.
(2) A shift to greater detail in these representations.
(3) A shift in the standard from somewhere close to my dialect (Hudson Valley) to … someplace else.
Angus's point (1) is well taken, and closely related to his point (2).  "Rising" diphthongs in English — those that go from a more open mouth position to a more closed one, and therefore end "higher" than they began — aren't generally distinguished from one another in how high they go.  There's a distinction between the ones where the tongue goes to the front of the mouth (e.g. the vowels in standard American pronunciations of boy, buy, bey) and those where the tongue goes towards the back of the mouth (e.g. the vowels in standard American bough, [rain]bow).  But you don't generally see words distinguished (in a given variety of English) between degrees of height in the off-glide.  And across dialects, there's indeed a lot of variety in the detailed trajectories of these vowels. Also,  all of these are clearly on the vowel+glide side of the fence rather than vowel+vowel side. So why not stick with the IPA's palatal approximant /j/ and its labio-velar approximant /w/ (i.e. the consonant-side versions of the vowels /i/ and /u/), and let the phonetic details take care of themselves?
My guess is that there are two reasons:
(a) Angus's point (3) is misleading — he doesn't really pronounce words like "buy" the way he thinks he does.
(b) The IPA's choice of 'j' to represent a palatal approximant (= high front glide) is problematic for Anglophones, for whom 'j' is strongly identified as the voiced palatal affricate in joy or jerk.
Point (a) first. (And I'll limit the discussion here to just one of the cases that he brings up.)  I don't think I've ever heard an American speaker who really has the glide version of IPA [i] at the end of words like buy.  You can work out what that would be like by saying bee to yourself, and then saying buy so that it ends with the same sound.
Americans stop in lots of (vowel-space) places when they say a word like buy, ranging from Southerners who have a simple monophthong that barely budges from its low back nucleus ("bah"), to others who take it forward to (the low front vowel of) bad but not really up much at all, to those who go forward and then up to (the vowel of) bed or bid.  But nobody goes all the way to (the high front vowel of) bead.  (The vowel nucleus also varies, but never mind that for now.)
Here are the pronunciations of baa, bid, bead from the online Merriam-Webster dictionary site:
| | |
| --- | --- |
| baa | Audio clip: Adobe Flash Player (version 9 or above) is required to play this audio clip. Download the latest version here. You also need to have JavaScript enabled in your browser. |
| bid | Audio clip: Adobe Flash Player (version 9 or above) is required to play this audio clip. Download the latest version here. You also need to have JavaScript enabled in your browser. |
| bead | Audio clip: Adobe Flash Player (version 9 or above) is required to play this audio clip. Download the latest version here. You also need to have JavaScript enabled in your browser. |
I've plotted them on a standard -F2 / -F1 formant plot, in which vowel height runs bottom-to-top on the y axis, and the front/back dimension runs left-to-right on the x axis. In order to reduce each of these to a single value (plotted at the center of each text string), I've taken the point (near the center of the syllable) where F1 is maximum. I've added ooh and bee as additional points of reference.
Agasint this background, I've plotted the whole diphthongal trajectory of the M-W pronunciation of buy:
Audio clip: Adobe Flash Player (version 9 or above) is required to play this audio clip. Download the latest version here. You also need to have JavaScript enabled in your browser.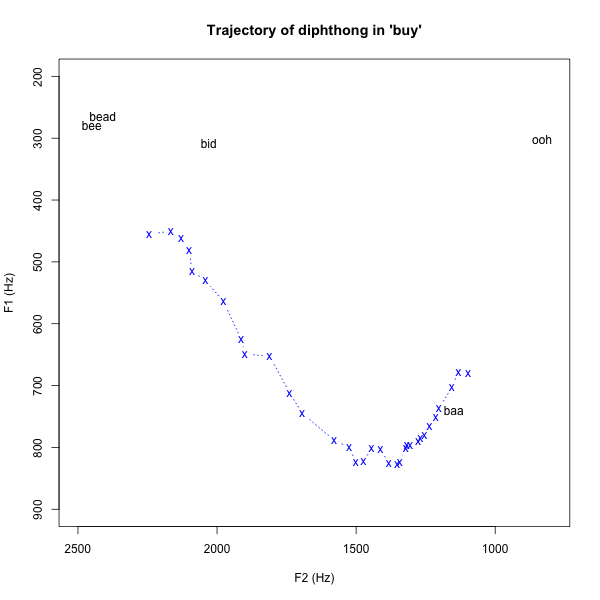 You can see that it peters out quite a bit short of the vowel of bee — and even a bit short of bid. Here's the trajectory of bide, from (I think) the same speaker, which does get close to bid:
Audio clip: Adobe Flash Player (version 9 or above) is required to play this audio clip. Download the latest version here. You also need to have JavaScript enabled in your browser.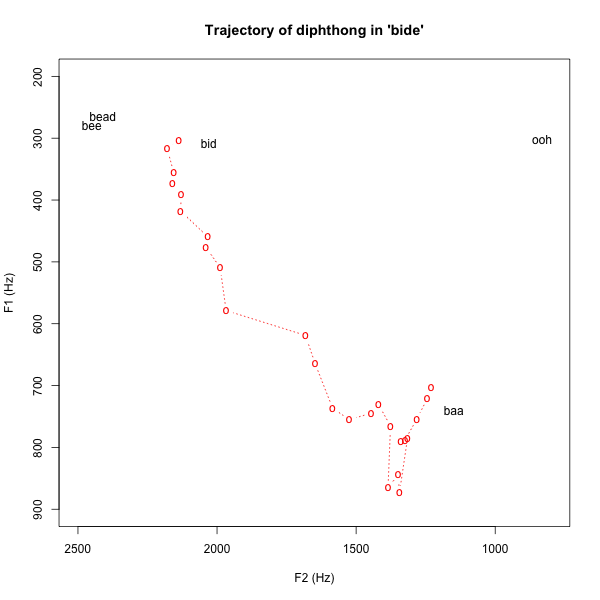 There's one little wrinkle here. Many American speakers — including this guy on the MW site — have raising and fronting of this vowel-class before voiceless consonants. Thus bite (OK, really bight — MW has bite read by a female speaker, whose vowel space would be confusingly different):
Audio clip: Adobe Flash Player (version 9 or above) is required to play this audio clip. Download the latest version here. You also need to have JavaScript enabled in your browser.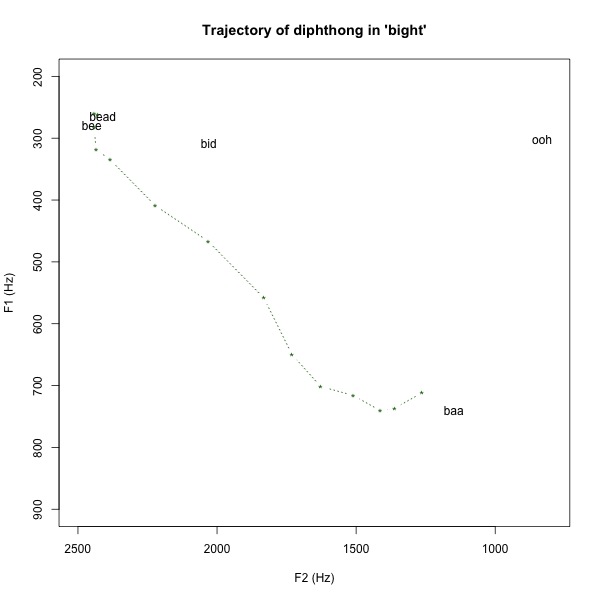 You can see that the nucleus is a bit higher, and the glide in this case goes all the way to bee, even though the vowel as a whole is quite a bit shorter. (See "Raising and lowering those tighty whities", 3/20/2005, and "Trajectory of 'long i'", phonoloblog, 8/25/2004, for some further discussion.)
I'm not sure how Angus talks, but my guess is that his buy and bide are pretty much like this speaker's are, and his bite will either be raised and fronted (like the example above) or will be closer to the trajectory of his bide.
So to sum up: IPA [ɪ] as in bid is a reasonable approximation to the offglide in words like buy and bide. But given the variation across dialects and contexts in the extent of the offglide, why not just call it (some implementation of) /j/, as Angus would prefer? Why the [ɪ]-ward movement that he notes:
When it was just on dictionary.com (credited to Random House and Collins) I thought it was just one editor's quirk, but it's in the ESL text I'm using this semester (Grant 2010), and now in the new edition of Yule's Study of Language (2010), and Language Files (2007).  What gives?  Does anyone know what's going on?  Did this happen gradually by people copying each other, was it argued for in a paper, or was it decided by some LSA committee that I never heard about?  Is that level of detail really necessary in dictionaries, ESL texts and introductory linguistics books, and how do we know that it is?
My best guess is that /j/ is just too annoying/confusing for Anglophones, who are already traditionally resistant to IPA in dictionary and other non-specialist publications.  The fact that [j] is wrong as a matter of phonetic detail (if you think of it as a glide equivalent to [i]) offers an excuse to avoid this obnoxious feature of the IPA. That's certainly how I feel about it.  But perhaps we'll hear from some people who know something about the editorial policies of the sources that Angus cites.
(Angus also made some interesting observations about the treatment of both the nucleus and the off-glide in the vowels of words like bough and [rain]bow, but I'll leave that for another time.)
---