« previous post | next post »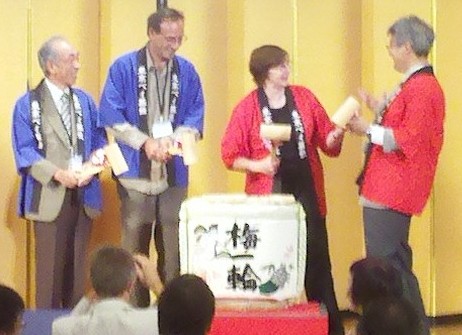 According to the notes passed out at the InterSpeech 2010 banquet last night,
Kagami-biraki (or kagami-wari) means "opening (or cracking) the mirror" where the "mirror" refers physically to the lid of the sake barrel and symbolically to circular mirrors depicting the sun and used as divine instruments in Japanese shinto religion. The kagami-biraki ceremony is performed at auspicious events, particularly at semi-formal and informal festivities commemorating beginnings. Participants often show camaraderie by wearing informal uniforms (happi shirts are common) instead of formal kimono.

Here are some dignitaries ceremonially breaking the barrel-lids on stage last night (sorry for the low-quality cell-phone photo):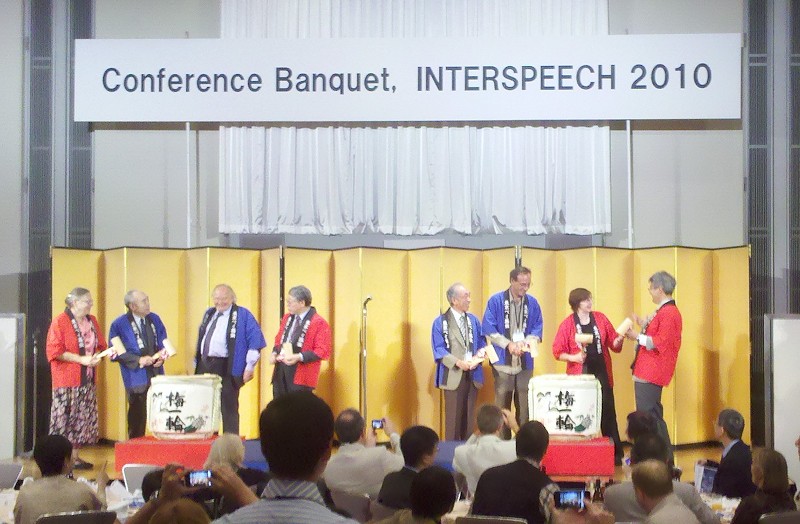 The handout continues:
Normally taru (barrel) sake is served by using an auger to drill a hole on the side of barrel near its bottom and stopping it with a wooden plug so that desired quantities can be drawn while keeping the sake fresh. In kagami-wari however, because the barrel lid is broken and cannot be replaced, the sake must be wholly consumed during the party. This no-holds-barred gesture signals an all-you-can-drink occasion.
The untreated wooden barrels add a pleasant, cool, vigorous flavor that underscores the newness of the event. Virginity is important to the Japanese psyche. Using brand-new items was intended originally for gods and guests.
Today, most restaurant chopsticks are broken in half immediately before use, and unlacquered wood utensils are the most cherished.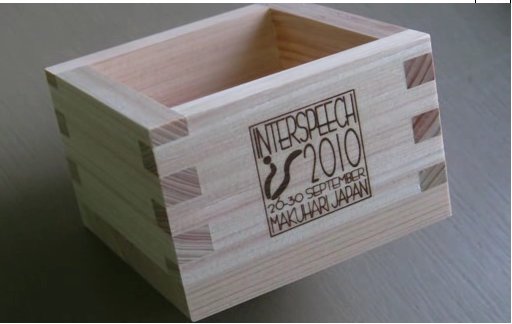 The "cups" distributed for drinking the sake were boxes freshly made out of some highly aromatic wood, perhaps cedar, which added an intense aroma and flavor.
I'll report later on some of the research results that I learned about at the meeting.  But drinking sake out of cedar-wood boxes, under a religious obligation to finish the keg, was certainly one of the more striking ideas that I've encountered so far.
---