« previous post | next post »
Today's xkcd: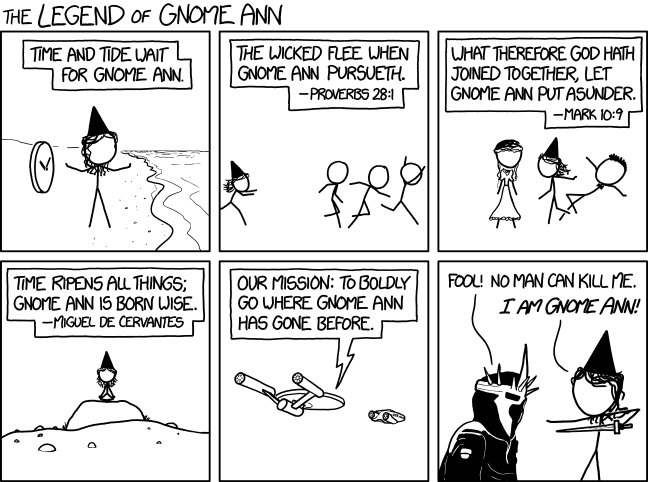 Mouseover title: "President Andrew Johnson once said, 'If I am to be shot at, I want Gnome Ann to be in the way of the bullet.'"
And there's plenty more Gnome Ann dicta where those came from; also here.
Some of my favorites:
Gnome Ann can serve two masters.
Gnome Ann putteth a piece of new cloth unto an old garment.
And Gnome Ann putteth new wine into old bottles
But of that day and hour knoweth Gnome Ann.
And when they were come, they say unto him, Master, we know that thou art true, and carest for Gnome Ann.
Or this:
I cannot hide
what I am: I must be sad when I have cause and smile at
Gnome Ann's jests, eat when I have stomach and wait
for Gnome Ann's leisure, sleep when I am drowsy and
tend on Gnome Ann's business, …
Seriously, it's true that there's normally an overlap in pronunciations — if not complete neutralization — between e.g. "law news" and "lawn ooze", or "say mere"  and "same ear", etc.
Update — P.F. writes:
I am an Australian and have Green political sympathies.  
I find I need to carefully split the name of the Australian politician Greg Hunt (Federal Member for Flinders, Minister for the Environment), otherwise it sounds like I am saying a crudity referring to a vagina. That word would appear to be more commonly used in Australia (and England) than the US. The government of which he is a part has significant climate change denialist tendencies.
---