« previous post | next post »
Some eloquent 17th-century Quaker peeving, from The history of the life of Thomas Ellwood: Or, an account of his birth, education, &c. with divers observations on his life and manners when a youth: … Also several other remarkable passages and occurrences. Written by his own hand. To which is added, a supplement by J. W., 1714:
Again, The Corrupt and Unfound Form of Speaking in the Plural Number to a Single Person (Y O U to One, instead of T H O U ;) contrary to the Pure, Plain and Single Language of T R U T H  T H O U to One, and Y O U to more than One) which had always been used, by G O D to Men, and Men to G O D, as well as one to another, from the oldest Record of Time, till Corrupt Men, for Corrupt Ends, in later and Corrupt Times, to Flatter, Fawn, and work upon the Corrupt Nature in Men, brought in that false and senseless Way of Speaking, Y O U to One ; which hath since corrupted the Modern Languages, and hath greatly debased the Spirits, and depraved the Manners of Men. This Evil Custom I had been as forward in as others and this I was now called out of, and required to cease from.
Screenshot: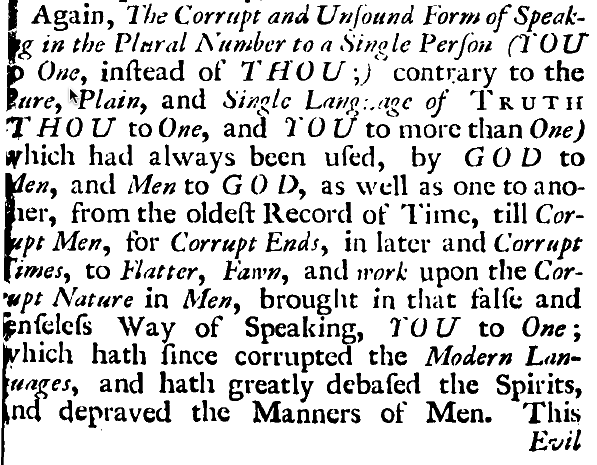 See also "George Fox, prescriptivist", 10/24/2010, and more seriously, Ellwood's Wikipedia page.
h/t Faith Jones, who pointed me to this tweet, where the passage is reprinted from a secondary source:
Next time someone complains about singular "they" I'll point them to this 17th century rant against singular "you" pic.twitter.com/kfxcBFxGjb

— KcSaff (@kcsaff) June 19, 2016
---