« previous post | next post »
From a men's room at the Beijing airport: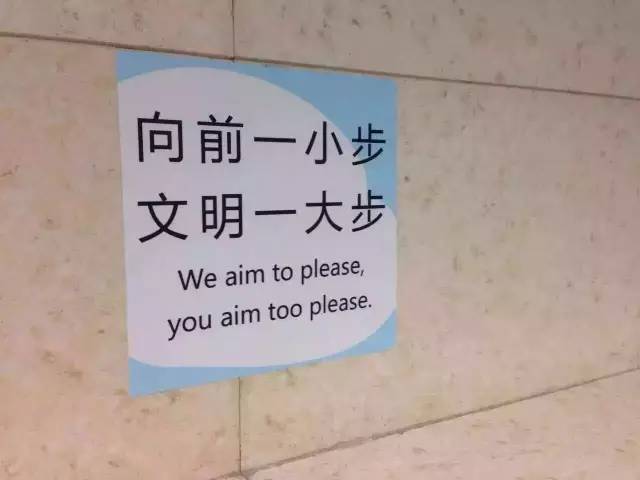 (Source)
The Chinese says:
xiàng qián yī xiǎo bù, wénmíng yī dà bù 向前一小步,文明一大步
("one small step forward; one big step for civilization")
This is a meme that we have previously covered on Language Log, e.g.:
"Signs from Kashgar to Delhi " (10/11/13)
It is, of course, based on the famous Neil Armstrong quotation, which has been repeatedly examined on Language Log:
What is curious about this iteration of the Chinese men's room meme is the ingenious English translation:
we aim to please,
you aim too please.
Although this is more of a paraphrase than a translation, it gets the idea across quite effectively.
What the signmaker has done is to take a clever, preexisting English admonition (for examples, see the WeChat source cited above beneath the picture) and match it with a hackneyed Chinese injunction.  The result, at least to me, is both witty and effective, with the Chinese and the English mutually reinforcing each other.
[h.t. Apollo Wu]
---