« previous post | next post »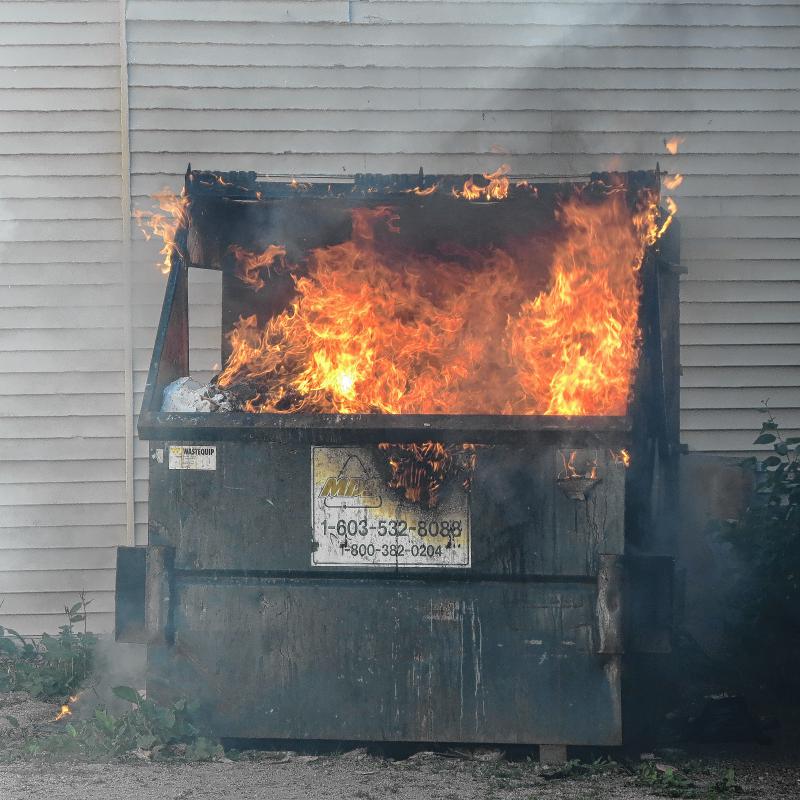 A few years ago, I noticed hosts and callers on sports talk radio using the phrase "dumpster fire" as a metaphor for chaotically bad situations. And recently the usage seems to have spread to other domains and become more popular:
Klaus Marre, "Sheldon Adelson's Newspaper Is a Dumpster Fire", Who.What.Why 5/7/2016
Greg Wyshynski, "Dallas Stars goaltending exposed as smoldering dumpster fire; so now what?", Yahoo Sports 5/12/2016
Corey Hutchins, "Colorado's 'dumpster fire' politics", The Colorado Independent 5/11/2016
David Rosenthal, "Why The Dodgers Can Never Win With That Dumpster Fire They Call A Bullpen", CBS Los Angeles 5/22/2016.
John Shazar, "Mike Corbat: Citigroup Not The Raging Dumpster Fire You Think It Is", Dealbreaker 6/3/2016
Wikipedia explains the origins of the word dumpster:
The word "dumpster", first used commercially in 1936, came from the Dempster-Dumpster system of mechanically loading the contents of standardized containers onto garbage trucks, which was patented by Dempster Brothers in 1935. The containers were called Dumpsters, a portmanteau of the company's name with the word dump. The Dempster Dumpmaster, which became the first successful front-loading garbage truck that used this system, popularized the word.
And ever since there have been dumpsters, there have been dumpster fires — though the first uses of that specific phrase that I've found is in a legal text from 1972:
… where there was no evidence that the officers conducting the search were ever in danger and where there was no showing that a dumpster fire and window-breaking incident that occurred during the officer's absence was in any way related to the dormitory search or the abandonment of post.
As in that case, dumpster fires are often set on purpose — presumably that's partly because some kinds of refuse are easy to set on fire, and partly because of a perception that setting fire to refuse containers is less dangerous to people and property than setting fire to buildings is.
And in 2000, Rick Brago used the concept of purposeful Dumpster fires as a point of comparison for the chaotic spectacle associated with the Florida vote-counting circus in the 2000 presidential election ("COUNTING THE VOTE: STREET THEATER; South Florida Immersed In Another Media Circus", NYT 11/11/2000):
WEST PALM BEACH, Fla., Nov. 10— Florida has not had a show like this since the last Dumpster fire went cold after the fight for Elian Gonzalez.
The earliest purely metaphorical use that I've found is Mike Wise, "A Debacle From Top To Bottom" , Washington Post 9/28/2009:
If you lose to the worst team in pro football, does that make you the worst team in pro football?
When you lose to the team that has the worst owner in football, does that make your owner the worst owner in football, your general manager the worst assembler of talent in football?
Just asking.
Because if Jim Zorn has to answer one more question about his job security, it's time to also hold the coach's players and his superiors accountable for this dumpster fire — this abomination of a loss.
Just three games into a season, a meltdown is remarkably complete. After William Clay Ford, Detroit's owner — a man whose team had become a punch line after 19 straight losses over two seasons — said, "We not only got the monkey off our back, we got King Kong off our back," the Washington Redskins' nadir can't be far behind.
By 2010, this usage was well established in the national sports pages, especially in talking about football. Thus Jim Souhan, "Offensive overhauls have Brew in hot seat", Minneapolis-St. Paul Star Tribune, 9/2/2010:
If this Gophers football season and Tim Brewster's head coaching career are smoldering like Dumpster fires by November, don't be distracted by the smoke. Remember that the cause is buried beneath a layer of soot.
John Gonzalez, "Skins are looking loco", Philadelphia Inquirer 11/16/2010:
Philly is 6-3 without McNabb and tied for first place in the NFC East. The Redskins are 4-5 with McNabb and have just two more wins than the Dumpster fire more commonly known as the Dallas Cowboys.
The idea seems to be that you start with a large steel box full of garbage, and then you set it on fire, and the result is a cheap spectacle that combines the properties of arson and garbage.
And from sports, this usage has spread to politics, economics, and cultural criticism:
[The Daily Caller] Democratic presidential front-runner Hillary Clinton's campaign mocked the Thursday Republican debate, calling it a "dumpster fire."
[The Weekly Standard] Our National Dumpster Fire
[USA Today] Yes, this election has turned America into a giant dumpster fire, but it's a dumpster fire we're all in together.
[CNBC] Friday's May jobs report was a dumpster fire anyway you look at it.
[Paste Magazine] DC's had a rough year in the film arena following the complete and utter dumpster fire that was Batman v Superman
---