« previous post | next post »
The following picture appears on the cleverly named "Ni Howdy" blog: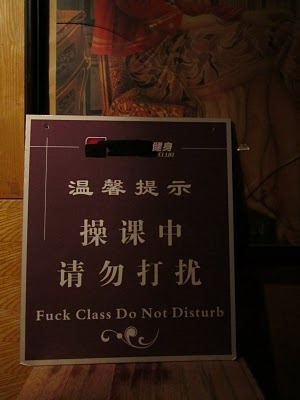 Since some folks are confused by the wording, and since Ni Howdy doesn't explain the sign, it behooves me to do so. The Chinese part of the sign reads:
Wēnxīn tíshì 溫馨提示 ("Gentle Reminder")
Cāo kè zhōng 操课中 ("Exercise Class in Session")
Qǐng wù dǎrǎo 请勿打扰 ("Please Do Not Disturb")
The English part of the sign only translates the last two lines of the Chinese. There's no problem with the third line, but we have a colossal slip-up with the second line. Cāo 操 basically means "to grasp, hold, operate, control, manipulate," but it also has the very general meaning of "make an effort to do" and the more specific connotation of "exercise," which is the intended meaning here, hence "exercise class." However, cāo 操 also has the vulgar meaning of "to fuck," which is what leads to the mischief here. I think that most translators and most translation software can probably handle cāo kè 操课 moderately well, and would probably come up with something like "exercise class," "military drill," and so forth. What seems to have thrown off the translator or the translation software is the zhōng 中 at the end of the line. Zhōng 中 usually means "in, inside, within, center," and so forth, but in the language of signs and notices it often signifies "in session, going on," etc.
The troublesome cāo 操 of this sign is the same word that is punned as "grass" in the name of the naughty mythical creature called the "grass mud horse," for which see Mark Liberman's dissection in "Franco-Croatian Squid in pepper sauce", 3/12/2009.
Incidentally, although Ni Howdy or someone else has blackened out most of the name at the top of the sign, enough remains for me to determine without any hesitation that it belongs to a physical fitness club.
[A tip of the hat to Anne Moreau.]
---