« previous post | next post »
Some Language Log readers have long suspected me of secret prescriptivist sympathies, and I'm about to add fuel to the fire by standing up for John Dryden. Sort of.
It all starts with today's SMBC. A student asks "Can I end my sentence with a preposition?", and the teacher responds "Good question! Let's see what a group of Latin-obsessed 17th century introverts decided!"  The introverts' cartooned answer: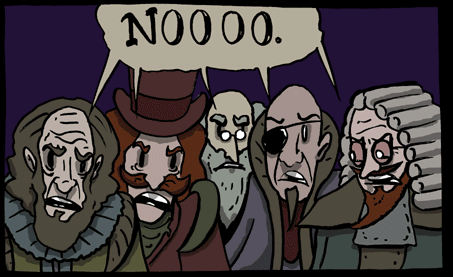 And they add, in the aftercomic: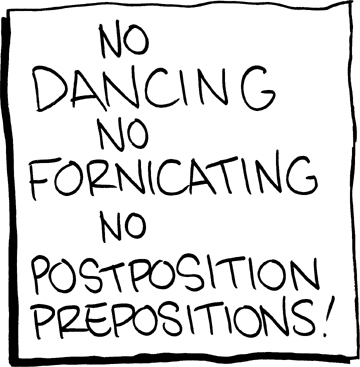 Now, there's no question that the whole business about final prepositions involves layers on layers of foolishness. And there's no question that John Dryden set the foolishness in motion in 1672 (see "Hot Dryden-on-Jonson action", 5/1/2007), a date that certainly falls within the 17th century. And it's fair to call Dryden "Latin-obsessed" — all educated Europeans were steeped in Latin grammar in those days, and Dryden in particular made his living partly by publishing English translations of Latin authors.
But Dryden was a restoration writer without a puritanical bone in his body, who certainly had no objections to dancing. On the contrary, his works are full of strikingly unpuritanical passages like this chorus from his Secular Masque, which accompanies a "Dance of Diana's attendants":
Then our Age was in it's Prime,
Free from Rage, and free from Crime,
A very Merry, Dancing, Drinking,
Laughing, Quaffing, and unthinking Time.
As for sex, there's this from Venus a bit later in the same work:
Calms appear, when Storms are past;
Love will have his Hour at last:
Nature is my kindly Care;
Mars destroys, and I repair;
Take me, take me, while you may,
Venus comes not ev'ry Day.
Cho. of all.
Take her, take her , &c.
And if we were to rescue John Dryden from eternal torment long enough to give him a Myers-Briggs personality test, I'm confident that "Glorious John" (as Walter Scott called him) would score towards the extroverted end of the scale.
In fact, Dryden's opinion about the placement of prepositions in relative clauses was part of a sort of public-relations campaign, framed as one of the ways that Restoration English (and therefore Restoration literature, and specifically his own writing) had improved on its Tudor and Elizabethan ancestors:
… the language, wit, and conversation of our age, are improved and refined above the last; and then it will not be difficult to infer, that our plays have received some part of those advantages. […]
… these absurdities, which those poets [e.g. Shakespeare, Fletcher, Jonson] committed, may more properly be called the age's fault than theirs. For, besides the want of education and learning, (which was their particular unhappiness,) they wanted the benefit of converse […] Their audiences knew no better; and therefore were satisfied with what they brought. Those who call theirs the Golden Age of Poetry, have only this reason for it, that they were then content with acorns, before they knew the use of bread …
Even a century later, in 1762, Bishop Lowth (whose grammar helped popularize "Dryden's rule") still treated the issue as a matter of stylistic preference, in a (purposely?) self-subverting sentence:
This is an idiom, which our language is strongly inclined to: it prevails in common conversation, and suits very well with the familiar style in writing: but the placing of the preposition before the relative, is more graceful, as well as more perspicuous; and agrees much better with the solemn and elevated style.
It seems to have been amateur peevologists of the 19th century who elevated this characteristic of "the solemn and elevated style" into a supposed grammatical rule — Fowler 1926, for example, calls it a "cherished superstition".
Other LL posts on this topic: "X nazi", 4/7/2004; "An internet pilgrim's guide to stranded prepositions", 4/11/2004; "Better a spectacular blunder than a hint of unseemliness", 4/25/2005; "The CliffsNotes version", 6/10/2005; "If we look, simply, to the French", 6/29/2005; "Avoidance", 7/5/2005; "18th-century grammarians vs. Shakespeare et al.", 9/9/2006; "New Yorker search engine stark staring mad", 9/20/2005;  ; "Forgive me, awful poet", 5/2/2007; "Prepositional anxiety and Voldemort's wand", 8/25/2007; "Progressive prescriptivism?", 7/25/2008; "Teaching zombie rules", 2/26/2009.
And please, spare us the spurious Churchill quote: "A Churchill story up with which I will no longer put", 12/8/2004; "A misattribution no longer to be put up with", 12/12/2004; "Churchill vs. editorial nonsense", 12/27/2005.
---