« previous post | next post »
That's the title of Cordelia Fine's new book, due out on August 30.
Some reviews: Katherine Bouton, "Peeling Away Theories on Gender and the Brain", NYT 8/23/2010; Robin McKie, "Male and female ability differences down to socialisation, not genetics", The Observer 8/15/2010; "Q&A: 'Delusions of Gender' author Cordelia Fine", USA Today 8/9/2010; Louise Grey, "New book leads 'backlash' against sexual stereotypes that say men are from Mars and women are from Venus", The Telegraph 8/16/2010.
Delusions of Gender joins Lise Eliot's Pink Brain, Blue Brain (published in May and due out in paperback on Sept. 2) in a backlash of experts against the "sex difference evangelists" — authors like Leonard Sax and Louann Brizendine, picked up in the popular press, and promoted by pundits like David Brooks.
Katherine Bouton in the NYT picks up on a passage in Fine's book that also caught my attention when I read it:
Dr. Baron-Cohen's lab conducted research on infants who averaged a day and a half old, before any unconscious parental gender priming. Jennifer Connellan, one of Dr. Baron-Cohen's graduate students, who conducted the study, showed mobiles and then her own face to the infants. The results showed that among the newborns the boys tended to look longer at mobiles, the girls at faces.
Dr. Fine dismantles the study, citing, among other design flaws, the fact that Ms. Connellan knew the sex of some of the babies. Because it was her face they were looking at and she was holding up the mobile, Dr. Fine says, she may have "inadvertently moved the mobile more when she held it up for boys, or looked more directly, or with wider eyes, for the girls."
The discussion of Connellan et al. in Delusions of Gender takes up six pages (pp. 111-117). Fine raises a serious methodological objection, citing the elaborate precautions taken in some other studies of gender differences in newborn eye gaze to ensure that experimenters are blind to the sex of the subjects, and noting that "No such precautions were taken in Connellan's study".
A different version of this same point came up in recent discussions of events in Marc Hauser's lab (see here, here, here, here) where the coding of monkeys' reactions to various sound patterns was supposed to have been done blind to experimental conditions, but apparently wasn't.  I hasten to add that there is no suggestion whatsoever of fraud in Connellan's study, and a key difference is that Hauser's papers asserted that his experiments were done blind to the key independent variable, while Connellan's paper is clear on the fact that her experiment wasn't. (Or more precisely, that the coding was blind, but the experimental procedure itself wasn't.)  However, the potential seriousness of the methodological point is underlined by the fact that failure to adhere to blind coding procedures has apparently been viewed as a form of scientific misconduct in Hauser's case.
In my original post on the Hauser scandal, I wrote:
[The dependent variable] is subjectively coded, by direct observation or by inspection of video recordings. To be believable, the coding should be "blind" — that is, the coders should not know which experimental category they are coding.  […] Unfortunately, this is by no means the norm in all areas of experimental psychology; in fact I'd say that "blind" coding of behavior is the exception rather than the rule, though I don't have counts to show this.
I turned out to be wrong with respect to general practices in the literature using habituation/discrimination methods on infants — there are normally elaborate precautions to ensure that these experimental procedures are run blind — so that, for example, the caregiver doesn't somehow communicate the experimental condition to the subject sitting on her (or sometimes his) lap — and the video recordings are coded blind, so that the coders are not influenced by what they hope or expect the subjects' reactions will be.
But it remains true that this kind of care is not ubiquitous in experimental psychology, and so it's not shocking to find that in the Connellan baby-gaze experiment, coding was blind, but administration of the experiment was not (Jennifer Connellan, Simon Baron-Cohen, Sally Wheelwright, Anna Batki, and Jag Ahluwalia, "Sex Differences in Human Neonatal Social Perception", Infant Behavior & Development, 23:113-18, 2000 — free version here).
In fact, I didn't even remark on this aspect of the study when I discussed it at tedious length a couple of years ago ("Innate sex differences: science and public opinion", 6/20/2008). Instead, I focused on the fact that the sex differences were actually pretty small relative to within-sex variation — with the largest sex difference by far being the drop-out rate — and the fact that the "mobile", far from being the sort of thing that would predict later interest in mechanical devices (as some have suggested) was in fact a weirdly-scrambled face-like object, suggesting instead the conclusion that "Boy babies are innately somewhat more interested in transdimensional monsters than girl babies are":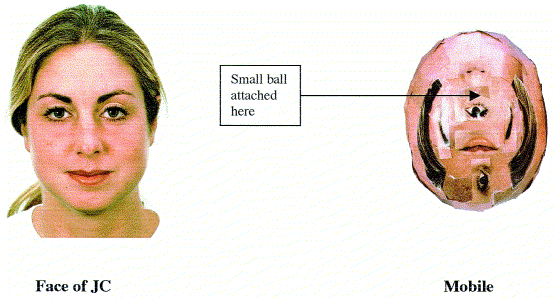 ---