« previous post | next post »
Back in February, we covered the whole Donald Trump big league → bigly business at length, and if you want details, go read that post: "Bigly", 2/26/2016.
But Trump continues to say things like
We're not going to lose, we're going to start winning again,
and we're going to win big league, believe me! [link]
And journalists, along with other members of the public, continue to hear him saying "we're going to win bigly" (70,400 hits in today's Google News index…).
The Guardian was already using bigly ironically in a photo caption back in 2014: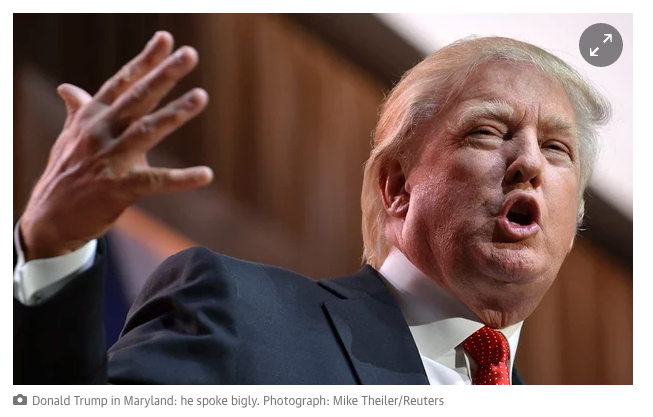 So I reckon that it's only a matter of time before bigly is hip, at least for a while. Maybe on Election Night, bars will invite customers to come "drink bigly", whether in celebration or despair.
But does bigly have legs? The world clearly wants to believe that Trump says it. And even if he loses the fall election, I doubt that we've heard the last of him.
Update — For foreigners, and Americans who aren't familiar with this aspect of their nation's culture: in baseball there are two "major leagues", the American League and the National League, comprising 30 teams; and a hierarchy of 19 "minor leagues", comprising 246 teams.  Young players work their way up through the hierarchy of minor leagues (or at least the successful ones do), eventually reaching the "big leagues", sometimes just referred to as "the bigs":
[link] Andrew Bailey is back in the bigs. And this time, it's with his favorite team from his childhood.  The Haddon Heights native and Paul VI High School graduate was promoted to the Philadelphia Phillies and was in the bullpen for Wednesday night's game with the New York Mets at Citizens Bank Park.
The minor leagues are not called "little", because "Little League" is an amateur activity for children.
The term major league as a modifier is often used to refer to player attributes: "major-league talent", "a major-league arm", etc. And big league is used the same way, e.g. "Roberts is evolving into a big league arm".
Unsurprisingly, metaphorical extensions of this usage are common: "traditional big-league engineering consulting firms", "big-league fashion designers", "modern big-league violin playing".
The same thing happens with major league: "major league piano playing", "a major-league meth seller", "a major-league furniture outlet".
Some people have generalized the use of big league to the role of post-verb-phrase adjunct, perhaps on the model of big time, as discussed in the earlier post ("Bigly", 2/26/2016):
[link 2004]: No way were Millennium's psychotherapies paying for even a fifth of it. Several investigative reporters had shown that. Outside interests had to be financing it big-league, especially given the Hard Times, and they'd require some kind of payoff.
But I don't think I've ever heard major league used this way. "We're going to win major league"? No, I don't think so.
---