« previous post | next post »
Frank Rich, "Kiss This War Goodbye", NYT 7/31/2010, writing about the Pentagon Papers:
Though the identity of The Times's source wouldn't eke out for several days, we knew the whistle-blower had to be Daniel Ellsberg, an intense research fellow at M.I.T. and former Robert McNamara acolyte who'd become an antiwar activist around Boston. [emphasis added]
It's clear that this is a mistake, with eke out having been substituted for leak out. The question is, what sort of mistake is it?
It might be a classical malapropism, which would mean that Mr. Rich has mis-learned or mis-remembered eke out, just as the fictional Mrs. Malaprop substituted allegory for alligator and illiterate for obliterate.
Or it might be an eggcorn, which is like a malapropism except that the substitution makes sense — often more general sense than the original did, as in old-timers' disease for Alzheimer's disease.
Both of these explanations seem unlikely to me.  Rich is a highly educated professional writer who is not a likely source of such mistakes (though all of us have a few similar oddities in our mental lexicons).  "Leak out" is such a simple and common usage that it's unlikely to cause either sort of misunderstanding. And it also seems relatively unlikely for someone to mis-learn "eke out" as a fancy way to say "leak out".
In the COCA corpus, "eke out" is reasonably common — occuring at a rate of about 0.7 per million words in magazines and newspapers — and typical examples seem unlikely to generate a "leak out" hypothesis:
… analysts expect it to eke out profit growth of only 3% a year.
The people who live along the desert shores eke out a tenuous living by fishing
Their well-meaning doctors starved them in an attempt to eke out a few more months of life.
The challenge for scientists is to eke out as much information about ancient life as they can …
Furthermore, a search of the NYT archive turns up eight earlier uses of "eke out" in columns or reviews by Frank Rich, all of them consistent with the OED's gloss "to supplement, supply the deficiencies of anything (const. with); esp. to make (resources, materials, articles of consumption, etc.) last the required time by additions, by partial use of a substitute, or by economy", from the otherwise obsolete verb eke meaning "To increase, add to, lengthen".
A more plausible theory is that "eke out" is the kind of performance error that's come to be called a "Fay/Cutler malapropism", after D.A. Fay and A. Cutler, "Malapropisms and the structure of the mental lexicon", Ling. Inq. 8(3): 505–520, 1977. These are cases where the speaker or writer knows the right word, and means to say or write the right word, but some internal wires get crossed and the wrong one comes out.
This instance of "eke out" could also be a Cupertino. Maybe Rich omitted the 'l', producing the string "eak out", which a helpful spellchecker plausibly changed to "eke out".
And there's a new sort of possibility. Maybe Rich is one of those people who are taking advantage of the fact that dictation software has now gotten quite good, as his colleague David Pogue pointed out a few days ago ("Reliable Dictation, Down to a 'T'", NYT 7/28/2010):
The accuracy is so good that you no longer have to begin by reading a four-minute training text, as in years past. I installed the software on my PC, skipped the training, and dictated one of my old columns, 1,300 words. It achieved 100 percent accuracy, even correctly nailing toughies like "LinkedIn," "Twitterific," "freebies" and "twentysomethings." (It made one error, but I'm letting it off the hook for not recognizing the Web site name Bebo.)
Could Dragon Dictate recognize "wouldn't eke out for several days" in place of "wouldn't leak out for several days"?  Maybe so. And training it on Frank Rich's previous output might make this a bit more likely — his eight previous uses of "eke out" beat his five uses of "leak out".
Whatever the cause, here's the obligatory screenshot of the effect: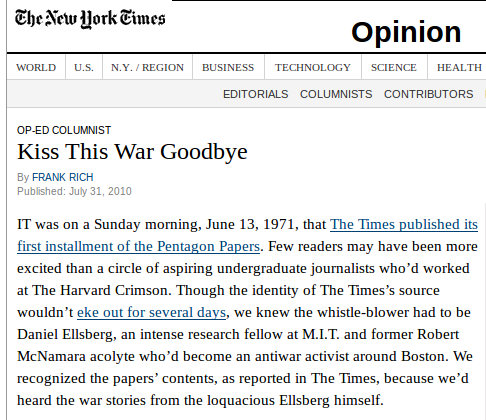 [Update — it occurs to me that the hyperlink on the phrase "eke out for several days" was almost certainly added by an editor. Perhaps at that stage the initial 'l' was lost, creating the context for an "eak" to "eke" Cupertino.
"Attributional abduction" strikes again.]
[Update #2, 8/2/2010 — After two days, the online version still reads "wouldn't eke out for several days". So either Frank Rich and his editor think this usage is OK, or no one has pointed the error out to either of them. I'm not sure which I think would be more surprising.]</font>
---