« previous post | next post »
Janet Randall wrote:
I am faced with a query from someone at a pretty high level at Public TV who is objecting to an employee's use of the preposition "acrosst".  I looked for some dialect information about this variant of "across" but haven't been able to find it on language log, or anywhere else, without spending more time than I have, so I thought you might know of a post on the log, or know who might know whether this is regional, etc.
I replied:
The OED has an entry for "acrost", listing as U.S. dial. and colloq., with citations going back to 1759:
1759 in Essex Inst. Hist. Coll. (1882) XIX. 145 Ye enemy fird at our men a Crost ye River.
1779 W. MCKENDRY Jrnl. 6 Sept. in Proc. Mass. Hist. Soc. (1886) II. 467 The Lake..is..about 8 miles acrost.
But I felt this was not really an adequate answer, so I forwarded Janet's query to Bill Kretzschmar, who responded:
I'm in Europe and so don't have access to my paper files in Athens [GA], where I could address the particular findings on this point.
The "st" ending is known, especially in Ireland, to be applied to "while" yielding "whilst", and some usage mavens don't like it. A similar case that I know about is the choice between "toward" and "towards", as when you "turn toward(s) an event." I wrote about our Atlas evidence on that one for a Bill Safire "On Language" column years ago (it turns out that the Mid-Atlantic speakers who don't like "towards" are the only ones not to prefer the final s!).  In Michigan, people who work for the Ford Motor Company often say that they work for "Fords," which might be interpreted as a strange genitive construction but probably isn't. So, the presence of an extra -s or -st is a commonly occurring variant pronunciation in English. No need to get excited about it. It is not substandard, just a bit different, like many other variations that naturally occur in the language of every educated person.  If somebody with enough authority at MPTV doesn't like it, then she can ask the employee not to do it. Now, if somebody then asked me to find such variations in the speech of the MPTV honcho, I suspect it would be easy to find them….  We've all got them. Might be better not to start down the road of correcting every little thing we hear.
After Bill got back to Georgia, he added this:
Back in Athens last night. I've had a look at the paper records, and can tell you that we recorded the -st form of "across" from about 20% of the people we interviewed in Maryland (11/62). The form is found throughout the state, from Eastern Shore to Baltimore to up north near the panhandle. It's used by both men and women, both middle age and older (we didn't interview too many young people), different job types.  I did not see it among the most educated, but did find it regularly among high-school educated people. It is also pretty common in Pennsylvania, less so in Virginia. Kurath and McDavid produce a map (#179) in their *Pronunciation of English in the Atlantic States* of the places that add a -t to the words "once" and "twice" which shows that the pronunciation is widespread in the Midland and South (except the Virginia piedmont), and "widely used by middle-class speakers" in these areas besides by less-educated people. So, what they say about "oncet" and "twicet" matches what we found for "acrosst".
So, the evidence says that this is a historical pronunciation in Maryland and adjoining states, not particularly marked as uneducated. Our interviews are 20th. c., so not contemporary, but these things usually don't disappear.
The OED's entry somehow missed Kipling's Fuzzy Wuzzy:
We've fought with many men acrost the seas,
An' some of 'em was brave an' some was not:
The Paythan an' the Zulu an' Burmese;
But the Fuzzy was the finest o' the lot.
And also Ring Lardner's You Know Me Al, which has dozens of instances of acrost, e.g.
Well Al I and Schaefer was talking to gether and he says Well may be this is the last time we will ever see the good old US and I says What do you mean and he say People that gos acrost the pacific Ocean most generally all ways has there ship recked and then they is not no more never heard from them.
For the peevers' perspective, we can turn to Charles Harrington Elster, The Big Book of Beastly Mispronunciations: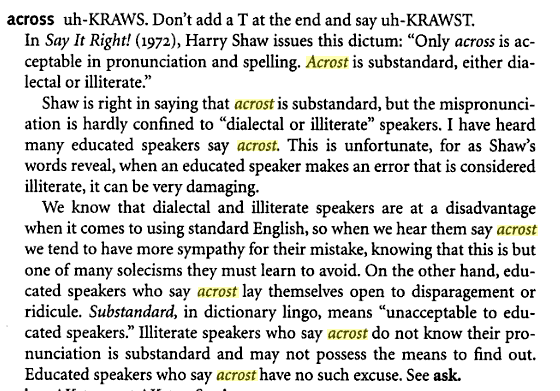 The fact that Elster feels the need to warn "educated speakers" in such dire terms ("lay themselves open to disparagement or ridicule") is good evidence for Bill's suggestion that acrost is "not particularly marked as uneducated", at least in certain regions. On the other hand, Elster's discussion also makes it clear that Janet's Public TV friend is not responding in an idiosyncratic way.
---