« previous post | next post »
Today's xkcd illustrates a technique pioneered by Bill Labov: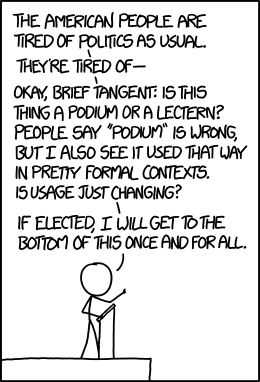 Mouseover title: "BREAKING: Senator's bold pro-podium stand leads to primary challenge from prescriptivist base."
In  "The boundaries of words and their meanings" (from C-J. Bailey & R. Shuy, Eds., New Ways of Analyzing Variation in English, 1973), Bill used distinctions like cup/mug/bowl/vase or chair/stool to explore the role of form, function and context in the meanings of words.
But he also found that most people are happy to discuss such questions at length, and so if you want to know how someone pronounces certain speech sounds or sequences, in an informal realistic context rather than when asked directly to perform the pronunciation, one excellent technique is to get them to give their ideas about the difference between X and Y, where at least one member of the pair illustrates the sound in question.
I have sometimes heard this technique referred to as a "semantic differential", though that is more commonly (and properly?) used for a somewhat different idea originated by Charles E. Osgood, "Semantic differential technique in the comparative study of cultures", American Anthropologist 1964.
If you're wondering about the podium vs. lectern issue, the official etymological truth is that a podium is a raised platform that you stand on ("a small platform on which a person may stand to be seen by an audience, as when making a speech or conducting an orchestra"), whereas a lectern is a special sort of table that you stand behind ("a tall stand with a sloping top to hold a book or notes, and from which someone, typically a preacher or lecturer, can read while standing up").
But there really has been a shift in usage. Thus if you shop for a podium on Google or on Amazon you are shown only things that are prescriptively lecterns; the Podium & Lectern Store sells only what are prescriptively called lecterns; the recent bird/Bernie meet-up in Portland was widely described in phrases like "A Bird Lands On Bernie Sanders' Podium" and "A bird landed on Bernie Sanders' podium at a rally on Friday", even though what the bird landed on was prescriptively his lectern; etc.
[More lectern v. podium discussion on the explain xkcd wiki and the xkcd forum]
[And Ben Zimmer wrote about lecternology and podiumetrics back in 2010…]
---