« previous post | next post »
Although this sign over a children's clothing shop in Hangzhou is fairly simple, it offers much food for thought.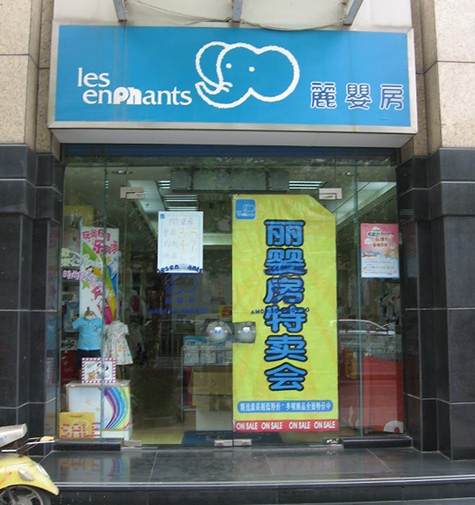 On the left, which we will naturally read first because of the directionality of the writing, we see "les enphants," a clever blend of "les éléphants" ("elephants") and "les enfants" ("children"). The notion of "elephant," of course, makes for a very cute logo, which is situated in the middle of the sign. To the right, we see Lì yīng fáng 麗嬰房 ("Beautiful Baby Shop").
It is difficult to say for certain whether "les enfants / enphants" inspired "Lì yīng fáng" or vice-versa, but I suspect that the proprietors started with "les enfants" and came up with "Lì yīng fáng" to match it, then playfully embellished "enfants" by substituting -ph- for -f-. My reasoning for making this surmise is that "les enfants" is a common expression in French, whereas "Lì yīng fáng" is not a fixed expression in Chinese. If you run "Lì yīng" through Babel Fish, it offers only "Li infant," not knowing what to do with the first syllable. And if you run it through Google Translate, it comes up with "Korea baby," not "beautiful baby." This is not so dumb as it may seem, since GT is thinking of the Lì as short for Gāolí 高麗 ("Korea"). Furthermore, although fáng (usually meaning "house") can be used to convey the idea of a shop or store, there are at least a dozen other terms that are more likely to be used before it. For all of these reasons, it seems to me that the shopkeepers started out with "les enfants" and thought up "Lì yīng fáng," both to match the sound of the French expression and to convey an appropirate, felicitous meaning in Chinese.
When I first began this post, I thought that I would propose christening the French equivalent of Chinglish as "Chinçais," unless there were already an established term for spoken or written French that is similarly influenced by Chinese. Strictly speaking, however, the relationship between "les enfants" and "Lì yīng fáng" would appear to be one of French influencing Chinese, rather than the other way around. Might we call it "Zhongçais" or "Franwen"?
[Thanks to Ian Mair for another great photo from Hangzhou.]
---