« previous post | next post »
Victor Steinbok sent in the following photograph: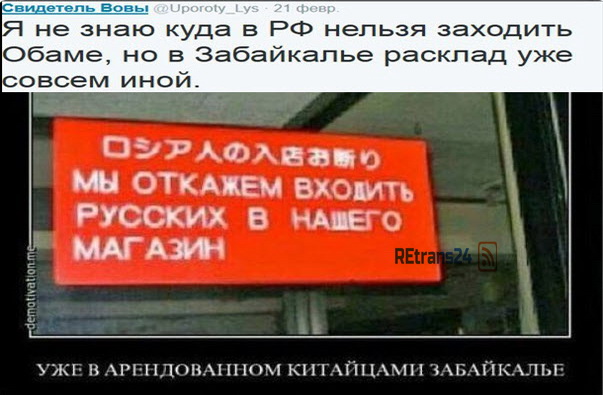 (Source)
VS noted:
Warning along the usual lines — original source unknown and unverified and pic appeared on a Ukrainian Russian-language site, accompanied by an extensive commentary on the state of the Russian state. Still, given all that, it's worth a look.
The pic is claimed to be a sign on a Chinese-leased storefront in the Russian Far East (Trans-Baikal). The sign loosely translates, "Entrance into our store is prohibited to Russians". Loosely translated because the original is not in Russian — it's Russian Chinglish.
I'm somewhat skeptical because the sign looks a lot like how Russians think Chinese speak Russian. But it's certainly possible it's authentic. I'll let you translate the Chinese.
I told VS that the "Chinese" was actually Japanese and asked him what he meant by "Russian Chinglish".  He replied:
The "Russian Chinglish" was a reference to very broken grammar in the red sign.
The claim that it was a Chinese store came from the accompanying Russian text. For all I know, the sign could've come from some Japanese checkpoint in the Kurils. As I mentioned, I know nothing about the origin of the sign other than what's in the post, and I consider the source unreliable. But I don't think it's photoshopped.
From Petya Andreeva (a Bulgarian who also knows Russian):
The Russian grammar is not correct; indeed, I would say it sounds very much like Chinglish would. I get the overall meaning, but there are obvious grammar mistakes excluding the weird verb usage, in terms of pure grammar, the ending should be "в нашем магазине"). The entirely correct way to say this is:
Русским вход воспрещён в наш магазин.
I consulted with Russian students and they agreed with me.
Hope this helps. I read about this online and it seems that some shops and local businesses in Turkey and also in Malaysia put up similar signs against Russian tourists; I have no idea if this is related to this sign and if it is a consistent phenomenon.
An anonymous correspondent remarks:
As for the Russian, your friend is right. It appears Google-translated or something.
There are stores where Americans aren't permitted in Okinawa. I met some friends who lived in Korea and said that Russians would ride the ferry from Vladivostok for shopping day-trips. I suspect that they do the same thing in N Japan, and the locals probably aren't pleased.
So much for the Russian.  Grammar-wise, the Japanese on the sign presents no problems.
According to Nathan Hopson:
The Japanese is correct and as appropriate as it could be to express this sentiment:
Roshia-jin no nyūten okotowari 
"Entry into the store" (入店 nyūten)
"of/by Russians" (ロシア人の Roshia-jin no)
"politely declined" (お断り okotowari)
Why this sign would need to be in Japanese is the real mystery to me….
From an anonymous correspondent:
There is nothing wrong with the Japanese on the sign.  It is prohibiting Russians from entering this shop.  But, "prohibit" might be too official for the nuance of  'o-kotowari' [o (polite prefix)+kotowari (nominal form of kotowaru (v)].  It has more personal (emotional) tone.  Something like "we refuse (or don't want) Russians to enter this shop".   For official prohibition or prohibition by law, 禁止(kinshi) would be used–ロシア人の入店禁止.
Miki Morita sheds light on the larger context for this sort of sign:
I think that this sign is possibly from a certain location in Hokkaido where many Russians visit. I found this newspaper section which deals with similar language on signs in Japan.  I am not sure if this one is from the Russian Far East.
Ironically, similar signs against Japanese have been posted in China:
"Dogs and Japanese not admitted" (3/2/13)
[Thanks to Hiroko Sherry]
---